printer friendly version
Comtest trading for 15 years
29 May 2020
News
Comtest, one of South Africa's leading providers of test, measurement and communications equipment, is proud to mark its 15-year trading milestone in 2020. CEO Barend Niemand says, "Comtest has representation throughout South Africa and with our bold, worldwide export sales-drive; our vision includes adding new products to the existing range and the acquisition of new companies to complement our core business."
The company was founded by Peter Verwer and Barend Niemand in 2005 and has its headquarters in Linbro Park, Gauteng. Aside from being Fluke's Master Distributor to South Africa, it also represents leading international companies in the test and measurement fields: Beha-Amprobe, BK Precision, Fluke Calibration, IET Labs, Industrial Scientific, Keytag, Meriam, Microsemi, Midtronics, Pico Technologies, Radian Research and Tektronix.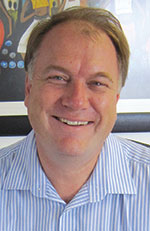 Barend Niemand.
Instrotech was acquired in 2010, to expand the business into the process and automation industries through its high-quality process control instrumentation and industrial electronics. Partnering with international leading brands Vishay, Optris, Keller, Siko, Kobold, Monitran, Elis, Scancon and Sensortech, Instrotech supplies cost-effective, consistently reliable, high-quality industrial electronics, sensors, instrumentation and calibrators for the automated process and control industry, complementing primary sensors such as load cells, pressure and flow transmitters, sourced from European and North American companies.
"Business is not for the fainthearted in these recent, highly challenging trading times, but Comtest has a strong, knowledgeable and loyal team driving our goals and aspirations, so I feel confident that we will inevitably reap the benefits as soon as the economic climate eases," concluded Niemand.
Credit(s)
Further reading:
New range of Tektronix DSOs
30 June 2020, Comtest , Test & Measurement
Comtest has released Tektronix's new TBS2000B series of digital storage oscilloscopes (DSOs) that was developed to meet the performance, usability and affordability needs of both engineers and educators. 
...
Read more...
---
From the editor's desk: Are electromagnetic waves culpable in making us sick?
30 June 2020, Technews Publishing , News
When I started writing my column for this issue, I was determined to come up with a topic and a way to avoid mentioning the 'C' word. I came close – you will only find 'COVID-19' mentioned once or twice 
...
Read more...
---
To fake or not to fake
30 June 2020 , News
Prof. Johan Meyer explores the complex and controversial topic of the potential link between the global rollout of 5G networks and the COVID-19 pandemic.
Read more...
---
Clearing the Static: Curb the spread of COVID-19 with stringent floor hygiene
30 June 2020, Actum Electronics , News
According to the World Health Organisation (WHO), COVID-19 is primarily transmitted from person to person through respiratory droplets that emerge from the nose and mouth when an infected person speaks, 
...
Read more...
---
Personality profile: Warren Mande
30 June 2020, Altron Arrow , News
"It is said that "culture eats strategy for breakfast". Look to join companies whose culture fits your personal belief system."
Read more...
---
Not the end, but a journey
30 June 2020, ExecuKit , News
ExecuKit's Renita Fleischer and Elizna Classen offer local companies a route to help them navigate their way through what has become the 'new normal.'
Read more...
---
Elmatica CEO to vice chair IPC cybersecurity task group
30 June 2020, Elmatica , News
Didrik Bech, CEO of printed circuit broker Elmatica, has been appointed to serve as vice chair for IPC's new cybersecurity task group. The 2-12c Task Group leadership is a representation of IPC as an 
...
Read more...
---
From the editor's desk: Making and sending things to space
29 May 2020, Technews Publishing , News
In this issue, one of the topics we are featuring is the aerospace and military/defence sector. The feature includes an analysis of what it takes to successfully design and manufacture products in this 
...
Read more...
---
Electronics news digest
29 May 2020, Technews Publishing , News
South Africa
• Acting minister of communications and digital technologies, Jackson Mthembu, joined the world in observing World Telecommunication and Information Society Day (WTISD). Proclaimed by the 
...
Read more...
---
Personality profile: David Power
29 May 2020, Cadshop , News
"Aspire to work for a company that you admire, and for a boss that you want to serve, that shares your passion and motivation."
Read more...
---