printer friendly version
Comtest trading for 15 years
29 May 2020
News
Comtest, one of South Africa's leading providers of test, measurement and communications equipment, is proud to mark its 15-year trading milestone in 2020. CEO Barend Niemand says, "Comtest has representation throughout South Africa and with our bold, worldwide export sales-drive; our vision includes adding new products to the existing range and the acquisition of new companies to complement our core business."
The company was founded by Peter Verwer and Barend Niemand in 2005 and has its headquarters in Linbro Park, Gauteng. Aside from being Fluke's Master Distributor to South Africa, it also represents leading international companies in the test and measurement fields: Beha-Amprobe, BK Precision, Fluke Calibration, IET Labs, Industrial Scientific, Keytag, Meriam, Microsemi, Midtronics, Pico Technologies, Radian Research and Tektronix.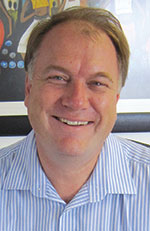 Barend Niemand.
Instrotech was acquired in 2010, to expand the business into the process and automation industries through its high-quality process control instrumentation and industrial electronics. Partnering with international leading brands Vishay, Optris, Keller, Siko, Kobold, Monitran, Elis, Scancon and Sensortech, Instrotech supplies cost-effective, consistently reliable, high-quality industrial electronics, sensors, instrumentation and calibrators for the automated process and control industry, complementing primary sensors such as load cells, pressure and flow transmitters, sourced from European and North American companies.
"Business is not for the fainthearted in these recent, highly challenging trading times, but Comtest has a strong, knowledgeable and loyal team driving our goals and aspirations, so I feel confident that we will inevitably reap the benefits as soon as the economic climate eases," concluded Niemand.
Credit(s)
Further reading:
Government and ICASA commended for temporary spectrum
25 November 2020 , News
MTN has recognised the Department of Communication and Digital Technologies (DCDT), as well as the industry regulator ICASA, for the important actions these two bodies have taken to advance the release 
...
Read more...
---
On-the-ground sales support for South African Farnell customers
25 November 2020, EBV Electrolink , News
Farnell, an Avnet company and global distributor of electronic components, products and solutions, has enhanced its service to customers in South Africa through a new partnership with sister company EBV, 
...
Read more...
---
Isolated oscilloscope probes
25 November 2020, Comtest , Test & Measurement
Tektronix has rolled out its second generation of IsoVu isolated oscilloscope probes, the TIVP Series, which significantly advance the capabilities of the probes first introduced in 2016. The second-generation 
...
Read more...
---
Better than Moore: A new way to measure semiconductor progress
25 November 2020 , News
One of the most famous maxims in technology is, of course, Moore's Law. For more than 55 years, the 'Law' has described and predicted the shrinkage of transistors, as denoted by a set of roughly biennial 
...
Read more...
---
Technology trends that will shape 2021
25 November 2020 , News
In preparing to turn the corner on one of the most tumultuous years we have ever seen, 2021 will require that organisations put a finger on what will stimulate market responses and what the fabric of 
...
Read more...
---
Altron appoints new company secretary
25 November 2020, Altron Arrow , News
Nicole Morgan has been appointed as company secretary of Altron with effect from 1 January 2021. An admitted attorney of the High Court with 11 years of corporate law and company secretarial experience, 
...
Read more...
---
Technical high school gets new multimedia centre for 100% pass rate
25 November 2020 , News
The MTN SA Foundation continues to bring digital education closer to SA's youth with the recent handover of a state-of-the-art multimedia centre to a deserving Bokgoni Technical High School in Atteridgeville, 
...
Read more...
---
Unrealistic deadlines hamper independent power producers
25 November 2020 , News
The Independent Power Producers Programme Office (IPPPO), which is run by the South African Department of Mineral Resources and Energy (DMRE), aims to procure 2000 megawatts of electricity in its latest 
...
Read more...
---
Buy a Fluke, get one free
28 October 2020, Comtest , News
Comtest, Fluke's official South African importer, is offering one free Fluke for every Fluke purchased from any South African-based, authorised Fluke dealer. Fluke is a world leader in the manufacture, 
...
Read more...
---
Online Ohm's law calculator from Mouser
28 October 2020 , News
The famous Ohm's law states that the current flowing through a circuit is proportional to the voltage applied across both points. Mouser Electronics' online Ohm's law calculator saves engineers time by 
...
Read more...
---