printer friendly version
Industrial-grade 32 GB DRAM modules
29 May 2020
DSP, Micros & Memory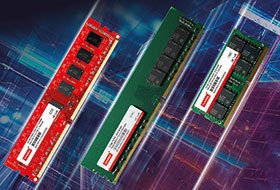 32 GB DRAM modules from Innodisk are the newest industrial-grade, high-capacity DRAM series launched with expanded capacity. Targeted at core network switches for 5G technology – touted as a much faster, more reliable mobile backbone service that requires 32 GB DRAM. Virtualisation utilises these DRAMs to deliver faster data optimisation.
AIoT (Artificial Internet of Things) devices that are used within medical data logging centres for autoclave validation and vaccine monitoring require fast turnaround times. With Innodisk's 32 GB DRAM modules, the high-speed transfer of 2666 MTps is utilised to support low-latency network speeds that are crucial in providing consistent turnaround capacity. When used for NAS devices, the 32 GB DRAM modules expedite the storing and retrieval operations without a hiccup.
Aerospace and defence industries see elevated risks of corrosion damage to DRAM modules which could lead to module failure. Higher sulphur content within these environments is why Innodisk's standard built in anti-sulphuration protection against excess concentration of airborne sulphur-containing particles is essential. Wide-temperature solutions can withstand resistances up to 85⁰C to lengthen the product lifespan while the heat-spreader enhances faster heat dissipation.
Innodisk's 32 GB DRAM are compatible with AMD x570 and Intel Z390/Z370 chipsets, AMD's Ryzen 3000 generation 3 and Intel Coffee Lake CPUs. Available in UDIMM/SODIMM/ECC-SODIUM form factors, Innodisk is providing manufacturers with compact long-term performance.
Credit(s)
Further reading:
Discovery kit for IoT nodes using STM32U5 MCU
Altron Arrow DSP, Micros & Memory
The B-U585I-IOT02A Discovery kit provides a complete demonstration and development platform for STMicroelectronics' STM32U585AI microcontroller, featuring an Arm Cortex-M33 core with Arm TrustZone and 
...
Read more...
---
200 MHz MCUs backed by TrustZone security
Hi-Q Electronics DSP, Micros & Memory
Renesas Electronics now offers a 200 MHz RA6E1 microcontroller (MCU) which uses a high-performance Arm Cortex M33 core and TrustZone. The device is built on a highly efficient 40 nm process and supported 
...
Read more...
---
32-bit MCU for IoT edge applications
NuVision Electronics DSP, Micros & Memory
Silicon Labs launched the EFM32PG22 (PG22) 32-bit microcontroller (MCU), a low-cost, high-performance solution with an optimised combination of energy efficiency, performance and security. With easy-to-use, 
...
Read more...
---
Crossover MCU with 3D camera
EBV Electrolink DSP, Micros & Memory
NXP Semiconductors has announced the expansion of its NXP EdgeReady solution portfolio, adding a solution for secure face recognition that leverages a high-performance 3D structured light module (SLM) 
...
Read more...
---
Non-silicone thermal interface material
Vepac Electronics Manufacturing / Production Technology, Hardware & Services
HTC Heat Transfer Compound from Electrolube is a non-silicone thermal interface material recommended where the efficient and reliable thermal coupling of electrical and electronic components is required, 
...
Read more...
---
DC/DC converter for forklift trucks
Vepac Electronics Power Electronics / Power Management
The DC/DC converters of the series PCMDS550-FT from MTM Power are tailor-made to meet the requirements in forklift truck technology. Highest quality and safety are of particular importance when using 
...
Read more...
---
Air-insulated HV power supplies
Vepac Electronics Power Electronics / Power Management
XP Glassman's OQ Series of high-voltage AC/DC power supplies are sophisticated 8 kW or 16 kW open-stack units with extremely low ripple and noise. The air-insulated, fast-response supplies exhibit tight 
...
Read more...
---
True RMS digital multimeter
Vepac Electronics Test & Measurement
The new PeakTech 2025 A offers a multitude of measurement functions for electrical variables for industry, trade, training, hobbyist and laboratory users. Of particular note is the integrated data interface, 
...
Read more...
---
Installation considerations for open-frame and U-channel power supplies
Vepac Electronics Power Electronics / Power Management
Datasheets for open-frame and U-channel power supplies commonly identify the key safety components and their maximum temperature ratings, which vary depending on the class of insulation system employed.
Read more...
---
No need for custom enclosures thanks to rugged subrack system
Vepac Electronics Enclosures, Racks, Cabinets & Panel Products
The KM6-HD subrack range from Verotec meets the requirements of IEEE 1101.10 and 11, which expand on IEC60297 to add functionality required for modern industrial computing applications. This includes 
...
Read more...
---