printer friendly version
Developer kit for AI edge devices
29 May 2020
Computer/Embedded Technology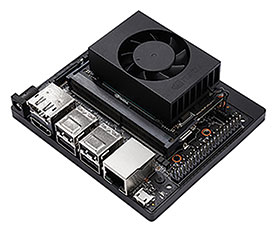 The NVIDIA Jetson Xavier NX developer kit includes a power-efficient, compact Jetson Xavier NX module for AI edge devices. It benefits from new cloud-native support and accelerates the NVIDIA software stack in as little as 10 W with more than 10 times the performance of its widely adopted predecessor, the Jetson TX2. The capability to develop and test power-efficient, small form-factor solutions with accurate, multi-modal AI inference opens the door for new breakthrough products.
Developers can now take advantage of cloud-native support to transform the experience of developing and deploying AI software to edge devices. Pre-trained AI models from NVIDIA NGC, together with the NVIDIA Transfer Learning Toolkit, provide a faster path to inference with optimised AI networks, while containerised deployment to Jetson devices allows flexible and seamless updates.
The developer kit is supported by the entire NVIDIA software stack, including accelerated SDKs and the latest NVIDIA tools for application development and optimisation. When combined with Jetson Xavier NX, this powerful stack helps you create innovative solutions for manufacturing, logistics, retail, service, agriculture, smart city, healthcare and life sciences and more.
For more information contact Renaldo Fibiger, Altron Arrow, +27 11 923 9600, rfibiger@arrow.altech.co.za, www.altronarrow.com
Credit(s)
Further reading:
Ballast evaluation board for UV-C disinfection lamps
28 April 2021, Altron Arrow , Power Electronics / Power Management
The EVAL_ICB2FL03G is a ballast design evaluation board for 54 W UV-C disinfection lamps with voltage-mode preheating. Supplied by Infineon Technologies, it features the smart ballast controller ICB2FL03G 
...
Read more...
---
Arrow Electronics' Tech Snacks put engineers' time first
28 April 2021, Altron Arrow , News
Arrow Electronics is launching a new learning concept, Tech Snacks, that will provide engineers with the technical information and insight they need in a choice of formats that have been designed to match 
...
Read more...
---
AI platform for mass-market embedded/edge deployments
31 March 2021, RF Design , Computer/Embedded Technology
NVIDIA's Jetson TX2 NX delivers the next step in AI performance for entry-level embedded and edge products. It provides up to 2,5 times the performance of Jetson Nano and shares form factor and pin compatibility 
...
Read more...
---
Challenges for electronic circuits in space applications
28 April 2021, Altron Arrow , Electronics Technology
Outside the protective cover of the Earth's atmosphere, the natural space radiation environment can damage electronic devices and the effects range from a degradation in parametric performance to a complete functional failure.
Read more...
---
Machine learning core repository on GitHub
28 April 2021 , Computer/Embedded Technology
Artificial intelligence is notoriously difficult because it relies on data science. Additionally, creating the right algorithm, such as a decision tree, and setting it up, can also be tricky. Unfortunately, 
...
Read more...
---
Component shortages and how to mitigate them
31 March 2021, RS Components (SA), Projects Concern Manufacturing, Production Logix, Altron Arrow , News
To find out just how severe the problem is right now, and the impact it is having, we consulted two South African CEMs and two component distributors for their insights and advice.
Read more...
---
User-configurable embedded I/O modules
31 March 2021, Rugged Interconnect Technologies , Computer/Embedded Technology
APZU modules from Acromag provide a programmable Xilinx Zynq UltraScale+ multiprocessor system-on-chip (MPSoC). This MPSoC combines a feature-rich, ARM-based processing system and programmable logic in 
...
Read more...
---
Fourth generation PC/104 SBC extends product lifecycles
31 March 2021, Electronic Products Design , Computer/Embedded Technology
Diamond Systems has introduced Athena IV, a wide-temperature, COM-based SBC (single board computer) with integrated data acquisition and PC/104 I/O expansion. This combination of features makes the compact 
...
Read more...
---
Bidirectional logic-level voltage translators
31 March 2021, Altron Arrow , Analogue, Mixed Signal, LSI
The 74LVC2T45 and 74LVCH2T45 from Diodes Incorporated provide logic-level voltage translation between devices that operate from different supply rails. The devices have dual power supplies and support 
...
Read more...
---
Multi-constellation GNSS module
31 March 2021, Altron Arrow , Telecoms, Datacoms, Wireless, IoT
Telit's high-precision GNSS SE868SY-D is a new multi-frequency, multi-constellation positioning receiver capable of combining GPS/QZSS and Galileo in the L1/E1 and L5/E5 bands, GLONASS in the L1, BeiDou 
...
Read more...
---