printer friendly version
Driver for low-current LED strips
30 June 2020
Opto-Electronics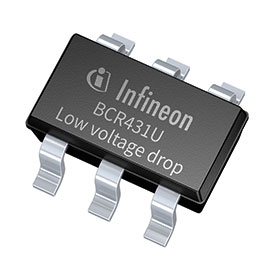 Infineon Technologies' new BCR431U is a constant-current linear LED driver IC providing low voltage drop performance for regulating LED current. It is the second device released in the new-generation BCR family with low voltage drop focusing on low current designs of up to 37 mA. Typical applications for the new BCR431U include LED strips, channel letters, architectural LED lighting, LED displays, as well as emergency, retail and appliance lighting.
The voltage drop at the integrated driver IC can go down to 105 mV at 15 mA. This is unmatched in the industry and provides far more flexibility in lighting applications. It improves the overall efficiency and provides the voltage headroom required to compensate for the LED forward voltage tolerances and variances in the supply voltage.
The BRCU431U allows either to add additional LEDs to lighting designs, for example, seven instead of six LEDs in series driven by one IC. Or it can be used to increase the overall length of an LED strip design from, for example, 5 to 7 m. Overall, longer LED strips mean fewer feeding points and less effort in installation.
The LED current is easily adjustable via a high-ohmic resistor on a dedicated pin with an IC supply voltage ranging between 6 V and 42 V. For safe and reliable operation and to extend the overall LED system's lifetime, a smart over-temperature controlling circuit keeps the current constant even at rising temperature. At the same time, it reduces the LED current only when the junction temperature gets very high.
The BCR431U features a dimming capability of down to 1%, which makes it attractive for a great variety of LED strip designs.
For more information contact Dirk Venter, Altron Arrow, +27 11 923 9600, dventer@arrow.altech.co.za, www.altronarrow.com
Credit(s)
Further reading:
Component shortages and how to mitigate them
31 March 2021, RS Components (SA), Projects Concern Manufacturing, Production Logix, Altron Arrow , News
To find out just how severe the problem is right now, and the impact it is having, we consulted two South African CEMs and two component distributors for their insights and advice.
Read more...
---
Bidirectional logic-level voltage translators
31 March 2021, Altron Arrow , Analogue, Mixed Signal, LSI
The 74LVC2T45 and 74LVCH2T45 from Diodes Incorporated provide logic-level voltage translation between devices that operate from different supply rails. The devices have dual power supplies and support 
...
Read more...
---
Multi-constellation GNSS module
31 March 2021, Altron Arrow , Telecoms, Datacoms, Wireless, IoT
Telit's high-precision GNSS SE868SY-D is a new multi-frequency, multi-constellation positioning receiver capable of combining GPS/QZSS and Galileo in the L1/E1 and L5/E5 bands, GLONASS in the L1, BeiDou 
...
Read more...
---
Evaluate 3D magnetic sensors in under ten minutes
31 March 2021, Altron Arrow , Analogue, Mixed Signal, LSI
You probably think that it's not possible to evaluate a 3D magnetic sensor in less than ten minutes? Think again! Anything is possible with Infineon's 2GO kits. Its 3D magnetic sensor 2GO kit is a budget-priced 
...
Read more...
---
PoE to USB-C power and data adaptor
26 February 2021, Altron Arrow , Power Electronics / Power Management
There are many consumer, enterprise and industrial devices today that have a USB Type-C port as the only input power option. While USB-C technology can offer high power and high data rate, it limits the 
...
Read more...
---
IR emitters for industrial mass market 2D/3D sensing
26 February 2021, Future Electronics , Opto-Electronics
ams has introduced a family of infrared VCSEL (Vertical-Cavity Surface-Emitting Laser) flood illuminators which help industrial manufacturers to develop new and innovative applications for robots, cobots, 
...
Read more...
---
High-brightness 7-inch IPS display
26 February 2021, iCorp Technologies , Opto-Electronics
The RFF700A9-AWH-DNN is a 7-inch, IPS TFT-LCD display featuring high brightness and wide temperature ranges. This module's IPS screen allows users to see the display clearly at wider angles, and also 
...
Read more...
---
Multi-parameter vital signs monitoring is easier than ever before
31 March 2021, Altron Arrow , Analogue, Mixed Signal, LSI
There is rapid expansion and adoption of digital healthcare fuelled by the continuous advancement in electronics and breakthroughs in cloud computing, AI, and communication technologies.
Read more...
---
STM32 wireless MCU module
26 February 2021, Altron Arrow , Telecoms, Datacoms, Wireless, IoT
STMicroelectronics is offering a solution to accelerate the market introduction of new Bluetooth LE and 802.15.4 based IoT devices with a miniature, ready-to-use STM32 wireless microcontroller (MCU) module.  
...
Read more...
---
LTE Cat.1 module for single-antenna reception
25 November 2020, Altron Arrow , Telecoms, Datacoms, Wireless, IoT
Telit's LE910S1-EA, a new LTE Cat. 1 module with single antenna, is designed for IoT applications in the EMEA and APAC regions that need a combination of performance, affordability, voice support, 2G 
...
Read more...
---