printer friendly version
Sensor signal conditioning IC
30 June 2020
Analogue, Mixed Signal, LSI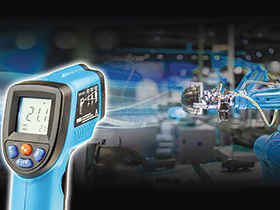 New from Renesas Electronics is the ZSSC3240 sensor signal conditioner (SSC) – the newest member of its leading-edge SSC portfolio. The ZSSC3240 delivers high accuracy, sensitivity and flexibility for sensor applications such as resistive pressure sensors and medical infrared thermometers. This new SSC features advanced performance and speed with up to 24-bit analog-to-digital conversion (ADC) resolution.
With a flexible sensor front-end and a broad range of output interfaces, the ZSSC3240 can be used for nearly all types of resistive and absolute voltage sensor elements, enabling customers to develop complete sensing platforms from a single SSC device. This combination plus its small size makes the ZSSC3240 ideal for use with a wide variety of sensor-based devices for the industrial, consumer and medical markets, including industrial pressure transmitters, HVAC sensors, weight scales, factory automation devices, smart meters and continuous smart health monitors.
Micro-machined and silicon-based sensing elements provide mostly non-linear and very small signals, requiring special technologies to convert the sensor signal into a linearised output. The ZSSC3240 SSC facilitates both the design and production of sensor interfaces by providing programmable, highly accurate, wide gain and quantisation functions combined with powerful, high-order digital correction and linearisation algorithms.
For more information contact Jody Botha, Hi-Q Electronics, +27 11 894 8083, jody@hi-q.co.za, www.hi-q.co.za
Credit(s)
Further reading:
Renesas adds Bluetooth 5.0 to RE family
28 April 2021, Hi-Q Electronics , Telecoms, Datacoms, Wireless, IoT
The RE family of 32-bit ultra-low power consumption microcontrollers (MCUs) from Renesas Electronics has been expanded to include the RE01B with Bluetooth 5.0 support. Developed using Renesas' SOTB (Silicon 
...
Read more...
---
Compact bias tees with up to 35 GHz bandwidth
31 March 2021, RF Design , Analogue, Mixed Signal, LSI
Designers can save design time and time-to-market by using a proven bias solution from the high-frequency specialist company, Marki Microwave. Its new line of surface mount bias tees, featuring up to 
...
Read more...
---
Bidirectional logic-level voltage translators
31 March 2021, Altron Arrow , Analogue, Mixed Signal, LSI
The 74LVC2T45 and 74LVCH2T45 from Diodes Incorporated provide logic-level voltage translation between devices that operate from different supply rails. The devices have dual power supplies and support 
...
Read more...
---
MCUs for low-power industrial and IoT applications
31 March 2021, Hi-Q Electronics , DSP, Micros & Memory
Renesas Electronics has expanded its RA4 Series microcontrollers (MCUs) with 12 new RA4M2 Group parts. The new devices deliver an exceptional combination of very low power consumption, high performance 
...
Read more...
---
Evaluate 3D magnetic sensors in under ten minutes
31 March 2021, Altron Arrow , Analogue, Mixed Signal, LSI
You probably think that it's not possible to evaluate a 3D magnetic sensor in less than ten minutes? Think again! Anything is possible with Infineon's 2GO kits. Its 3D magnetic sensor 2GO kit is a budget-priced 
...
Read more...
---
Ultrafast avalanche SMD rectifier diode
31 March 2021, Hi-Q Electronics , Power Electronics / Power Management
Diotec's new BYG20 Series is an ultrafast avalanche SMD rectifier diode in an SMA package, with repetitive reverse voltage of 200 V to 600 V and average forward current rating of 1,5 A. Having non-repetitive 
...
Read more...
---
How best to calculate DAC signal chain error budget
26 February 2021 , Analogue, Mixed Signal, LSI
Electrical signal chains can be found in various forms. They can consist of different electrical components, including sensors, actuators, amplifiers, analog-to-digital converters (ADCs), digital-to-analog 
...
Read more...
---
Inline industrial temperature sensor
26 February 2021, TRX Electronics , Analogue, Mixed Signal, LSI
Amphenol Advanced Sensors offers an inline flow-through temperature sensor that monitors the temperature of a fluid that passes through it. A system control module receives this temperature reading 
...
Read more...
---
Multi-parameter vital signs monitoring is easier than ever before
31 March 2021, Altron Arrow , Analogue, Mixed Signal, LSI
There is rapid expansion and adoption of digital healthcare fuelled by the continuous advancement in electronics and breakthroughs in cloud computing, AI, and communication technologies.
Read more...
---
Closed-loop MEMS accelerometer
26 February 2021, Electrocomp , Analogue, Mixed Signal, LSI
TDK announced the release of Tronics AXO315, a miniature, 1-axis closed-loop MEMS accelerometer with a 24-bit digital SPI interface and SMD package that reaches quartz sensor performance, outperforms 
...
Read more...
---