printer friendly version
3 kW TVS diode arrays
30 June 2020
Circuit & System Protection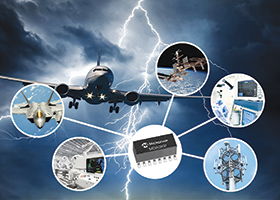 To ensure critical operations, aviation and space systems rely on digital and logic functionality and circuitry in engine control units, environmental controls, instruments and actuators. Data centres, the 5G infrastructure and communication systems also rely on complex circuitry requiring protection.
Each system must operate continuously despite voltage surges and spikes from lightning, solar events and electromagnetic incidents. Microchip Technology announced its newly expanded portfolio of transient voltage suppressor (TVS) vertical arrays – the MDA3KP, a 3 kW diode family of more than 25 products with different screening levels, polarities and qualification standards.
Microchip's MDA3KP TVS diode array family – the only available technology offering a comprehensive voltage range tested to a high reliability standard and qualified based on the MIL-PRF-19500 JANTX level equivalence standard – provides an integrated multi-diode solution. These voltage-clamping devices provide fast-reacting avalanche breakdown diode (ABD) features that divert excess current around sensitive components to protect them from electrical overstress.
"Digital controls, logic and diagnostic system circuit blocks require highly reliable, secure current and power protection to ensure operations in extreme environments," said Leon Gross, vice president of Microchip's Discrete Product Group business unit. "This diode family also addresses the challenges system designers face with a more efficient vertical construction and requirement for less board space than other devices."
MDA3KP TVS diode arrays are available in the following screened version industry standards: M, MA, MXL and MX. The devices have been exposed to various levels of testing to ensure they meet the aircraft lightning protection requirements set forth in the standard for environmental testing of avionics, RTCA DO-160E (Lightning Induced Transient Susceptibility). RTCA (the American Radio Technical Commission for Aeronautics) is the industry consortium that develops consensus on critical aviation modernisation issues.
The MDA3KP TVS diode array, a vertically constructed 8-diode, 16-pin surface mount package, allows for efficient layout and ease of design, as less printed circuit board space is required while enabling higher power densities. In the MDA3KP TVS diode array family, each device's vertical construction provides the power of eight smaller devices on a printed circuit board, eliminating the need for the multiple devices even as it provides higher power.
Available in unidirectional and bidirectional construction in standoff voltages of 6 V to 40 V, the components provide electrostatic discharge (ESD) and electrical fast transients (EFT) protection according to IEC standards and a peak pulse power rating of 3000 W at 10/1000 µs.
With an extended temperature range from -55°C to +150°C, the devices are lot-traceable, surge tested and moisture sensitivity level (MSL) Level 1 – demonstrating that these devices are ready for use in harsh environments. MSL indicates that no dry pack or bake is required prior to use. The MDA3KP TVS diode array family's power rating is the industry's only available technology with this level of screening in this package.
Microchip's 3 kW MDA diode family provides military system circuit protection for ruggedised handheld radios, global positioning system (GPS) and communication test equipment. Other device applications include automotive, industrial logging equipment, power supplies and marine systems.
For more information contact Shane Padayachee, Avnet South Africa, +27 11 319 8600, shane.padayachee@avnet.eu, www.avnet.co.za
Further reading:
EMI filter bank for power and control lines
26 February 2021, RFiber Solutions , Circuit & System Protection
Atlanta Micro's AM35 provides six filters in a tiny 1,5 x 3 mm DFN package for filtering power and control lines necessary for spurious signal suppression for amplifiers, step attenuators, tuneable filters, 
...
Read more...
---
GDT surge protection devices
25 November 2020, Electrocomp , Circuit & System Protection
Bourns' new and improved next-generation surface mount two-electrode GDT (gas discharge tube) surge protection devices have been designed using Bourns' proprietary, advanced computer simulation techniques 
...
Read more...
---
ESD shielding bags
26 February 2021, Hot Tools , Circuit & System Protection
Available in different sizes according to requirements, ESD shielding bags supplied by Hot Tools can protect sensitive components from potential static damage. Their main use is for packaging various 
...
Read more...
---
Circuit protection and EMI design kits
25 November 2020, RS Components (SA) , Circuit & System Protection
RS Components now offers a wide range of design kits created by Würth Elektronik for engineers to use during prototype development. The kits include a selection of EMC components, making a perfect match 
...
Read more...
---
Littelfuse launches DC disconnect switch product line
25 November 2020, Altron Arrow , Circuit & System Protection
Littelfuse has expanded its solar product line of fuses, relays, surge protection devices, and more with its new DC disconnect switch. Trusted with over 25 million installations, Littelfuse understands 
...
Read more...
---
Help for choosing the ideal MOV surge suppressor
25 November 2020, Electrocomp , Circuit & System Protection
Almost every designer knows about metal oxide varistors (MOVs). These bidirectional and non-linear surge suppressor devices are ubiquitous in a large variety of applications to limit voltage during a 
...
Read more...
---
High power-density TVS diodes
25 November 2020, Hi-Q Electronics , Circuit & System Protection
Today's modern high power-density electronics are more vulnerable to electrical stresses than ever due to component miniaturisation. High-demand, scalable electronics such as smart meters require highly 
...
Read more...
---
AEC-Q200 compliant line filters
28 October 2020, Electrocomp , Circuit & System Protection
Bourns Magnetics Product Line is introducing the Model DR334A line filter series. These filters are constructed with a ferrite toroid core delivering compact size and high impedance over a broad frequency 
...
Read more...
---
High-speed protectors for automotive circuits
30 September 2020, Electrocomp , Circuit & System Protection
Bourns announced the release of the AEC-Q101 compliant Model TBU-CA-Q High-Speed Protector series. These products are low-capacitance, single bidirectional high-speed protection components, constructed 
...
Read more...
---
Grounding jumpers for management of high-power busbars
31 August 2020, RS Components (SA) , Circuit & System Protection
RS Components (RS) has introduced Molex's Triton grounding jumpers for the safe management of high-power busbars. Unique to the industry, the range is UL-certified to deliver quality, safety and reliability.  
...
Read more...
---