printer friendly version
GSM boosters
30 June 2020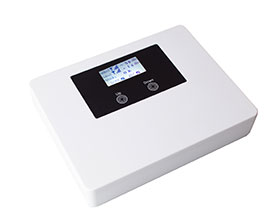 Imagine you purchase a fast car, and as you turn onto the highway, you find you need to enter it through a narrow gate, which leads to a sand track for you to drive on, alongside the highway. This is the feeling that many GSM and LTE customers still get when trying to use LTE as their backbone for their home or small office smart environment. Ideally, one would want to use fibre, but the reality is it is not always readily available, and the general consensus for the next best option is LTE.
This is where Otto Wireless Solutions' ICASA approved, non network-locked boosters come in. The products have two incredible features which have led to their mass adoption:
• Failsafe DIY installation – the devices are smart and will detect an incorrect installation. They will shut themselves down and display a message on the screen, explaining how to resolve the problem. You cannot cause interference on the mobile network.
• Castellation – for a small environment, use one booster. For a large environment, use as many as you need, to cover the desired floor space. The devices are smart, they see one another, and adjust their gains dynamically, as more devices are installed in the environment. This is a key, unique feature of the product – it prevents interference on the service provider network.
In order to make installation easy, the products are packaged into a number of DIY options.
Credit(s)
Further reading:
Cost-effective smart building retrofit system
29 July 2020, ElectroMechanica
Retrofitting older building stock with 'smart' automation solutions is now possible with the latest Hager system introduced locally by leading supplier ElectroMechanica (EM). Known as coviva, the system 
...
Read more...
---
Bose introduces new smart speaker and soundbars
29 July 2020
The next chapter in Bose's legendary home audio history.
Read more...
---
Otto Wireless reveals RAD new product line
29 July 2020, Otto Wireless , Telecoms, Datacoms, Wireless, IoT
As a world leader in the telecommunications field with over 39 years of innovation, a significant worldwide presence in over 150 countries and an installed base of more than 16 million network elements, 
...
Read more...
---
New benchmark in low-cost LTE to be released soon
29 July 2020, Otto Wireless , Telecoms, Datacoms, Wireless, IoT
SIMCom, represented locally by Otto Wireless Solutions, has expanded its family of SIM7600, LTE Cat. 1 devices, and is due to unveil a new flagship product, which is expected to take the 4G market by 
...
Read more...
---
Mesh Wi-Fi made easy
30 June 2020, Otto Wireless
Running a smart environment on a Wi-Fi backbone requires a good Wi-Fi mesh system, with low latency, and reliable handover between Wi-Fi access points.
Read more...
---
Bang & Olufsen debuts Beovision Harmony at Milan Design Week
30 June 2020
Beovision Harmony is a stunning piece of design that once again demonstrates Bang & Olufsen's uncompromising approach to design, craftsmanship and sound performance.
Read more...
---
Bose announces portable home speaker
30 June 2020
Battery-powered Wi-Fi and Bluetooth, built-in voice control, AirPlay 2 and Spotify Connect, all from one amazing speaker.
Read more...
---
CamdenBoss broadens its Room Sensor Enclosure range
30 June 2020, Vepac Electronics
CamdenBoss has introduced two new sizes to its popular Room Sensor Enclosure range, with three available size options.
Read more...
---
Affordable home automation solutions
30 June 2020
Experience the benefits of a smart home that's connected to your needs every moment of the day.
Read more...
---
Netatmo indoor and outdoor cameras for enhanced safety
30 June 2020, Legrand Southern Africa
Smart cameras that provide real-time notifications in the event of a person or vehicle trespassing on a property.
Read more...
---