printer friendly version
Wireless MCUs for automotive and industrial
31 August 2020
Telecoms, Datacoms, Wireless, IoT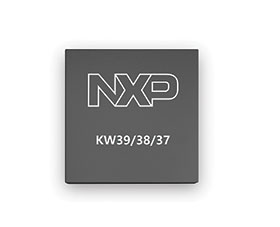 New devices have been added to NXP Semiconductors' KW3x family of wireless microcontrollers (MCUs). The new KW39/38/37 MCUs add Bluetooth 5.0 long-range capabilities and expanded Bluetooth advertising channels. These enhancements are made while offering seamless migration with hardware, software and tools compatibility with the previous generation of devices, KW34/35/36.
The connectivity MCUs allow Bluetooth LE devices to communicate at distances of more than 1,6 km and increase the amount of Bluetooth advertising channels and advertising data within the Bluetooth standard, the predominant IoT protocol. The new wireless MCU solutions allow developers to address emerging use cases within automotive and industrial digitalisation.
The KW39/38/37 wireless MCUs are designed with automotive and industry-grade hardware and software, along with robust serial communications with CAN-FD peripherals. The new devices are ideally suited for automotive applications, such as keyless entry, sensors and wireless onboard diagnostic functions. Additionally, they enable industrial applications such as building control and monitoring, fire and safety, home and institutional healthcare, asset management and monitoring and a range of other industrial use cases.
Credit(s)
Further reading:
Connectivity for IoT devices with SoftSIM
Otto Wireless Solutions Telecoms, Datacoms, Wireless, IoT
IoT device vendors are facing more and more complex cellular connectivity issues these days. Manufacturing is often outsourced to third-party factories and finished devices are being distributed to many 
...
Read more...
---
High-power GaN RF amplifier
RFiber Solutions Telecoms, Datacoms, Wireless, IoT
The CHA7618-99F is a three-stage GaN high-power amplifier (HPA) in the frequency band 5,5-18 GHz. This United Monolithic Semiconductors HPA typically provides 10 W of output power allied with 20% of power-added 
...
Read more...
---
maXTouch touchscreen controller for various aspect ratios
EBV Electrolink Analogue, Mixed Signal, LSI
As the automotive market continues to demand larger touchscreens with more flexibility in size and shape, Microchip Technology is announcing a new maXTouch touchscreen controller that allows automotive 
...
Read more...
---
Embedded vision development tool for RISC-V FPGA
EBV Electrolink Programmable Logic
Microchip Technology announced the second development tool offering in its Smart Embedded Vision initiative for designers using its PolarFire RISC-V system-on-chip (SoC) FPGA. The industry's lowest-power 
...
Read more...
---
ExpressLink modules for secure connectivity to AWS Cloud
RF Design Telecoms, Datacoms, Wireless, IoT
u-blox has announced two new modules designed to enable Amazon Web Services (AWS) cloud services for device and fleet management out of the box: the NORA-W2 AWS IoT ExpressLink Wi-Fi module and the SARA-R5 
...
Read more...
---
Cellular antenna for 4G/LTE and 5G NR
iCorp Technologies Telecoms, Datacoms, Wireless, IoT
Antenova's new 'Affini' (part number SRFL064) is a flexible printed circuit (FPC) antenna for the LTE, 4G and 5G NR networks in global markets. This antenna covers all main 4G bands plus 617-698 MHz which 
...
Read more...
---
Passive MMIC diplexer
RF Design Telecoms, Datacoms, Wireless, IoT
The MDPX-0710 from Marki Microwave is a passive MMIC diplexer with passbands from DC to 7 GHz (low band) and 10 to 26,5 GHz (high band). It has an insertion loss of less than 0,9 dB within its passbands 
...
Read more...
---
Embedded GNSS antenna with integrated LNA
RF Design Telecoms, Datacoms, Wireless, IoT
The HC990EXF from Tallysman is an extended-filter embedded GNSS helical antenna. This RHCP (right-hand circular polarised) antenna provides a peak gain of 3 dBi at full bandwidth and has an axial ratio 
...
Read more...
---
Wireless asset tag supporting Quuppa RTLS
EBV Electrolink Telecoms, Datacoms, Wireless, IoT
onsemi unveiled a new system solution that overcomes the main challenges associated with developing asset tracking tags. Battery life has been a major obstacle to asset tag adoption, particularly within 
...
Read more...
---
Wi-Fi SoCs with USB interface
iCorp Technologies Telecoms, Datacoms, Wireless, IoT
USB (Universal Serial Bus) is an industry standard that enables communication between a host controller and peripherals or other devices. A USB interface is integrated into Espressif Systems' ESP32-S 
...
Read more...
---