printer friendly version
Like Star Wars, Samtec moves on a journey
31 August 2020
Interconnection
The journey never ends ... or maybe it does – maybe?!?! That thought definitely applies to Star Wars fans. Why? 21 February 2020 marked the launch date of Season 7 of Star Wars: The Clone Wars animated series on Disney+.
For Star Wars fans at Samtec, many are anxious to see what happens next. Of course, we know what happens to Anakin and Obi-Wan, but what about Ashoka and Maul? Who wins their lightsabre duel? I guess we'll have to find out.
Isn't this the Samtec blog? Yes, of course. Why is there a Star Wars reference here? Well ... I like Star Wars ... and Samtec. There is a common bond here.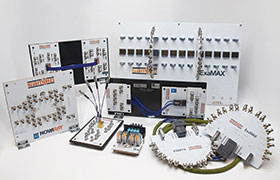 Samtec offers a range of evaluation and development kits.
Samtec's never-ending journey?
Star Wars started what may be a never-ending journey more than 40 years ago. Samtec started a new journey just a few years ago. What was that you may wonder? Designing and developing its own evaluation and development kits. What started with just a few development kits has blossomed into dozens of solutions available. Due to Samtec's robust new product releases, every new interconnect solution comes with its own evaluation platform.
Additionally, its 'Kits' landing page – www.samtec.com/kits – has been recently updated. Instead of having one long scrolling page, several sub-pages have been added to ease navigation and kit organisation.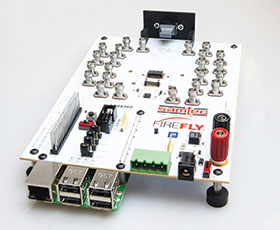 28 Gbps FireFly evaluation kit.
The kits are now organised into four types:
• SI evaluation kits: board-to-board.
• SI evaluation kits: cable.
• Optics/FPGA kits.
• Component kits.
Readers are encouraged to visit the site frequently, as Samtec is always adding new kits. A recent example is the new 28 Gbps FireFly evaluation kit as illustrated. It also has new solutions under development for Bulls Eye, NovaRay, AcceleRate HD and AcceleRate HP.
Credit(s)
Further reading:
Circular connectors for signals, data and/or power
28 July 2021 , Interconnection
Farnell is now delivering Intercontec circular connectors from TE Connectivity – an innovative, plug-and-play connector concept that simplifies modular machine design by offering a wide range of variants 
...
Read more...
---
Modern trends are shaping new power connectors
25 August 2021 , Editor's Choice, Interconnection
While it may sound counter-intuitive to use smaller connectors, it is possible to obtain a better total current rating with connectors that use a larger number of smaller terminals.
Read more...
---
The evolution of heavy-duty connectors
25 August 2021, Phoenix Contact , Editor's Choice, Interconnection
Tomorrow's smart production demands smart components that can be assembled quickly, easily and economically to create customised solutions that can be delivered from batch sizes of one upwards.
Read more...
---
Connector backshells for demanding environments
25 August 2021, Hiconnex , Interconnection
A backshell is the rear portion of a connector which is normally a separate section from the connector head. It is used to secure the cable to the end of the connector in order to relieve strain on solder 
...
Read more...
---
High-speed connectors for vehicle networks
25 August 2021, Actum Group , Interconnection
The differential high-speed data connector systems H-MTD, H-MTD+ and H-MTDe developed by Rosenberger, set high standards for future vehicle network systems. H-MTD connectors can be used for frequencies 
...
Read more...
---
Low-PIM coaxial cable assemblies
25 August 2021, RF Design , Interconnection
Pasternack recently expanded its ever-growing line of low-PIM coaxial cable assemblies using its Superflex cables, as well as popular cable offerings from Times Microwave that are ideal for use in wireless 
...
Read more...
---
Touch-safe appliance power connectors
25 August 2021, Vepac Electronics , Interconnection
Saf-D-Grid builds on the proven contact technology used in Anderson Power Products' (APP) SB and Powerpole connectors by offering features required in 380-400 V d.c. power distribution systems. APP 
...
Read more...
---
Self-locking RF connectors
28 July 2021, Hiconnex , Interconnection
With all the antennas present on civil aircraft, cable assemblies for airborne electronic systems are still receiving plenty of development attention. Coaxial cables remain the transmission medium of 
...
Read more...
---
Case study: IP68 sealing and EMI protection for radar application
28 July 2021, Hiconnex , Interconnection
The end users of radar systems require them to be durable, reliable and to require little maintenance. In order to track multiple targets, such a system needs to have the most accurate transmission of 
...
Read more...
---
Robust sealed connector system
28 July 2021, Electrocomp , Interconnection
Today's complex vehicles include more connectors than ever, which brings a higher risk of failure as one compromised seal on a single connector can result in the failure of an entire system. To address 
...
Read more...
---