printer friendly version
Easy mesh Wi-Fi solution
31 August 2020
Telecoms, Datacoms, Wireless, IoT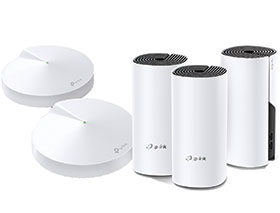 Running a smart environment on a Wi-Fi backbone requires a good Wi-Fi mesh system, with low latency, and reliable handover between Wi-Fi access points. The reality is that most smart systems are still considered a high-end luxury, and exist in smart homes more often than in smart offices. This makes the choice of Wi-Fi system quite complex because it needs to tick a number of boxes:
• Affordability.
• Reliability.
• Aesthetics.
• Family firewalling.
• Ease of use/installation.
This is where the TP-Link Deco system comes into its own. It is a scalable solution, meaning the system can start within a budget, and grow larger over time. Installation is a breeze – new devices are added to the network at the click of a button via a smart app.
Users are configured with their devices dropped into their portfolio, and each individual's portfolio has separate, specific rules to manage the sort of content which is available to the user, the times of day they can access the network, and the duration for which each user can access the network per day.
Devices can be prioritised, allowing the all-important streaming services to receive priority bandwidth when lots of devices are online. The entire network can be managed remotely, as long as the admin's cellphone has an Internet connection. Multiple packaging options, from ceiling mount to desk mount, deliver a discreet, aesthetic solution.
Credit(s)
Further reading:
Embedded GNSS antenna with integrated LNA
RF Design Telecoms, Datacoms, Wireless, IoT
The HC990EXF from Tallysman is an extended-filter embedded GNSS helical antenna. This RHCP (right-hand circular polarised) antenna provides a peak gain of 3 dBi at full bandwidth and has an axial ratio 
...
Read more...
---
Wireless asset tag supporting Quuppa RTLS
EBV Electrolink Telecoms, Datacoms, Wireless, IoT
onsemi unveiled a new system solution that overcomes the main challenges associated with developing asset tracking tags. Battery life has been a major obstacle to asset tag adoption, particularly within 
...
Read more...
---
Wi-Fi SoCs with USB interface
iCorp Technologies Telecoms, Datacoms, Wireless, IoT
USB (Universal Serial Bus) is an industry standard that enables communication between a host controller and peripherals or other devices. A USB interface is integrated into Espressif Systems' ESP32-S 
...
Read more...
---
RS-485/422 differential transceivers
Hi-Q Electronics Telecoms, Datacoms, Wireless, IoT
Renesas has expanded its RS-485/422 portfolio with the RAA78815x family of 5 V differential transceivers with electrical fast transient (EFT) immunity of ±5000 V and ESD protection up to ±16 000 V, making 
...
Read more...
---
NB-IoT roll-out will rapidly increase adoption
Flickswitch Telecoms, Datacoms, Wireless, IoT
In today's ever-evolving world, catching the IoT wave is critical. Surveys show that four out of five businesses are investing in IoT, however, there are always questions when it comes to delivering long-term 
...
Read more...
---
Multi-mode LTE Cat. 4 module
iCorp Technologies Telecoms, Datacoms, Wireless, IoT
The SC200R-EM is a new-generation multi-mode LTE Cat. 4 smart module measuring 40,5 mm × 40,5 mm × 2,8 mm with built-in Android OS, based on Qualcomm's ARM Cortex-A53 64-bit quad-core processor and built-in 
...
Read more...
---
Tiny Bluetooth module fit for industrial applications
RF Design Telecoms, Datacoms, Wireless, IoT
The newly released ANNA-B4 is u-blox' smallest Bluetooth module to date, packed with features tailored to the needs of industrial applications. This comes at a time when smart factories have matured from 
...
Read more...
---
Multiprotocol, dual-processor wireless SoC
RF Design Telecoms, Datacoms, Wireless, IoT
Nordic Semiconductor's nRF5340 high-end multiprotocol system-on-chip (SoC) became the first member of its next generation of nRF5 Series SoCs. The nRF5340 builds on Nordic's proven and globally adopted 
...
Read more...
---
Cloud platform securely manages and connects edge devices
Avnet Silica Telecoms, Datacoms, Wireless, IoT
NXP Semiconductors' EdgeLock 2GO IoT service platform enables easy, secure deployment and management of IoT devices and services. The platform is integrated with NXP's Common Criteria (CC) EAL 6+ certified 
...
Read more...
---
One LoRa node to find them all
Otto Wireless Solutions Editor's Choice Telecoms, Datacoms, Wireless, IoT
Whether your barrier to making use of LoRa has been availability or the price of nodes and gateways, or the lack of network infrastructure, the solutions to these problems are now available.
Read more...
---