printer friendly version
Samtec unifies QSFP and VITA specifications
31 August 2020
Interconnection
What do the QSFP-DD800 MSA and VITA 57 standards have in common? One focuses on defining the next-generation pluggable form factors while the other complements FPGA mezzanine applications. Samtec participates in many industry standards to develop commonality in specific applications. QSFP-DD800 and VITA 57 are but two examples.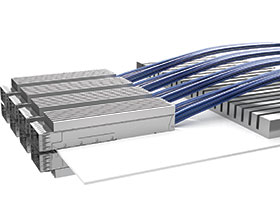 Figure 1. Samtec's FQSFP-DD solution.
QSFP-DD800 MSA: New hardware specification
QSFP28. QSFP-DD. QSFP-DD800. It seems the multi source agreements (MSAs) for quad small form-factor pluggable (QSFP) solutions won't be slowing down any time soon. QSFP-DD800 refers to 'Quad Small Form Factor Pluggable Double Density 800'. The goal of the MSA is to scale development of high-speed, double-density QSFP modules which support 800 Gbps connectivity.
Why all the fuss about QSFP-DD800? Well, QSFP solutions are commonplace connector, cage and transceiver form factors across the majority of data centre applications. Current QSFP-DD solutions can handle 400 Gbps (8 x 50 Gbps), but QSFP-DD800 moves it to 800 Gbps (8 x 100 Gbps).
The new QSFP-DD800 efforts have focused on signal integrity improvements for increased performance per lane. For example, optimised transceiver pads allow for 100 Gbps performance. Additionally, a new 2 x 1 connector/cage definition allows upper ports to leverage high-performance twinax cable options instead of traditional PCB traces.
Novel interconnect architectures also assist in thermal management, similar to Samtec FQSFP-DD solutions shown in Figure 1. Yet, the QSFP-DD800 MSA has focused on being backward compatible with previous QSFP modules. For more information on the QSFP-DD800 MSA please visit www.qsfp-dd800.com.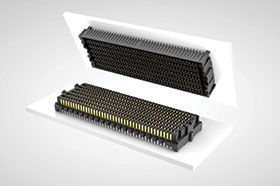 Figure 2. SEARAY high-speed, high-density array connector.
New VITA 57.X application notes
By any measure, both VITA 57.1 FMC and VITA 57.4 FMC+ have been extremely popular standard interfaces. FPGA vendors like Xilinx, Intel, Achronix and others, and their ecosystem partners, leverage FMC and FMC+ across their hardware platforms.
Samtec is a connector provider for both VITA 57.1 FMC and VITA 57.4 FMC+. Additionally, Samtec has developed a number of accessories that complement the VITA 57.X connector solutions. As customers increase the amount of FMC and FMC+ information requests, Samtec has created several application notes that assist with design and testing VITA 57.X interfaces.
Credit(s)
Further reading:
High-reliability power connector with 8,5 mm pitch
Avnet Abacus Interconnection
Allowing designers to specify high current and high quality for maximum power in extreme conditions, the Kona connector from Harwin features tough, resilient housings to protect connections from physical 
...
Read more...
---
Host of updates rolled out to Samtec's website
Spectrum Concepts Interconnection
Samtec added a slew of updates and new features to its website (www.samtec.com) in October, as several projects wrapped up and were pushed live to the site. These included a new design for its 'tech specs' 
...
Read more...
---
27 GHz SMA interconnect products
TRX Electronics Interconnection
Mouser Electronics is now stocking EP-SMA 27 GHz connectors, adaptors and cable assemblies from TE Connectivity. The portfolio provides engineers with increased bandwidth, power and performance that are 
...
Read more...
---
Ruggedised precision VNA test cables
Hiconnex Interconnection
The TestPro VNA series provides customers with a reliable, ruggedised solution for lab and production vector network analyser (VNA) testing. With options for 50 GHz and 67 GHz, these cables offer cost-leading 
...
Read more...
---
Adaptor sleeves for heavy-duty connectors
Phoenix Contact Interconnection
HC-CES adaptor sleeves from Phoenix Contact enable the easy and time-saving connection of a large range of conductors in the company's Heavycon heavy-duty connector series. The new adaptors replace 
...
Read more...
---
Ultra-miniature coaxial connectors
Otto Marketing Interconnection
Hirose Electric has released its X.FL coaxial wire-to-board and board-to-board series. The ultra-miniature wire-to-board versions offer a low profile of 0,94 mm combined with high performance to meet 
...
Read more...
---
Circular industrial Ethernet connectors
RS Components (SA) Interconnection
RS Components has announced availability of a complete series of circular connectors manufactured by Conec Elektronische Bauelemente, part of the Amphenol Group.    Featuring 0,8&nbps;mm diameter contact pins, 
...
Read more...
---
Additional pin counts for MicroSpeed connectors
Actum Group Interconnection
ERNI expanded its MicroSpeed product family in the signal area to include variants with the additional pin counts of 26, 32 and 44. Unshielded connectors were also added to the power supply group.  
...
Read more...
---
Cable management the Samtec Flyover way
Spectrum Concepts Multimedia, Videos
Using twinax cable with ultra-low skew to route signals over a board is a key performance enabler as signal reach and integrity needs continue to become ever more important in high-speed applications.
...
Read more...
---
Interconnect system with 1,0 mm centreline
TRX Electronics Interconnection
Mouser Electronics is now stocking the AMPMODU 1,0 mm centreline interconnect system from TE Connectivity (TE). This interconnect system offers an 85% space saving on the board when compared to the 
...
Read more...
---