printer friendly version
Samtec unifies QSFP and VITA specifications
31 August 2020
Interconnection
What do the QSFP-DD800 MSA and VITA 57 standards have in common? One focuses on defining the next-generation pluggable form factors while the other complements FPGA mezzanine applications. Samtec participates in many industry standards to develop commonality in specific applications. QSFP-DD800 and VITA 57 are but two examples.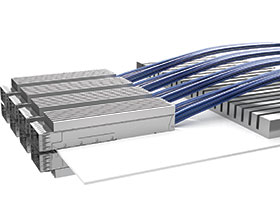 Figure 1. Samtec's FQSFP-DD solution.
QSFP-DD800 MSA: New hardware specification
QSFP28. QSFP-DD. QSFP-DD800. It seems the multi source agreements (MSAs) for quad small form-factor pluggable (QSFP) solutions won't be slowing down any time soon. QSFP-DD800 refers to 'Quad Small Form Factor Pluggable Double Density 800'. The goal of the MSA is to scale development of high-speed, double-density QSFP modules which support 800 Gbps connectivity.
Why all the fuss about QSFP-DD800? Well, QSFP solutions are commonplace connector, cage and transceiver form factors across the majority of data centre applications. Current QSFP-DD solutions can handle 400 Gbps (8 x 50 Gbps), but QSFP-DD800 moves it to 800 Gbps (8 x 100 Gbps).
The new QSFP-DD800 efforts have focused on signal integrity improvements for increased performance per lane. For example, optimised transceiver pads allow for 100 Gbps performance. Additionally, a new 2 x 1 connector/cage definition allows upper ports to leverage high-performance twinax cable options instead of traditional PCB traces.
Novel interconnect architectures also assist in thermal management, similar to Samtec FQSFP-DD solutions shown in Figure 1. Yet, the QSFP-DD800 MSA has focused on being backward compatible with previous QSFP modules. For more information on the QSFP-DD800 MSA please visit www.qsfp-dd800.com.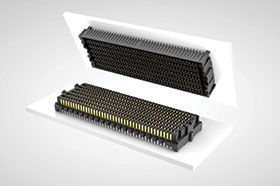 Figure 2. SEARAY high-speed, high-density array connector.
New VITA 57.X application notes
By any measure, both VITA 57.1 FMC and VITA 57.4 FMC+ have been extremely popular standard interfaces. FPGA vendors like Xilinx, Intel, Achronix and others, and their ecosystem partners, leverage FMC and FMC+ across their hardware platforms.
Samtec is a connector provider for both VITA 57.1 FMC and VITA 57.4 FMC+. Additionally, Samtec has developed a number of accessories that complement the VITA 57.X connector solutions. As customers increase the amount of FMC and FMC+ information requests, Samtec has created several application notes that assist with design and testing VITA 57.X interfaces.
Credit(s)
Further reading:
Circular connectors for signals, data and/or power
28 July 2021 , Interconnection
Farnell is now delivering Intercontec circular connectors from TE Connectivity – an innovative, plug-and-play connector concept that simplifies modular machine design by offering a wide range of variants 
...
Read more...
---
Modern trends are shaping new power connectors
25 August 2021 , Editor's Choice, Interconnection
While it may sound counter-intuitive to use smaller connectors, it is possible to obtain a better total current rating with connectors that use a larger number of smaller terminals.
Read more...
---
The evolution of heavy-duty connectors
25 August 2021, Phoenix Contact , Editor's Choice, Interconnection
Tomorrow's smart production demands smart components that can be assembled quickly, easily and economically to create customised solutions that can be delivered from batch sizes of one upwards.
Read more...
---
Connector backshells for demanding environments
25 August 2021, Hiconnex , Interconnection
A backshell is the rear portion of a connector which is normally a separate section from the connector head. It is used to secure the cable to the end of the connector in order to relieve strain on solder 
...
Read more...
---
High-speed connectors for vehicle networks
25 August 2021, Actum Group , Interconnection
The differential high-speed data connector systems H-MTD, H-MTD+ and H-MTDe developed by Rosenberger, set high standards for future vehicle network systems. H-MTD connectors can be used for frequencies 
...
Read more...
---
Low-PIM coaxial cable assemblies
25 August 2021, RF Design , Interconnection
Pasternack recently expanded its ever-growing line of low-PIM coaxial cable assemblies using its Superflex cables, as well as popular cable offerings from Times Microwave that are ideal for use in wireless 
...
Read more...
---
Touch-safe appliance power connectors
25 August 2021, Vepac Electronics , Interconnection
Saf-D-Grid builds on the proven contact technology used in Anderson Power Products' (APP) SB and Powerpole connectors by offering features required in 380-400 V d.c. power distribution systems. APP 
...
Read more...
---
Self-locking RF connectors
28 July 2021, Hiconnex , Interconnection
With all the antennas present on civil aircraft, cable assemblies for airborne electronic systems are still receiving plenty of development attention. Coaxial cables remain the transmission medium of 
...
Read more...
---
Case study: IP68 sealing and EMI protection for radar application
28 July 2021, Hiconnex , Interconnection
The end users of radar systems require them to be durable, reliable and to require little maintenance. In order to track multiple targets, such a system needs to have the most accurate transmission of 
...
Read more...
---
Robust sealed connector system
28 July 2021, Electrocomp , Interconnection
Today's complex vehicles include more connectors than ever, which brings a higher risk of failure as one compromised seal on a single connector can result in the failure of an entire system. To address 
...
Read more...
---