printer friendly version
Samtec unifies QSFP and VITA specifications
31 August 2020
Interconnection
What do the QSFP-DD800 MSA and VITA 57 standards have in common? One focuses on defining the next-generation pluggable form factors while the other complements FPGA mezzanine applications. Samtec participates in many industry standards to develop commonality in specific applications. QSFP-DD800 and VITA 57 are but two examples.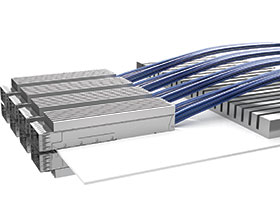 Figure 1. Samtec's FQSFP-DD solution.
QSFP-DD800 MSA: New hardware specification
QSFP28. QSFP-DD. QSFP-DD800. It seems the multi source agreements (MSAs) for quad small form-factor pluggable (QSFP) solutions won't be slowing down any time soon. QSFP-DD800 refers to 'Quad Small Form Factor Pluggable Double Density 800'. The goal of the MSA is to scale development of high-speed, double-density QSFP modules which support 800 Gbps connectivity.
Why all the fuss about QSFP-DD800? Well, QSFP solutions are commonplace connector, cage and transceiver form factors across the majority of data centre applications. Current QSFP-DD solutions can handle 400 Gbps (8 x 50 Gbps), but QSFP-DD800 moves it to 800 Gbps (8 x 100 Gbps).
The new QSFP-DD800 efforts have focused on signal integrity improvements for increased performance per lane. For example, optimised transceiver pads allow for 100 Gbps performance. Additionally, a new 2 x 1 connector/cage definition allows upper ports to leverage high-performance twinax cable options instead of traditional PCB traces.
Novel interconnect architectures also assist in thermal management, similar to Samtec FQSFP-DD solutions shown in Figure 1. Yet, the QSFP-DD800 MSA has focused on being backward compatible with previous QSFP modules. For more information on the QSFP-DD800 MSA please visit www.qsfp-dd800.com.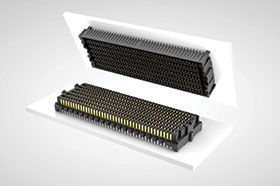 Figure 2. SEARAY high-speed, high-density array connector.
New VITA 57.X application notes
By any measure, both VITA 57.1 FMC and VITA 57.4 FMC+ have been extremely popular standard interfaces. FPGA vendors like Xilinx, Intel, Achronix and others, and their ecosystem partners, leverage FMC and FMC+ across their hardware platforms.
Samtec is a connector provider for both VITA 57.1 FMC and VITA 57.4 FMC+. Additionally, Samtec has developed a number of accessories that complement the VITA 57.X connector solutions. As customers increase the amount of FMC and FMC+ information requests, Samtec has created several application notes that assist with design and testing VITA 57.X interfaces.
Credit(s)
Further reading:
Interconnect system with 1,0 mm centreline
27 October 2021, TRX Electronics , Interconnection
Mouser Electronics is now stocking the AMPMODU 1,0 mm centreline interconnect system from TE Connectivity (TE). This interconnect system offers an 85% space saving on the board when compared to the 
...
Read more...
---
Connector search spits out mated connector set in seconds
27 October 2021, Spectrum Concepts , Interconnection
Samtec has a multitude of ways to stack two or more boards together, thanks to a manufacturing process that allows it to position the plastic body on the terminal pin in increments of 0,13 mm on standard 
...
Read more...
---
Multi-coax quick-turn microwave connectors
27 October 2021, Conical Technologies , Interconnection
Chinese RF and microwave connector, cable and adaptor manufacturer, Anoison, announced the release of the latest addition to its selection of RF and microwave products with the release of the PA-5 range 
...
Read more...
---
Interconnect solutions for solar energy systems
27 October 2021, Hiconnex , Interconnection
Souriau is the chosen interconnect provider for some of the largest concentrated solar power (CSP) and photovoltaics (PV) projects in the world and is currently collaborating with new technology designs 
...
Read more...
---
Terminal blocks with lateral push-in connection
27 October 2021, Phoenix Contact , Interconnection
The PTV terminal blocks with lateral conductor connection from Phoenix Contact ensure clear wiring without bending radii. As a result, it is also easier to affix and read the connection and conductor 
...
Read more...
---
Micro connectors with backshells
25 August 2021, Hiconnex , Interconnection
At this year's DSEI exhibition, Nicomatic launched its new DBMM Series, a modification of the DMM 2 mm connectors to include fully integrated backshells. DBMM connectors save space, measuring only 15 mm 
...
Read more...
---
Terminal blocks for measuring transducers
25 August 2021, Phoenix Contact , Interconnection
The PTVME test-disconnect terminal blocks from Phoenix Contact are an extension to the PTV portfolio and can be used in all applications on the secondary wiring side of switching devices for transducers 
...
Read more...
---
Meeting the demands placed on connectors in automotive electronics
29 September 2021, TRX Electronics , Interconnection
A few decades ago, cars were purely mechanical machines, sophisticated in terms of their moving parts but simple in their electronics. This is no longer true.
Read more...
---
Millimetre-wave interconnect considerations
29 September 2021, RF Design , Interconnection
There has been a general trend of radio and sensing applications shifting to higher frequencies, either to avoid interference due to the growing use of RF and microwave spectrum or to take advantage of 
...
Read more...
---
Charging sockets with LED indicators and temperature measurement
29 September 2021, Phoenix Contact , Interconnection
The new generation of type-2 Charx connect charging sockets from Phoenix Contact offers AC home charger and charging station manufacturers and users simplified installation and maintenance, enhanced safety 
...
Read more...
---