printer friendly version
Cosel expands microprocessor controlled power supplies offering
18 September 2020 Power Electronics / Power Management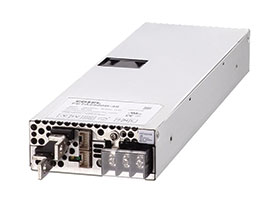 Cosel has announced the addition of a 3000 W AC/DC enclosed power supply for industrial and demanding semiconductors applications. Designed with advanced built-in digital microprocessor technology, the FETA3000BA includes active current sharing, making it simple to parallel up to 10 units for extra power or redundancy. For high efficiency, the FETA3000BA includes an active filter and uses a phase-shift, full-bridge topology offering an efficiency level of up to 93%. Addressing industrial applications and semiconductors equipment, the FETA3000BA complies with the SEMI F47 standard.
With an input voltage range of 170 to 264 V a.c., the FETA3000BA-48 delivers an output voltage of 48 V d.c., adjustable from 38,40 to 52,80 V d.c. using the built-in potentiometer, or 15,00 to 52,80 V d.c. when using the trimming function available at the rear connector. The nominal output current is 62 A and efficiency is up to 93% at 230 V a.c. input.
Operated utilising Cosel's digital microprocessor technology, the FETA3000BA series integrates a very sophisticated voltage and current balance control. This simplifies the task of system integrators when connecting units in parallel or series. This technology makes it possible to connect up to 10 units in parallel, without adding any other external components. The advanced digital control also controls switching parameters to optimise efficiency, thus reducing energy consumption.
"Power supplies, which used to be a mass of analog technologies, have been going through major changes since the turn of the century. Once controlled by switching devices on and off in an analog circuit based on output voltage monitoring, they are now controlled digitally by microprocessors and software," said Mr Todo, manager of the Unit Standard Design Department. "Cosel started to develop its own digital control technology at an early stage. By incorporating digital control technology into the analog circuitry, Cosel has achieved power supplies with higher level functions from which the FETA3000BA is fully benefiting".
The FETA3000BA complies with the semiconductor standard SEMI F47, which requires that semiconductor processing equipment tolerates voltage sags on their AC power line.
To reduce audible noise, the FETA3000BA series is equipped with a thermo-regulated fan whose speed is automatically adjusted to optimise cooling for specific environments. Aimed at industrial environments, the FETA3000BA series can be operated within a temperature range of -10 to 70°C, 20 – 90 %RH (non condensing) and up to 3000 metres maximum altitude. Depending on the cooling and assembling method, a power derating may apply.
The FETA3000BA includes an input filter and complies with FCC Part 15-A, CISPR32-A, EN55032-A, VCCI-A. In cases where a higher conducted noise attenuation is required, Cosel recommends the NAC-20-472 filter.
The product is UL62368-1, C-UL (CSA62368-1), EN62368-1 safety approved. Designed for integrated industrial applications in 1U height, the FETA3000BA measures 102 x  41 x 340 mm (WxHxD) and weighs 2.3 kg maximum.
The FETA3000BA is suitable for a wide range of applications, including measurement and analysis equipment, machine tools and semiconductor manufacturing equipment. They comply with the RoHS directive and are CE marked in accordance with the Low Voltage Directive.
For higher power requirements, CoseL offers two models of FETA7000, the FETA7000T with three-phase/three wires 170-264 V a.c. input and the FETA7000ST with three-phase/four wires 300-480 V a.c. input. Both models are available in two outputs versions, 48 V and 144 V, delivering up to 7488 W.
Credit(s)
Further reading:
Thermal wire strippers
30 September 2020, Vepac Electronics , Manufacturing / Production Technology, Hardware & Services
Hakko's FT-802 thermal wire strippers satisfy the demands of the military, medical and aerospace industries. The new model ensures the precise, clean-cut removal of wire insulation, even through highly 
...
Read more...
---
Maintaining backup battery systems for maximum usage and reliability
30 September 2020, Comtest , Power Electronics / Power Management
Standby battery backup systems play a critical role in keeping essential operations functional in the event of a utility outage. Facilities like data centres, hospitals, airports, utilities, oil and gas 
...
Read more...
---
Double the power output from new Tadiran battery
30 September 2020, Altron Arrow , Power Electronics / Power Management
Tadiran has developed the latest in its PulsesPlus HLC battery range, doubling the power output of its previous offering. Recently the company launched the C-type HLC which represented a huge improvement 
...
Read more...
---
Bidirectional DC power supply for lab testing
30 September 2020, Conical Technologies , Power Electronics / Power Management
The new IT-M3400 bidirectional DC power supply from ITECH integrates the features of a bidirectional power supply and a regenerative load. It inherits the advantages of high power density and modular 
...
Read more...
---
Global analysis of the solid-state battery market
30 September 2020 , Power Electronics / Power Management
The rapid growth of the electric vehicle market has driven the development, manufacture and sales of batteries, especially lithium-ion batteries. In the meantime, market research firm IDTechEx has identified 
...
Read more...
---
Solar lithium storage system
30 September 2020, Vepac Electronics , Power Electronics / Power Management
The US2000 Plus is a latest-generation lithium storage unit. Combining enhanced safety with a long service life – even when at low levels of charge on a regular basis – it meets the demanding requirements 
...
Read more...
---
Cost optimised power supplies
30 September 2020, Current Automation , Power Electronics / Power Management
The Dimension CP-Series from PULS are cost optimised power supplies without compromising quality, reliability and performance. The most noteworthy features of the CP10.241–R1/-R2 units are their high 
...
Read more...
---
1 kW programmable DC power supplies
30 September 2020, Accutronics , Power Electronics / Power Management
TDK-Lambda announced the introduction of the G1kW and GH1kW series of 1U high programmable DC power supplies. These new products further expand the GENESYS+ series, offering up to 1000 W output power 
...
Read more...
---
DC-DC converters certified for railway radio
30 September 2020, Vepac Electronics , Power Electronics / Power Management
In addition to the existing certificates for the compliance of EMC characteristics according to EN 50121-3-2, MTM Power can now also prove compliance with the technical regulation EMV 06 – verification 
...
Read more...
---
Electrolube helps smart homes become even smarter
31 August 2020, Vepac Electronics , Manufacturing / Production Technology, Hardware & Services
The Internet of Things (IoT) is a platform enabling embedded devices connected to the Internet to collect and exchange data with each other. Devices can begin to interact and work with each other, even 
...
Read more...
---