printer friendly version
Personality profile: Mervyn Stocks
30 September 2020
Editor's Choice
Mervyn Stocks, the founder and MD of Denver Technical Products, started his career as a learner technician, worked at some well-known companies in the industry before setting out on his own. Throughout his career, he has been privileged to work with a number of people who influenced and encouraged him as he progressed.
Mervyn's first job out of school was with the SABC where he found a position as a learner technician. While working there, he also expanded his education and attended the Technical College in Smit Street, Johannesburg.
The SABC workshop was primarily focused on the repair and maintenance of professional audio equipment in those days. They also used to manufacture their own audio mixing desks with associated amplifiers. Mervyn assisted with the wiring under the supervision of a senior technician.
Mervyn says he was exposed to experienced skilled men while at the SABC, where he learned a great deal. One of the names he specifically recalls is Douglas Mills, chief engineer at the SABC. The organisation also had a mechanical division and employees were free (at lunch times) to learn how to use the machine tools including lathes, milling machines, engraving machines, sheet metal machinery, welding equipment and so on.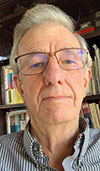 Mervyn Stocks.
Moving into mining technology
Eighteen months later, Mervyn joined Anglo American Corp in its electronics lab in Main Street, Johannesburg. Again, while working he attended the Technikon in Johannesburg and Pretoria. Anglo's lab was all about industrial electronics associated with mining the technicians were assigned to a graduate engineer and were responsible for building their projects.
Among his accomplishments at the lab was building and installing an automatic underground high-pressure pump control. This installation was at the Welkom Gold mine and consisted of five high-pressure multi stage SULZER pumps coupled to large high voltage BRUSH electric motors. The staff in the lab also built what could be called a mini-computer consisting of discreet transistors, there were no integrated circuits, let alone microprocessors in 1966.
This device could sense the level of water in the underground holding dam and, once a pre-determined level was reached, one of the motors would start. Once the pressure was equalised on both sides of the valve, the valve would open and water would be pumped to the surface. Once the dam level had dropped to the required level the valve would close and the pump shut down.
Tackling technical sales
In 1969, Mervyn decided to branch out into technical sales and joined Thorn MI, which had the agency for International Rectifier, manufacturer of high power diodes. In this position, his role was internal sales. Mervyn says, "I hated it, sitting at a desk all day, I lasted three months."
He then moved to Dowson & Dobson (later renamed Telkor) as an external salesman in 1969, where his first job was the promotion and demonstration of SIGMAFORM, a heavy-duty power cable jointing system. This position brought him into contact with the electrical engineers of municipalities, mines, electrical contractors and more. He was so successful that he quickly ended up as sales manager for instruments.
It was in this position that he was fortunate to meet other influential characters in his career, Cyrus Potgieter, the MD of Dowson & Dobson/Telkor, as well as Dr P V Brüel from B&K; in Denmark.
The only non-electronic product in his portfolio at this stage was the UK's Clark Masts. This company developed portable mobile masts for the support of antennae for military and civil communications. "This brought me into contact with the professors of all the universities with electrical engineering faculties, as well as SABS, SAPO, CSIR, SAR, SABC, ESKOM, ARMSCOR, Atomic Energy and many others.
During his time at the company, it was sold to AFROX, then a private investor, and later to Barlows. Mervyn adds, "As so often happens, the new management see things differently to the existing middle managers. In 1985 we were in recession, interest rates were sky high, inflation was rampant and the sanctions were biting; and Barlows was putting extreme pressure on us sales people. It was not the perfect time to resign and start a new business."
A new beginning
It was around this time that Mr A N Clark of Clark Masts suggested he and Mervyn start a company in South Africa on a 50/50 basis. "I never hesitated," says Mervyn. With his current employer unconcerned about the potential competition, Denver Technical Products started trading in 1985 with two products, Clark Masts and TEKLITE. Alec Clark is another of the important people who have been a positive influence in Mervyn's life.
At that time, Denver consisted of a one-room office with a mornings-only person to answer the telephone and do general admin work. "I would see customers in the mornings and answer the telephone and make appointments in the afternoons."
Soon thereafter, space became an issue and Denver moved to a mini factory in Heriotdale, Johannesburg. The company quickly brought more brands into its portfolio, such as COMET and LEM from Switzerland, and the USA company DynAmp. Later on, more companies signed agreements with Denver, including Hannay, Francis Search Lights and Wolf Safety Lighting.
Denver soon established a metal shop in order to assist TEKLITE with a contract for the Swiss Civil Defence, expanding its operations once again. Thereafter the company started developing and manufacturing electronic ballasts and ignitors for discharge lighting, namely High Pressure Sodium and Metal Halide, to operate from the 12 or 24 Volt DC power available on fire trucks.
During this time, the two people Mervyn remembers fondly for their support and encouragement are Alec Clark of Clark Masts, and Martin Frey, CEO of COMET in Switzerland.
Denver Technical Products now has four divisions, electronic sales, industrial products, metal fabrication and electronic assembly. Mark Stocks, Mervyn's son, joined the company in 2000 as a partner taking over Alec Clark's shares and now looks after industrial products, electronic assembly and metal fabrication.
Mervyn proudly states, "We own our own factory, offices and stores, never had a bank overdraft, paid for everything out of profits."
Challenges ahead
The COVID-19 pandemic has hit businesses in South Africa (and the world) hard, while locally this has been made worse because of state capture. Mervyn laments that even his best customers are in a poor position due to state capture and COVID-19. "This year has been the most difficult since we started
35 years ago with our sales 60% down."
He is also critical of the role that government plays in restricting business in South Africa. Instead of benefiting from making things easier, they seem set on increasing red tape and handicapping local businesses.
When not in the office, Mervyn's other interests include photography, reading non-fiction, classic films, gardening and his home workshop. He has also built a COBRA kit car, owned and restored some classic cars, such as a Jaguar MKII 3.8 and a 1964 Chev Impala. Since the COVID-19 lockdown, he has also taken to cooking as a hobby.
For more information contact Denver Technical Products, +27 11 626 2023, denvertech@pixie.co.za, www.denver-tech.co.za
Credit(s)
Further reading:
How do fusion splicers work?
26 February 2021, Lambda Test , Editor's Choice
Fibre-optic fusion splicers are highly accurate machines which are able to automatically align and join fibre-optic cores with sub-micron accuracy.
Read more...
---
The current state of GaN use for RF technology
26 February 2021, RF Design , Editor's Choice, Telecoms, Datacoms, Wireless, IoT
Challenges for predicting the growth and penetration of GaN technology in certain markets come from the extent of the research and development being invested in.
Read more...
---
Modern LIDAR systems promise sensing for every industry
26 February 2021, Altron Arrow , Editor's Choice, Opto-Electronics
As is always the case in human endeavours, it is impossible to know exactly what creative and useful ways people will come up with to use technology such as LIDAR.
Read more...
---
Personality profile: Bossie Coetzer
26 February 2021, Rugged Interconnect Technologies , Editor's Choice, News
"Understanding product knowledge is power. I started reading any magazine that was available with articles discussing embedded products, including microprocessor technologies and bus architectures."
Read more...
---
From the editor's desk: We're still just circling the problem of e-waste
28 April 2021, Technews Publishing , News, Editor's Choice
Until we have many more recycling points and, ideally, weekly pickups like we do with paper recycling, most South Africans are probably just not going to bother.
Read more...
---
Personality profile: Renato Martins
28 April 2021, Altron Arrow , Editor's Choice
"Spending more locally will create jobs, which in turn will have more people paying taxes, which in turn will create more opportunities."
Read more...
---
Preparing IoT designers for next-generation cyberattacks
28 April 2021, NuVision Electronics , Editor's Choice
Even with some of the ambiguity in requirements, protection profiles and certifications, it is clear that IoT security is no longer a 'nice to have'.
Read more...
---
What is device management and why should you care?
25 November 2020, Trinity IoT , Editor's Choice, Telecoms, Datacoms, Wireless, IoT
When device management is implemented alongside a centralised interface, companies can update firmware or software, without the need to manually perform each update in the field.
Read more...
---
The A to Z of A2B applications
25 November 2020, Altron Arrow , Editor's Choice, Telecoms, Datacoms, Wireless, IoT
An A
2
B device's support for up to 32 channels of downstream audio and upstream audio on the network facilitate the distribution of multiple channels of different audio content within a single system.
Read more...
---
What makes good connector design?
25 November 2020, IPD Electronics , Editor's Choice, Interconnection
It's important to remember that your connector may have physical design constraints like a minimum wire gauge or number of contacts, so it's vital to consult with your connector supplier early in the process.
Read more...
---