printer friendly version
New generation of LEDs for greater driving safety
30 September 2020
Opto-Electronics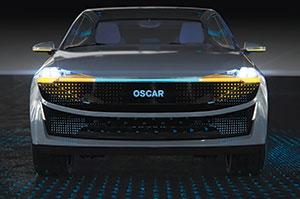 In a few years LEDs will be the predominant light source in car headlights. Their compactness and energy efficiency in particular are major advantages over conventional technologies. LEDs also make it easy to achieve the brightness values required by today's manufacturers. Osram Opto Semiconductors is constantly working to further optimise high-quality LED solutions for the automotive sector. With significant leaps in performance in the Oslon Black Flat and Oslon Compact product families, the company shows where developments are headed in the coming years and what other benefits headlight manufacturers can expect. The products are designed for use in high and low beam solutions.
In recent years, technological advances have contributed to the increasing popularity of LED-based headlamp solutions. The advantages of light-emitting diodes are obvious. Thanks to their compact dimensions, they allow enormous freedom in design and achieve outstanding brightness values. Now LED manufacturers are looking to improve the already very high level of quality in terms of brightness, energy efficiency and thermal performance.
Osram Opto Semiconductors is launching a new generation of 1 to 4-chip versions in the Oslon Compact PL product family. Like their predecessors, the ceramic components have an electrically insulated pad that makes it much easier to dissipate heat from the package. As a result, a higher current is possible, which allows the 1-chip version to achieve an outstanding brightness value of 395 lumens at 1 A with a chip area of 1 mm2. Thanks to the very small dimensions of 1,9 mm x 1,5 mm x 0,73 mm, the product is ideal for Adaptive Driving Beam (ADB) systems and in extremely space-saving system designs.
In addition, the Oslon Black Flat S family expands to include a 1- and a 2-chip version. The special lead frame-based components feature highest contrast values (>1:200) and very low thermal resistance – which allows for higher currents. The 1-chip variant reaches 395 lm at 1 A. The square lighting surface of the UX:3 chip makes optical design particularly easy for headlight manufacturers. The different technology concepts of the Oslon Black Flat S and Oslon Compact PL enable customers to choose the best possible combination of LED and PCB for their systems. Due to the product family's outstanding efficiency values of up to 130 lm/W at 1 A, headlights with smaller or even without heatsinks are conceivable in the future, leading to a potential reduction in system costs.
"LEDs such as the Oslon Compact PL and the Oslon Black Flat S will lead to an increasingly high penetration rate in vehicles, including small and mid-sized cars," explains Florian Fink, marketing manager of Automotive Exterior at Osram Opto Semiconductors. "We always work in close cooperation with our customers to constantly improve our established product families and to push the limits of achievable brightness values even further in future".
Credit(s)
Further reading:
Auto-ranging benchtop and rackmount power supplies
Vepac Electronics Power Electronics / Power Management
The programmable DC power supply family from Elektro-Automatik (EA) ranges in power from 80 W benchtop devices up to 30 kW in a single chassis. High power density units can be easily paralleled for up 
...
Read more...
---
Convection cooled 150 W and 300 W power supplies
Vepac Electronics Power Electronics / Power Management
Cosel announced the addition of 150 W and 300 W free air convection cooled power supplies, the LHP150F and the LHP300F. Designed for industrial applications requiring high levels of safety, they are certified 
...
Read more...
---
Power supplies for embedded applications from 15 to 320 W
Vepac Electronics Power Electronics / Power Management
XP Power's LCW series of regulated-output, encased AC-DC power supplies is ideal for embedded industrial electronics, technology and equipment requiring household approvals. The nine new series (LCW15, 
...
Read more...
---
LED driver expansion board for STM32 Nucleo
Altron Arrow Opto-Electronics
STMicroelectronics' X-NUCLEO-LED12A1 LED driver expansion board for STM32 Nucleo features four LED1202 devices that can drive up to 48 LEDs. The LED1202 is a 12-channel, low quiescent current LED driver 
...
Read more...
---
Open-frame 80 W DC/DC converter
Vepac Electronics Power Electronics / Power Management
A new 80 W DC/DC converter has been added to Cosel's value-added STMGF platform. Available in two versions, the STMGFS80 covers all industrial voltages from 9 V to 76 V. Using Cosel's efficient MGFS80 
...
Read more...
---
Convection-cooled medical/industrial power supply
Vepac Electronics Power Electronics / Power Management
With its AEA1000F series, Cosel has introduced a new range of 1000 W free-air convection cooling power supplies. With demanding applications in mind, the AEA1000F is able to deliver 330% peak power for 
...
Read more...
---
VCSEL modules for 3D gesture recognition
Future Electronics Opto-Electronics
ams Osram has expanded its 3D sensing portfolio with four new VCSEL modules. The number of applications which utilise 3D sensing technology continues to increase, from the detection of the surroundings 
...
Read more...
---
Non-silicone thermal interface material
Vepac Electronics Manufacturing / Production Technology, Hardware & Services
HTC Heat Transfer Compound from Electrolube is a non-silicone thermal interface material recommended where the efficient and reliable thermal coupling of electrical and electronic components is required, 
...
Read more...
---
DC/DC converter for forklift trucks
Vepac Electronics Power Electronics / Power Management
The DC/DC converters of the series PCMDS550-FT from MTM Power are tailor-made to meet the requirements in forklift truck technology. Highest quality and safety are of particular importance when using 
...
Read more...
---
ToF ranging sensor board eases integration
Altron Arrow Opto-Electronics
The VL53L5CX-SATEL breakout boards from STMicroelectronics can be used for easy integration into customer devices. The PCB section supporting the VL53L5CX time-of-flight (ToF), multizone ranging sensor 
...
Read more...
---