printer friendly version
Company profile: Omron Electronics
30 September 2020 Editor's Choice News
Omron Electronics can trace its history back to 1933 when Tateisi Electric Manufacturing Co. was founded in Osaka, Japan, by Kazuma Tateisi. The name was changed to Tateisi Electronics Co. in 1948 and in 1959 the Omron brand was created. In 1990 the name changed to Omron Corporation.
The company has been represented in South Africa since the 1960s when a sole distributorship was established. In 2005, Omron Europe acquired the then sole distributor to enable direct representation in the region. The result is Omron Electronics with its head office in Longmeadow in eastern Johannesburg, and regional offices in Durban and Cape Town. The company has since appointed strategic partners in sub-Saharan Africa to further support the vision of Enabling Innovation in Manufacturing through Automation.
The international company is headed by President Yoshihito Yamada. The company has more than 36 000 employees and manufactures and sells market-leading sensing and control products in 117 countries around the world. To cater for such a large market, Omron sells through a distribution channel and direct via system integrators and panel builders. Omron focuses on key end users and OEMs, leveraging the complete marketing mix to communicate and interact with various stakeholders.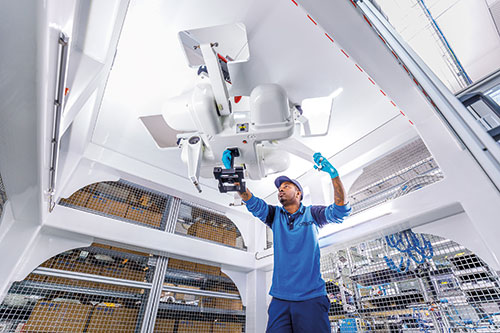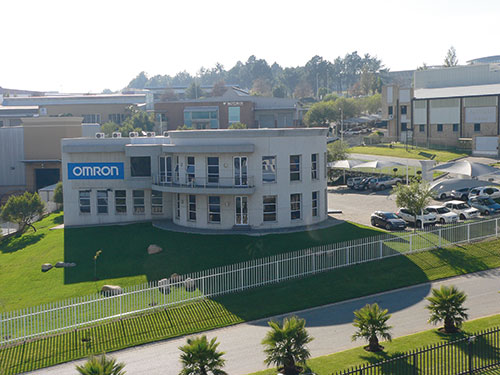 Product range
Omron has over 200 000 products in its machine automation portfolio, delivering input, logic, output, safety and robotics.
In the robotics field, it provides integrated solutions for industrial, mobile and collaborative robots, and robotic automation solutions for applications from cutting-edge production facilities to manual operation processes by using its various control devices and integrating robotics into automation.
Collaborative and mobile robots give your company more flexibility by enabling you to adapt your production lines quickly and cost-effectively to new requirements and changing business needs. In addition to making your employees more efficient by allowing them to focus on tasks that require complex human skills, Omron's mobile and collaborative robots increase throughput, reduce machine dwell time, eliminate errors and improve material traceability
As far as inputs are concerned, Omron possesses matchless application expertise in various fields. Its sensing technology covers basic switches to advanced vision systems, detection, quality control and inspection through solid expertise in technology and proven application know-how.
In the logic space, its machine control and motion control are one. Omron controllers, the core of any automation solution, deliver the control of sequencing, motion, temperature, networking, safety and vision, either dedicated or integrated in the Sysmac machine controller.
Omron's output products are fast, flexible, versatile and reliable, spanning relays to a high-accuracy servo drives to transform customers' control system logic into action.
In terms of industrial automation, the company's focus is on the food, commodity, automotive manufacturing and other major industrial markets in South Africa and sub-Saharan Africa.
A passionate and determined team
The Omron team is renowned for its passion for better machines, leaner and faster production lines, improved quality control, new markets and improved service support. It achieves these lofty goals by understanding customer vision and needs, and working together with its strategic partners. Omron's global position enables it to back its partners in terms of quality products, technical support, technical services as well as logistical resources.
As a global company, Omron encompasses a wide variety of cultures. Respect for individuals is therefore an ideal that Omron greatly values. Ethical behaviour, sincerity and creating an open atmosphere in the workplace are key points the company and its people take seriously. Every year on the 10th May, Omron's Foundation Day is celebrated and employees around the world spend the day volunteering for various worthy causes.
Looking ahead, Omron is ready for the next global industrial revolution: the world of big data. Omron's answer is i-Automation (Innovation in Manufacturing). This drive is focused on intelligent, integrated and interactive automation, which will ensure the company stays ahead of the pack.
Credit(s)
Further reading:
Why you don't take 'touch' for granted
30 September 2020 , Editor's Choice
The key criteria for choosing the right sensor control IC
         Touch has become an incredibly intuitive way for people to interact with high-tech devices. In just a few short years after the first 
...
Read more...
---
Data sciences harness full value of factory floor data
30 September 2020, Omron Electronics , Manufacturing / Production Technology, Hardware & Services
Data is easily collected and stored, but in most cases the data pipeline stops here and there is hardly any value extracted from the data. The data pipeline is often not completed in a proper way so that 
...
Read more...
---
Women taking the lead in engineering
31 August 2020 , Editor's Choice, News
Alaris Antennas is an engineering company specialising in the design and production of (often) customised antennas for electronic warfare. This is not an industry that typically attracts women to steer 
...
Read more...
---
Smoke detection matters
30 September 2020, Altron Arrow , Editor's Choice, Analogue, Mixed Signal, LSI
Smoke detection regulations are critically important when the value proposition is as basic as human life itself.
Read more...
---
Personality profile: Mervyn Stocks
30 September 2020, Denver Technical Products , Editor's Choice
Mervyn Stocks, the founder and MD of Denver Technical Products, started his career as a learner technician, worked at some well-known companies in the industry before setting out on his own.
Read more...
---
Forbatt SA invests in South Africa
30 September 2020, Forbatt SA , Editor's Choice, News
Forbatt SA is set to offer an improved service to the industry by making sure it has the products and solutions the industry needs, as well as a new showroom.
Read more...
---
How 5G will influence autonomous driving systems
30 September 2020, Concilium Technologies , Editor's Choice, Telecoms, Datacoms, Wireless, IoT
Wireless communication technologies like 5G offer three major benefits: safer roads, more efficient traffic routing and more in-vehicle convenience.
Read more...
---
The pivotal role of supercapacitors in powering IoT
30 September 2020, Avnet Abacus , Editor's Choice, Power Electronics / Power Management
With tens of billions of IoT nodes now in the process of being deployed across the globe, there are concerns about how all this hardware can be powered in a practical and environmentally friendly manner.
Read more...
---
What place is there for electronics in horticulture/agriculture?
29 April 2020, Technews Publishing, OSRAM Opto Semiconductor SA, Altron Arrow , Editor's Choice
Dataweek takes a look at what place there is for electronics in horticulture and agriculture, what roles they are serving and what their uptake is in the South African market.
Read more...
---
AREI's plans for 2020
29 January 2020 , Editor's Choice, News
Erich Nast, chairman of AREI, discusses what the association's plans are to tackle the challenges and opportunities that lie ahead.
Read more...
---