printer friendly version
How you can help your EMS partner
28 October 2020 Editor's Choice Manufacturing / Production Technology, Hardware & Services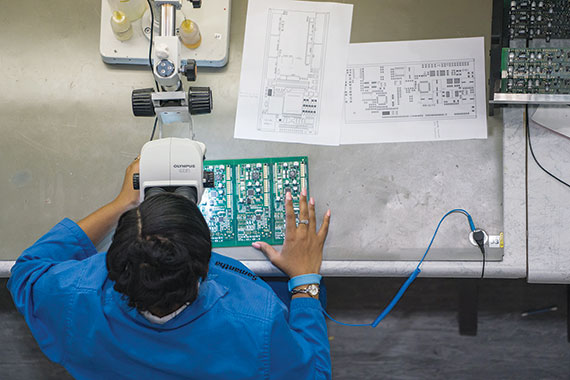 There are several things that can go wrong during the manufacturing process of your design: component shortages, customs delays, and incorrect placement of certain components. These are just to name a few and to quote our technical director, Jacques Klopper, "The devil is in the detail". You can eliminate these just by tweaking a few main processes from the start. Here are a few pointers to help your Electronics Manufacturing Services (EMS) partner reach your goal and have a smooth experience.
If you're an OEM (original equipment manufacturer) or an ODM (original design manufacturer), your criteria when choosing EMS partners will probably boil down to three main aspects: price, lead time, and quality.
To obtain a more positive response to those aspects, the three best practices to follow during the quoting (RFQ) stage are:
Know your product forecasts
Always remember that when it comes to manufacturing, the smaller the quantity the bigger the price. If you are able to give your EMS partner a forecast this will be a tremendous help.
Knowing the required quantities, and the timeframe when you need the finished product, will not only assist your EMS partner to get better pricing and lead times from their suppliers, but it will also allow proper planning from the get-go. This will result in an accurate delivery date that can be passed on to the customer.
If you are approaching more consistent, larger volumes for production orders, it will assist the contract manufacturing plan to increase efficiencies whilst reducing supply chain risks.
On the other hand, should the EMS partner be asked to quote multiple quantities with numerous turn times, it could eventually influence the price. Your EMS partner will have to include the extra time just to quote you.
Pay attention to your BOM
If you're not sure how to prepare a bill of materials (BOM) for a manufacturer, ask your EMS partner for advice. You may already use a software tool that supports some workable options, or your contract manufacturer may also provide you with a template.
One of the major reasons for delays during the RFQ stage is receiving BOMs with errors, incomplete information, obsolete parts, and/or messy formatting. As a result, the manufacturer spends time and resources interpreting, translating and validating BOM data.
This might not seem like a showstopper, but the consequences can be detrimental and this leaves a lot of room for error. It not only delays the RFQ process but can cause a delay in production. Most importantly, the chance of communication breakdown puts your assembly at greater risk of defects.
It will also help to provide more than one approved manufacturer in the BOM. Specifying only one approved manufacturer limits your EMS's ability to use other equivalent parts for your assembly.
Provide high-quality drawings
Including assembly drawings with your RFQ can make a huge difference. Should the drawing and the eventual BOM not be the same, it could have severe implications such as additional material costs and/or component shortages. Even worse, it could cause a delay in production time.
Any special work instructions you have should also be included with the assembly drawing. The supplier can validate the drawing against the BOM.
Over time, you'll be able to supply a detailed assembly data pack to reduce defects, costs and production turn time.
In short, if you want a good quality, reasonably priced product in a quick turnaround time, always communicate your assembly requirements more effectively with your EMS partner. The easier the process starts, the smoother it will finish.
At Jemstech we have a value, 'Team Success', whereby we consider our customers as part of the team. By following the basic steps above you will help your EMS partner to achieve this fundamental value.
Credit(s)
Further reading:
Intel Agilex FPGAs deliver flexibility and agility for the data-centric world
26 May 2021, Altron Arrow , Editor's Choice, Programmable Logic
The Agilex FPGA fabric and innovative chiplet architecture delivers an extensible FPGA platform that scales across a wide range of device densities and brings key features and benefits to the table.
Read more...
---
Preparing for a 5G world
26 May 2021 , Editor's Choice
The 5G network will be able to slice flexibly parallel connections, sized to best fit the level of service users request, and offer the best cost/performance compromise.
Read more...
---
Reliable grounding methods for high-voltage power supplies
26 May 2021, Vepac Electronics , Editor's Choice, Power Electronics / Power Management
Proper ground connections between a power supply, AC mains input and the application's load are essential for stable, reliable operation, but for HV (high voltage) supplies this is even more crucial. 
...
Read more...
---
From the editor's desk: The continued relevance of Moore's Law in the IoT age
26 May 2021, Technews Publishing , News, Editor's Choice
The end of Moore's Law (which famously posits that the number of transistors in a dense IC doubles about every two years, assuming an optimal price/performance ratio) has repeatedly been predicted, yet 
...
Read more...
---
How do fusion splicers work?
26 February 2021, Lambda Test , Editor's Choice
Fibre-optic fusion splicers are highly accurate machines which are able to automatically align and join fibre-optic cores with sub-micron accuracy.
Read more...
---
The current state of GaN use for RF technology
26 February 2021, RF Design , Editor's Choice, Telecoms, Datacoms, Wireless, IoT
Challenges for predicting the growth and penetration of GaN technology in certain markets come from the extent of the research and development being invested in.
Read more...
---
Modern LIDAR systems promise sensing for every industry
26 February 2021, Altron Arrow , Editor's Choice, Opto-Electronics
As is always the case in human endeavours, it is impossible to know exactly what creative and useful ways people will come up with to use technology such as LIDAR.
Read more...
---
Personality profile: Bossie Coetzer
26 February 2021, Rugged Interconnect Technologies , Editor's Choice, News
"Understanding product knowledge is power. I started reading any magazine that was available with articles discussing embedded products, including microprocessor technologies and bus architectures."
Read more...
---
From the editor's desk: We're still just circling the problem of e-waste
28 April 2021, Technews Publishing , News, Editor's Choice
Until we have many more recycling points and, ideally, weekly pickups like we do with paper recycling, most South Africans are probably just not going to bother.
Read more...
---
Personality profile: Renato Martins
28 April 2021, Altron Arrow , Editor's Choice
"Spending more locally will create jobs, which in turn will have more people paying taxes, which in turn will create more opportunities."
Read more...
---