printer friendly version
Interconnect solutions for military and aerospace
28 October 2020
Interconnection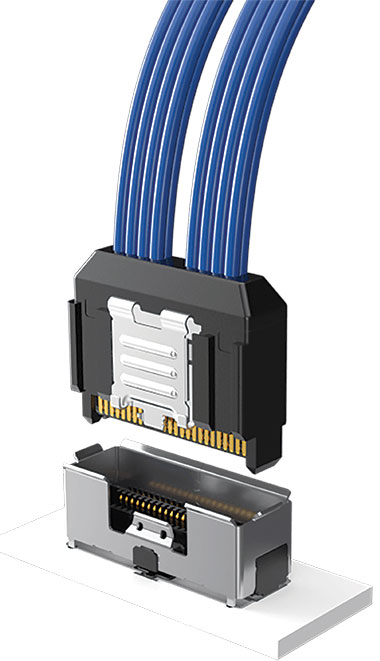 The military and aerospace (Mil/Aero) world utilises products in harsh conditions, and the products must be able to properly perform. Because of this, many Mil/Aero manufacturers typically use full MIL-Spec products.
Severe Environment Testing (SET) is a Samtec initiative to test certain products beyond typical industry standards and specifications, many of which are common requirements for harsh environment applications/industries. Driven by demands for high functioning commercial standard interconnects, SET has proven beneficial in providing performance confidence, not only for rugged Mil/Aero industries and applications, but also for automotive, industrial and medical applications.
Samtec product offerings
Samtec is known for being a service leader in the industry, and service to the Mil/Aero industries is not any different. Each application has different levels of service requirements, budgets, testing requirements, and lead times. Because of these unique requirements, Samtec offers three different styles of products to meet the wide range of needs in the Mil/Aero world:
• Commercial Off-The-Shelf (COTS).
• Application Specific Product (ASP).
• Military/Aerospace Product (MAP).
Each style of product offering affords the customer different options. Product modification such as non-standard plating options such as up to 50 micro-inch gold can be ordered with ASP or MAP offerings.
What testing is performed?
SET was developed to bridge the gap from standard qualification testing offered on COTS products and a full MIL-Spec product. SET takes the standard qualification test, and builds on top of it to prove to the customer that Samtec products can withstand the rugged environments and conditions of the Mil/Aero world.
These additional tests include:
• Mating/unmating/durability.
• Mechanical shock/random vibration/LLCR and event detection.
• Temperature cycling.
• Non-operating class temperature.
• DWV at altitude – 21 336 m.
• Electrostatic discharge.
Samtec can also perform salt fog testing and conformal coating for its FireFly series. While these tests might not be exactly the same as a MIL-Spec qualification test, they afford the user the confidence that a COTS product will perform as needed in an application.
Rugged solutions and high-speed performance
Rugged situations require rugged solutions, and a majority of the time they still need to offer high-speed performance as well. Samtec offers rugged signal integrity solutions with speeds up to 12 Gbps PAM4 and extreme design flexibility to ensure performance reliability. Some of these rugged solutions include jack screws, positive latching, friction locks, retention pins, board locks, weld tabs, guide posts, and shielding.
Credit(s)
Further reading:
Micro connectors with backshells
25 August 2021, Hiconnex , Interconnection
At this year's DSEI exhibition, Nicomatic launched its new DBMM Series, a modification of the DMM 2 mm connectors to include fully integrated backshells. DBMM connectors save space, measuring only 15 mm 
...
Read more...
---
Terminal blocks for measuring transducers
25 August 2021, Phoenix Contact , Interconnection
The PTVME test-disconnect terminal blocks from Phoenix Contact are an extension to the PTV portfolio and can be used in all applications on the secondary wiring side of switching devices for transducers 
...
Read more...
---
Meeting the demands placed on connectors in automotive electronics
29 September 2021, TRX Electronics , Interconnection
A few decades ago, cars were purely mechanical machines, sophisticated in terms of their moving parts but simple in their electronics. This is no longer true.
Read more...
---
Millimetre-wave interconnect considerations
29 September 2021, RF Design , Interconnection
There has been a general trend of radio and sensing applications shifting to higher frequencies, either to avoid interference due to the growing use of RF and microwave spectrum or to take advantage of 
...
Read more...
---
Charging sockets with LED indicators and temperature measurement
29 September 2021, Phoenix Contact , Interconnection
The new generation of type-2 Charx connect charging sockets from Phoenix Contact offers AC home charger and charging station manufacturers and users simplified installation and maintenance, enhanced safety 
...
Read more...
---
Connector search spits out mated connector set in seconds
29 September 2021, Spectrum Concepts , Interconnection
Samtec has a multitude of ways to stack two or more boards together, thanks to a manufacturing process that allows it to position the plastic body on the terminal pin in increments of 0,13 mm on standard 
...
Read more...
---
Interconnect system with 1,0 mm centreline
29 September 2021, TRX Electronics , Interconnection
Mouser Electronics is now stocking the AMPMODU 1,0 mm centreline interconnect system from TE Connectivity (TE). This interconnect system offers an 85% space saving on the board when compared to the 
...
Read more...
---
EMC shields for lever-actuated PCB connectors
25 August 2021, Phoenix Contact , Interconnection
Shields with enhanced EMC properties are now available for the LPC 6/LPCH 6 lever-actuated PCB connectors from Phoenix Contact. With reliable protection against electromagnetic interference, the range 
...
Read more...
---
Circular connectors for signals, data and/or power
28 July 2021 , Interconnection
Farnell is now delivering Intercontec circular connectors from TE Connectivity – an innovative, plug-and-play connector concept that simplifies modular machine design by offering a wide range of variants 
...
Read more...
---
Modern trends are shaping new power connectors
25 August 2021 , Editor's Choice, Interconnection
While it may sound counter-intuitive to use smaller connectors, it is possible to obtain a better total current rating with connectors that use a larger number of smaller terminals.
Read more...
---