printer friendly version
Interconnect solutions for military and aerospace
28 October 2020
Interconnection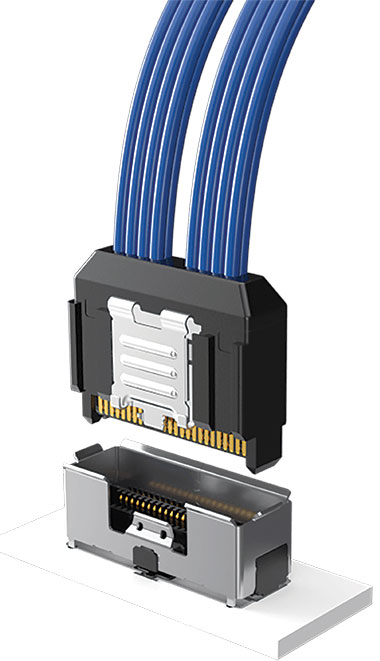 The military and aerospace (Mil/Aero) world utilises products in harsh conditions, and the products must be able to properly perform. Because of this, many Mil/Aero manufacturers typically use full MIL-Spec products.
Severe Environment Testing (SET) is a Samtec initiative to test certain products beyond typical industry standards and specifications, many of which are common requirements for harsh environment applications/industries. Driven by demands for high functioning commercial standard interconnects, SET has proven beneficial in providing performance confidence, not only for rugged Mil/Aero industries and applications, but also for automotive, industrial and medical applications.
Samtec product offerings
Samtec is known for being a service leader in the industry, and service to the Mil/Aero industries is not any different. Each application has different levels of service requirements, budgets, testing requirements, and lead times. Because of these unique requirements, Samtec offers three different styles of products to meet the wide range of needs in the Mil/Aero world:
• Commercial Off-The-Shelf (COTS).
• Application Specific Product (ASP).
• Military/Aerospace Product (MAP).
Each style of product offering affords the customer different options. Product modification such as non-standard plating options such as up to 50 micro-inch gold can be ordered with ASP or MAP offerings.
What testing is performed?
SET was developed to bridge the gap from standard qualification testing offered on COTS products and a full MIL-Spec product. SET takes the standard qualification test, and builds on top of it to prove to the customer that Samtec products can withstand the rugged environments and conditions of the Mil/Aero world.
These additional tests include:
• Mating/unmating/durability.
• Mechanical shock/random vibration/LLCR and event detection.
• Temperature cycling.
• Non-operating class temperature.
• DWV at altitude – 21 336 m.
• Electrostatic discharge.
Samtec can also perform salt fog testing and conformal coating for its FireFly series. While these tests might not be exactly the same as a MIL-Spec qualification test, they afford the user the confidence that a COTS product will perform as needed in an application.
Rugged solutions and high-speed performance
Rugged situations require rugged solutions, and a majority of the time they still need to offer high-speed performance as well. Samtec offers rugged signal integrity solutions with speeds up to 12 Gbps PAM4 and extreme design flexibility to ensure performance reliability. Some of these rugged solutions include jack screws, positive latching, friction locks, retention pins, board locks, weld tabs, guide posts, and shielding.
Credit(s)
Further reading:
Ultra-flexible Ku/Ka-band cable
28 October 2020, Hiconnex , Interconnection
As a leader in civil aircraft interconnection and RF cables, Radiall introduces a new cable in response to ARINC 791 and ARINC 792 requirements. This new ultra-flexible cable is ideally suited for Ku/Ka-band 
...
Read more...
---
Power and signal connectors with selective mate keying
25 November 2020, Vepac Electronics , Interconnection
The SB Smart range from Anderson Power Products is designed for applications where storage batteries intelligently interact with the system. Two primary power positions (up to 230 A each) are combined 
...
Read more...
---
What makes good connector design?
25 November 2020, IPD Electronics , Editor's Choice, Interconnection
It's important to remember that your connector may have physical design constraints like a minimum wire gauge or number of contacts, so it's vital to consult with your connector supplier early in the process.
Read more...
---
Durable connectors for harsh conditions
25 November 2020, TRX Electronics , Interconnection
When the going gets tough, you need rugged, reliable and ready connections to see the job done right and through to completion. From industrial and heavy equipment to defence applications, only the best 
...
Read more...
---
Magnetic jack connectors and their benefits
25 November 2020, Vepac Electronics , Interconnection
EDAC's product offering includes the edacJAX range of magnetic and modular jacks, offering many features and benefits. These connectors are used in data, telecom, networking and home entertainment markets 
...
Read more...
---
Battle-tested power and data hubs
25 November 2020, Hiconnex , Interconnection
Ruggedised soldier-worn electronics have revolutionised mission effectiveness, but the ongoing evolution of Digitally Aided Close Air Support (DACAS) missions, including precision targeting, ground and 
...
Read more...
---
Compact, robust cable connectors with high mating reliability
25 November 2020, Actum Group , Interconnection
ERNI is expanding its robust and versatile range of MiniBridge (1,27 mm pitch) and MaxiBridge (2,54 mm) cable-to-board connector range with the MicroBridge family in a 1,27 mm pitch, which is currently 
...
Read more...
---
New precision RF products from Samtec
25 November 2020, Spectrum Concepts , Interconnection
In the build-up to this year's IMS Microwave Week in June, Samtec's Danny Boesing shared some of the new and upcoming products from the company's stable of precision RF and millimetre-wave products. (Note: 
...
Read more...
---
Power connector for heavy-duty EV applications
25 November 2020, Startech Industrial , Interconnection
Amphenol Industrial Operations now offers a medium amperage connection system that is rated up to 120 A of continuous current.    The ePower-Lite 5,7 mm has an operating voltage of 600 V a.c./800 V&nbspd;.c. 
...
Read more...
---
High-power grounding jumpers
25 November 2020, RS Components (SA) , Interconnection
Molex's Triton grounding jumpers provide for the safe management of high-power busbars. Unique to the industry, the range is UL certified to deliver quality, safety and reliability. The jumpers are 
...
Read more...
---