printer friendly version
MCUs with low-power animated display driver
28 October 2020
DSP, Micros & Memory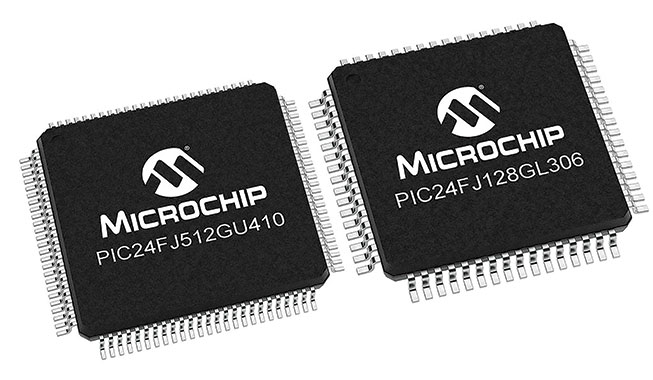 System developers of battery-powered and other power-conscious designs with and without LCD displays can now easily add an array of innovative features using a new line of PIC eXtreme Low Power (XLP) microcontrollers (MCUs) from Microchip Technology. Packed with 14 types of Core Independent Peripherals (CIPs) that operate outside the Central Processing Unit (CPU) for power savings, the PIC24F GU and GL families feature the CIP called 'LCD with Autonomous Animation'.
Most display applications involve a few common animations like periodically alternating between displays and blinking of pixels to indicate operation. By using the integrated LCD driver with autonomous animation, developers can offload most of these simple animation routines from the CPU, allowing animation even in doze, idle or sleep modes for optimal power savings.
To assist in quickly designing such display interfaces, the new MCUs come with MPLAB Code Configurator (MCC) support. This graphical programming environment with LCD display designer helps eliminate the meticulous and time-consuming task of mapping the pins and segments.
For more information contact Andrew Athanasiou, Altron Arrow, +27 21 555 1884, aathanasiou@arrow.altech.co.za, www.altronarrow.com
Credit(s)
Further reading:
Intel Agilex FPGAs deliver flexibility and agility for the data-centric world
26 May 2021, Altron Arrow , Editor's Choice, Programmable Logic
The Agilex FPGA fabric and innovative chiplet architecture delivers an extensible FPGA platform that scales across a wide range of device densities and brings key features and benefits to the table.
Read more...
---
16-bit general-purpose microcontroller
26 May 2021, Hi-Q Electronics , DSP, Micros & Memory
Renesas Electronics has launched and begun mass production of its 16-bit general-purpose RL78/G23 microcontroller (MCU), further strengthening its RL78 family of 8-bit and 16-bit MCUs for a broad range 
...
Read more...
---
Automotive dead reckoning module
26 May 2021, Altron Arrow , Telecoms, Datacoms, Wireless, IoT
STMicroelectronics boasts that its latest Teseo-VIC3DA module is an easy-to-use dead reckoning global navigation satellite system (GNSS) standalone module, embedding a TeseoIII single-die standalone positioning 
...
Read more...
---
Infrared sensor module for outdoor applications
26 May 2021, Altron Arrow , Opto-Electronics
Vishay recently introduced a new extended-temperature 'E' option for its TSSP77038 infrared (IR) sensor module in the Heimdall package. Designed to meet the special requirements of outdoor applications, 
...
Read more...
---
Isolation for SAR ADCs
26 May 2021, Altron Arrow , Analogue, Mixed Signal, LSI
Question:
How do I add isolation to my ADC without harming its performance?   
Answer:
For isolated high-performance ADCs, keep one eye on isolated clocks and a second on isolated power. SAR ADCs (successive 
...
Read more...
---
System-on-module for rapid IoT deployment
26 May 2021, Altron Arrow , Telecoms, Datacoms, Wireless, IoT
TT Electronics has introduced the new S-2Connect Creo SOM for rapid IoT deployment. The board is designed for engineers, programmers and developers who are charged with reducing R&D risk and fast-tracking 
...
Read more...
---
MEMS absolute pressure sensor
26 May 2021, Altron Arrow , Analogue, Mixed Signal, LSI
The LPS27HHTW from STMicroelectronics is an ultra-compact piezoresistive absolute pressure sensor which functions as a digital output barometer. The device also embeds a temperature sensor to monitor 
...
Read more...
---
ToF sensor software expansion for STM32Cube
26 May 2021, Altron Arrow , Design Automation
The x-cube-TOF1 expansion software package for STM32Cube runs on STM32 microcontrollers and includes drivers that recognise time-of-flight (ToF) sensors and perform simple ranging on single or multiple 
...
Read more...
---
Ballast evaluation board for UV-C disinfection lamps
28 April 2021, Altron Arrow , Power Electronics / Power Management
The EVAL_ICB2FL03G is a ballast design evaluation board for 54 W UV-C disinfection lamps with voltage-mode preheating. Supplied by Infineon Technologies, it features the smart ballast controller ICB2FL03G 
...
Read more...
---
Arrow Electronics' Tech Snacks put engineers' time first
28 April 2021, Altron Arrow , News
Arrow Electronics is launching a new learning concept, Tech Snacks, that will provide engineers with the technical information and insight they need in a choice of formats that have been designed to match 
...
Read more...
---