printer friendly version
High power-density TVS diodes
25 November 2020
Circuit & System Protection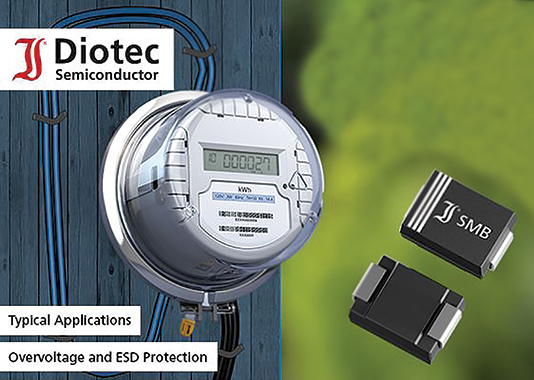 Today's modern high power-density electronics are more vulnerable to electrical stresses than ever due to component miniaturisation. High-demand, scalable electronics such as smart meters require highly reliable circuit protection. These devices are connected directly to the landline, where lightning strikes are a permanent source for excessive voltage surges.
The 1.0SMBJ series from Diotec is a high power-density and compact transient voltage suppressor (TVS), optimised to protect vulnerable electronics from high-voltage transients. The 1.0SMBJ series includes the following features: DO-214AA/SMB package, 1000 W peak pulse power at 10/1000 µs waveforms, standoff voltage from 5,0 V to 120 V, breakdown voltage from 6,4 V to 133 V, and is offered in uni- and bi-directional versions.
Credit(s)
Further reading:
RS-485/422 differential transceivers
Hi-Q Electronics Telecoms, Datacoms, Wireless, IoT
Renesas has expanded its RS-485/422 portfolio with the RAA78815x family of 5 V differential transceivers with electrical fast transient (EFT) immunity of ±5000 V and ESD protection up to ±16 000 V, making 
...
Read more...
---
Clearing the Static: ESD training and compliance in the workplace
Actum Group Circuit & System Protection
ESD (electrostatic discharge) can change the electrical characteristics of a semiconductor device by degrading or destroying it entirely. ESD can potentially damage electronic systems, causing equipment 
...
Read more...
---
200 MHz MCUs backed by TrustZone security
Hi-Q Electronics DSP, Micros & Memory
Renesas Electronics now offers a 200 MHz RA6E1 microcontroller (MCU) which uses a high-performance Arm Cortex M33 core and TrustZone. The device is built on a highly efficient 40 nm process and supported 
...
Read more...
---
Lightning current protection for four-conductor systems
Phoenix Contact Circuit & System Protection
The Termitrab complete product family from Phoenix Contact provides narrow surge protective devices for measurement and control technology. With immediate effect, the TTC-6P-4… protective devices for 
...
Read more...
---
Automotive RF switches and LNA front-end modules
Hi-Q Electronics Telecoms, Datacoms, Wireless, IoT
Recent introductions to Skyworks' product range are the SKYA21038, SKYA21039, SKYA21040 and SKYA21041 for automotive, cellular compensator and cellular telematics. The SKYA21038 is a single-pole, 
...
Read more...
---
Clearing the Static: ESD cleaning
Actum Group Circuit & System Protection
To avoid ESD damage to electronic assemblies or components, they must be manufactured, handled, packaged and stored in an ESD protected environment.       It is essential that these ESD protected workplace 
...
Read more...
---
Renesas/Dialog synergy delivers winning combinations
Hi-Q Electronics News
Renesas Electronics and Dialog Semiconductor have officially joined forces, resulting in an immediate benefit to customers as Renesas announces 39 new 'Winning Combinations'. These expert designs showcase 
...
Read more...
---
20 mm higher pin heatsink provides 20% better performance
Sivan Electronic Supplies Circuit & System Protection
With an overall height of 65 mm, the new PO 98-98-65-AL pin heatsink from Alutronic exceeds the established maximum standard height of 45 mm. In the case of the PO 98-98-65-AL, the additional 20 mm improves 
...
Read more...
---
High-current feedthrough filters
Conical Technologies Circuit & System Protection
HPR Series feedthrough filters from NexTek are designed and built to provide rugged EMI filtering for high-current lines, no matter the application details or environmental requirements. These feedthrough 
...
Read more...
---
Compact X2 capacitors for noise suppression
Electrocomp Circuit & System Protection
A new series of very compact EPCOS X2 capacitors for noise suppression, rated for 275 V a.c. and covering a capacitance range from 33 nF to 1 µF, has been released by TDK. Depending on the capacitance 
...
Read more...
---