printer friendly version
Help for choosing the ideal MOV surge suppressor
25 November 2020
Circuit & System Protection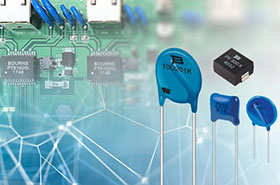 Almost every designer knows about metal oxide varistors (MOVs). These bidirectional and non-linear surge suppressor devices are ubiquitous in a large variety of applications to limit voltage during a surge or transient event. But how do you choose the best MOV for your design from the multiple form factors and various surge protection ranges?
Bourns has just developed a new white paper entitled 'Tips on Selecting the Right MOV Surge Suppressor'. In it, the company provides a step-by-step selection approach as well as detailed information on the features and specifications to help you narrow down your search. Below is a quick summary of the key steps:
1. Determine the application's surge requirement. For instance, a good rule of thumb for selecting an MOV is for the Inom to be typically half of its Imax rating.
2. Determine the operating voltage and the application's maximum peak voltage.
3. Determine if there are any special requirements such as operating temperature.
4. Consider the highest clamping voltage (Vc) the protected equipment can tolerate.
Other useful information in determining the right MOV is that designers can put MOVs in parallel to decrease the clamping voltage. While this does increase the surge rating, it is not always double the individual MOV rating. That's because the two MOVs do not share the surge current equally. A good tip is to start with the 60/40 rule, which means that the first MOV that reacts to a surge probably needs to handle 60 percent of the total surge. A good alternative to putting MOVs in parallel is to use an MLV (multi-layer varistor). MLVs are constructed of many layers of MOVs stacked on top of one another and inherently provide matched voltage.
Also, it is beneficial to know that manufacturers can rate their MOVs either AC, DC, and/or Maximum Continuous Operating, and list their clamping voltage at 1 mA DC based on regulatory standards such as IEC 61643-331.
With one of the industry's most comprehensive lines of MOVs, Bourns has everything from space-saving SMT to high-energy disc and harsh environment AEC-Q200 compliant devices. It also has customised MOV capabilities.
Read the white paper for more tips on finding the right MOV device that meets your application requirements: www.bourns.com/docs/technical-documents/technical-library/varistors/bourns-tips-on-selecting-the-right-mov-surge-suppressor-white-paper.pdf
Credit(s)
Further reading:
Dual-band GNSS RTK module
31 March 2021, Electrocomp , Telecoms, Datacoms, Wireless, IoT
The RTK-1010 is a high-performance dual-band GNSS RTK module that is designed for applications requiring centimetre-level positioning accuracy. It adopts a 12 nm manufacturing process and integrates an 
...
Read more...
---
Upcoming modifications to Bourns' isolation power transformers
26 February 2021, Electrocomp , Passive Components
In the spirit of continuous improvement, effective 14 June 2021, Bourns is changing the silicone material, Hi-pot specification and marking content for its HCT Series high clearance/creepage distance 
...
Read more...
---
EMI filter bank for power and control lines
26 February 2021, RFiber Solutions , Circuit & System Protection
Atlanta Micro's AM35 provides six filters in a tiny 1,5 x 3 mm DFN package for filtering power and control lines necessary for spurious signal suppression for amplifiers, step attenuators, tuneable filters, 
...
Read more...
---
Rack-mounted instrument enclosure
31 March 2021, Electrocomp , Enclosures, Racks, Cabinets & Panel Products
Made from extruded aluminium, the RM Series of enclosures from Hammond Manufacturing are suitable for rack-mount or desktop use. Featuring strong construction yet light in weight, the enclosures are made 
...
Read more...
---
Compact transformers for DC/DC converters
26 February 2021, Electrocomp , Passive Components
New from TDK is the EPCOS E10 EM series, a range of insulated SMT transformers that are suitable for various DC/DC converter topologies and gate driver circuits in e-mobility and industrial electronics. 
...
Read more...
---
Closed-loop MEMS accelerometer
26 February 2021, Electrocomp , Analogue, Mixed Signal, LSI
TDK announced the release of Tronics AXO315, a miniature, 1-axis closed-loop MEMS accelerometer with a 24-bit digital SPI interface and SMD package that reaches quartz sensor performance, outperforms 
...
Read more...
---
Embedded Wi-Fi antennas
25 November 2020, Electrocomp , Telecoms, Datacoms, Wireless, IoT
AVX released a brand new series of embedded Wi-Fi antennas designed to satisfy steadily increasing cross-market demand for smaller and thinner wireless products with superior signal sensitivity. The 
...
Read more...
---
Standard and modified enclosures catalogue
26 February 2021, Electrocomp , Technical Literature
This shortform, 8-page catalogue provides an overview of aluminium, metal and plastic enclosures available from Hammond Manufacturing, together with corresponding accessories. Hammond Manufacturing 
...
Read more...
---
Low-profile USB Type C vertical receptacle
26 February 2021, Electrocomp , Interconnection
With a height of just 6,5 mm on a printed circuit board (PCB), the vertical-mount USB4120 is a low-profile USB Type C receptacle and joins GCT's range of charging-focused ionex connectors. The 16-pin 
...
Read more...
---
GDT surge protection devices
25 November 2020, Electrocomp , Circuit & System Protection
Bourns' new and improved next-generation surface mount two-electrode GDT (gas discharge tube) surge protection devices have been designed using Bourns' proprietary, advanced computer simulation techniques 
...
Read more...
---