printer friendly version
Help for choosing the ideal MOV surge suppressor
25 November 2020
Circuit & System Protection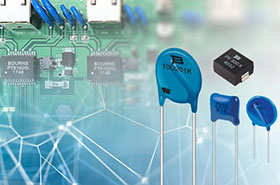 Almost every designer knows about metal oxide varistors (MOVs). These bidirectional and non-linear surge suppressor devices are ubiquitous in a large variety of applications to limit voltage during a surge or transient event. But how do you choose the best MOV for your design from the multiple form factors and various surge protection ranges?
Bourns has just developed a new white paper entitled 'Tips on Selecting the Right MOV Surge Suppressor'. In it, the company provides a step-by-step selection approach as well as detailed information on the features and specifications to help you narrow down your search. Below is a quick summary of the key steps:
1. Determine the application's surge requirement. For instance, a good rule of thumb for selecting an MOV is for the Inom to be typically half of its Imax rating.
2. Determine the operating voltage and the application's maximum peak voltage.
3. Determine if there are any special requirements such as operating temperature.
4. Consider the highest clamping voltage (Vc) the protected equipment can tolerate.
Other useful information in determining the right MOV is that designers can put MOVs in parallel to decrease the clamping voltage. While this does increase the surge rating, it is not always double the individual MOV rating. That's because the two MOVs do not share the surge current equally. A good tip is to start with the 60/40 rule, which means that the first MOV that reacts to a surge probably needs to handle 60 percent of the total surge. A good alternative to putting MOVs in parallel is to use an MLV (multi-layer varistor). MLVs are constructed of many layers of MOVs stacked on top of one another and inherently provide matched voltage.
Also, it is beneficial to know that manufacturers can rate their MOVs either AC, DC, and/or Maximum Continuous Operating, and list their clamping voltage at 1 mA DC based on regulatory standards such as IEC 61643-331.
With one of the industry's most comprehensive lines of MOVs, Bourns has everything from space-saving SMT to high-energy disc and harsh environment AEC-Q200 compliant devices. It also has customised MOV capabilities.
Read the white paper for more tips on finding the right MOV device that meets your application requirements: www.bourns.com/docs/technical-documents/technical-library/varistors/bourns-tips-on-selecting-the-right-mov-surge-suppressor-white-paper.pdf
Credit(s)
Further reading:
TDK announces robust varistors with 14 mm disk diameter
Electrocomp Passive Components
The new AdvanceD series of varistors have a wide operating voltage range up to 625 V and offer a surge current capability of 3000 A.
Read more...
---
Compact varistors offer surge capability of 6000 A
Electrocomp Circuit & System Protection
TDK has released the new EPCOS B72314S2* series of leaded disk varistors which cover a wide operating voltage range of 175 V
RMS
to 625 V
RMS
.
Read more...
---
Clearing the Static: ESD wrist straps
Actum Electronics Circuit & System Protection
The human body is the primary source of electrostatic charge generation. In order to control and reduce static charge build-up and prevent electrostatic discharges (ESD) at an electronic equipment facility, we use grounding systems to ensure that all components are at the same electrical potential.
Read more...
---
Short body USB-A with no compromise on performance
Electrocomp Interconnection
The all-new USB1125 connector from GCT with a minimal PCB footprint of just 13mm2 is 25% smaller than full-size equivalents.
Read more...
---
Bourns releases new series of power inductors
Electrocomp Power Electronics / Power Management
Constructed with a magnetic-silica coating to the perimeter of the inductor winding to provide effective shielding, these inductors release lower magnetic field radiation compared to non-shielded inductors.
Read more...
---
IP68 sealed enclosures from Hammond Manufacturing
Electrocomp Enclosures, Racks, Cabinets & Panel Products
Hammond Manufacturing has introduced the 1551W series, IP68 sealed versions of its popular 1551 miniature enclosure family, in five initial sizes.
Read more...
---
New series of power ribbon wire-wound resistors
Electrocomp Power Electronics / Power Management
This QL/QRZG series of high-power resistors have a high-power load up to 2500 W and are suitable for applications such as industrial braking, EV battery packs and charging stations.
Read more...
---
Surface-mount resettable fuses
Electrocomp Passive Components
The new series of fuses, suitable for overcurrent and thermal protection, expand the hold current up to 6 A and the maximum voltage to 33 V DC.
Read more...
---
Clearing the Static: ESD Flooring
Actum Group Circuit & System Protection
Altico's ESD flooring has been specially engineered to facilitate a uniform flow of static electricity directly to a ground point.
Read more...
---
Electrocomp stocks PhaseCap Energy Plus capacitor
Electrocomp Passive Components
TDK Electronics' new PhaseCap Energy Plus series capacitor is the latest generation of capacitor for power factor correction.
Read more...
---