printer friendly version
From the editor's desk: We must now gather nuts, not hibernate
EMP 2021 Electronics Manufacturing & Production Handbook
News
Throughout recorded history and across many cultures, winter has often been associated with misery, sorrow and death. And rightly so. Ever since biblical times, pestilence and plague have taken their heaviest tolls during this season; and for almost as long, Eskom has imposed its harshest load shedding regimes during the winter months when electricity demand is at its highest. What's more, as any Game of Thrones fan will tell you – whether you want them to or not – winter is coming.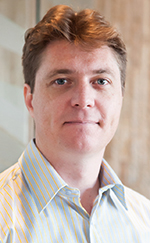 Brett van den Bosch.
To quote the immortal words of one 'Iron Mike' Tyson, "Everyone has a plan until they get punched in the mouth," and I doubt many would disagree that this year, we're bracing for a one-two punch from COVID-19 and load shedding. This coming winter will certainly be a tough one, but we've been through tough times before, and what choice do we have but to keep soldiering on?
In the article on pages 3 through 6, some South African contract electronics manufacturers give us the low-down on what it took to cope with this 'new normal' that takes the form of face masks, social distancing, sanitising and, almost inevitably, COVID-19 infections.
I'm not actually a fan of the term 'social distancing'. If anything, the last year has taught us how to maintain social contact while keeping physically distant. Thanks to Zoom, Microsoft Teams or similar platforms, we've been able to meet with each other face-to-face in a virtual environment.
It's particularly apt that we've coped thanks to technologies like these. Once upon a time, in our cavemen (and women) days, the technological advancements of the day were things like the harnessing of fire, the invention of stone, wooden and, later, metal tools. At this moment in time, though, by far the most influential technologies in our lives fall under the umbrella of digitalisation. In the industrial sector, this is described by such terms as Industry 4.0 or 4IR (Fourth Industrial Revolution) – and we need to get with the programme, fast.
From logistics and transportation, from machine makers to printed circuit board producers, all the way down to electronics manufacturers themselves, leveraging digitalisation to its fullest extent is going to be vital to minimising the pain in the shorter term, and maximising the gain in the long run. But that is easier said than done when businesses are doing their best to keep up with all this sudden, drastic change, and to stay afloat in precarious economic conditions.
I'm not a proponent of replacing people with machines, and as the respondents in the aforementioned article pointed out, production lines just can't run effectively without hands-on human involvement. It goes without saying that the labour unions would also have plenty to say on the matter – which I don't disagree with necessarily, if only they would take less of a 'punch employers in the mouth' stance.
And with that, the show, as the saying goes, must go on. In this handbook you will find a variety of articles covering opinions, practical technical guides and advice, company profiles, and not to forget a selection of equipment, consumables, accessories and tools to keep your production lines up and running, winter be damned.
Credit(s)
Further reading:
Extended ST offering from RS
26 May 2021, RS Components (SA) , News
The scope of the supply chain agreement between RS Components and STMicroelectronics has been significantly extended. This new phase in the relationship between the two companies will result in a substantial 
...
Read more...
---
Structural battery breakthrough towards 'massless' energy storage
26 May 2021 , News
Chalmers University of Technology researchers have produced a structural battery that performs 10 times better than all previous versions. It contains carbon fibre that serves simultaneously as an electrode, 
...
Read more...
---
BAMR celebrates 75th anniversary
26 May 2021, BAMR , News
BAMR is celebrating its 75th year of serving the local industry, having been founded on 22 May 1946 by Fred Duk, a former Major in the South African Air Force, upon his return from the Second World 
...
Read more...
---
A tribute to Mark Schroeder
26 May 2021, S.J. Andrews Electronics , News
Written by Mark's family, with pride as we remember our husband, our dad, our granddad – a man who was and will always be so loved.
Read more...
---
Company profile: RS Components SA
26 May 2021, RS Components (SA) , News
The history of RS Components is a long and storied one, having been founded in London in 1937 by J.H. Waring and P.M. Sebestyen under the name Radiospares. In those early days, the company was run out 
...
Read more...
---
Electronics news digest
26 May 2021 , News
Overseas
Business
ams reported robust first quarter of 2021 group results with revenues of $1,55 billion and an adjusted operating (EBIT – earnings before interest and taxes) margin of 11%. This was 
...
Read more...
---
Events
26 May 2021 , Events, News
Tech Snacks
7-18 June 2021 Virtual A new learning concept from Arrow Electronics allowing visitors to choose from up to five Tech Snacks from across all the event's headline topics. Each snack is a 15-minute 
...
Read more...
---
From the editor's desk: The continued relevance of Moore's Law in the IoT age
26 May 2021, Technews Publishing , News, Editor's Choice
The end of Moore's Law (which famously posits that the number of transistors in a dense IC doubles about every two years, assuming an optimal price/performance ratio) has repeatedly been predicted, yet 
...
Read more...
---
Machine learning scholarships on offer at Wits University
26 May 2021 , News
DeepMind, an Alphabet company (Alphabet is the holding company of Google) and a world leader in the field of artificial intelligence (AI) research and its applications in the real world, has donated scholarship 
...
Read more...
---
Bosch opens advanced silicon wafer fab
26 May 2021 , News
Bosch has opened one of the world's most modern silicon wafer fabrication plants (fabs) in Dresden, Germany. Production will start as early as July – six months earlier than planned. From that time on, 
...
Read more...
---