printer friendly version
Personality profile: Bossie Coetzer
26 February 2021 Editor's Choice News
Given where I started, it would seem somewhat surprising where I've ended up, but looking back, the seeds of my personal and career growth started blossoming from an early age. Born in Pretoria, I spent my childhood growing up in Tempe, a military camp in Bloemfontein, where I attended and completed my education at the Bloemfontein Technical High School.
At a very young age I started selling Volksblad newspapers on the corner of the main entrance to Tempe, collecting money to purchase spares to build my first bicycle. Achieving this created a special mindset in me going forwards – always swapping and selling to get what I wanted, always trying to be smarter and thinking ahead.
My Dad and I had a great collection of aviaries filled with hundreds of small wild birds, doves and chickens, and it was my job to see that they always had clean water and food. This instilled in me a sense of caring and discipline.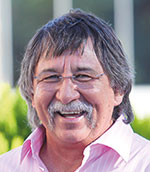 Bossie Coetzer.
After leaving school I had the option of doing my eighteen-month military service or joining the South African Air Force (SAAF). I joined the SAAF in January 1966, where my time could be seen as one of my greatest creative experiences. Starting off with a meagre R34,50 a month, I could barely afford to buy my first watch, and even that meant going without any extras for a few months. After saving whatever I could, I then started using my money 'profitably' – and with added income from selling catalogue shirts, I was then able to purchase my first second-hand car.
All my spare time was spent expanding my martial arts knowledge, which took up many hours every morning and evening at the dojo in Pretoria improving my skills to participate in national and international competitions. I later started a karate school for the kids on the military base.
After completing my apprenticeship on the Buccaneer aircraft as a radio and radar technician, I was transferred to the Mirage III squadron and later joined the team to go for training on the new Mirage F1 aircraft in France.
After getting married, my wife and I started making specialised aluminium picture frames for well-known artists, and I can now boast that my picture frames are hanging in many galleries across the world. For many years I toyed with the idea of starting a karate school with an adjoining picture frame business, but this was not to be.
I will always remember my time in the Air Force as being a great character-building experience and teaching me discipline.
A budding career in electronics
After thirteen years I left the SAAF to join Electronic Building Elements (EBE), a popular electronic component outlet, as a counter salesman. There I sold components to many hobbyists and future engineers at the University of Pretoria and the Technikons who came into the shop with their component lists or the then Elektor magazine to purchase resistors, capacitors, the ever popular 555 timers and various other TTL logic components for their projects.
Quickly grasping the concept of all these hobbyist and engineering designs, I could see the bigger picture and potential applications, and soon got promoted to internal sales, then external sales engineer and product manager for some of EBE's main suppliers, and had the opportunity to visit most of these suppliers across America.
Understanding product knowledge is power. I started reading any magazine that was available with articles discussing embedded products, including microprocessor technologies and bus architectures. I encouraged my suppliers to send me these international magazines as they were not available in South Africa (this was before personal computers and of course the Internet).
This all created a greater passion in me to ensure all customers and potential customers got to know about these products, which assisted me and the team at EBE to win many design-ins, including the first point-of-sale device, the MNET decoder, vehicle tracking, alarm and security systems, to name only a few.
Taking the 'bus and board' concept and running with it
Intersil Electronics then expanded its product range with the Z80- based STD ISA based boards and I was immediately hooked on the 'bus and board' concept. I soon transferred to the Intel division within the company to market Multibus baseboard and system products, which was very successful. Concurrent Technologies continued with Multibus II, taking the bus and board product portfolio to the next level and helping us win design-ins on some great projects.
I left EBE when its alliance with Arrow Electronics was under discussion. I then joined Concurrent Technologies to start a South African branch to continue the support for Multibus and VME products. Later, I moved to England to start Concurrent Technologies' European distribution network where I met many new suppliers and distributors of bus based architectures, and this helped me to build up some great alliances over the years and assisted me in winning some major VME design-ins across Europe. These included VME processor boards in the ATLAS and ALICE experimental projects at CERN, as well as Swarovski, which was my wife's favourite as I would bring back crystal decorations after each visit to the factory in Austria.
In 2004 I returned to South Africa with the passion and knowledge to continue my success with board architectures. The company I joined had other ideas and we soon parted ways. Instead of going on pension, I then started Rugged Interconnect Technologies to continue with my passion and to do what I do best: introducing new and next-generation, leading edge embedded products into the South African market.
Rugged embedded bus architectures, also called COTS (commercial off-the-shelf) products, continue to evolve to include new boards and modules containing leading edge CPU, FPGA and interface technologies. The requirement from the industry is for smaller, more lightweight and lower-powered systems, and the ease of adopting next-generation technology.
Currently both VITA (VPX) and PICMG (CompactPCI Serial) are working on implementing next-generation, leading edge technologies in their architectures. These include faster processors; larger FPGAs; PCIe Gen4; 25, 40 and 100GigE boards; and external interfaces.
The current state of affairs
It is sad to see so many technology companies losing good engineers to international companies, and I am not sure the industry will recover (at least not anytime soon) to a position of doing leading edge technology manufacturing.
Of course, COVID-19 has changed how we work and do business. For more than a year now we have had hardly any face-to-face meetings and had to rely on the Internet, mobile phones and virtual meetings. Our international travel for product updates from our suppliers and partners came to an abrupt end and we have had to attend virtual conferences and product training.
Going forward, we need to take these newly acquired skills and hone them to be effective players in the industry. Distribution will start to change by adopting e-commerce more and more, and a new wave of consultants with outstanding virtual networking skills will rise up.
Successful salespeople need an engineering background
Anybody wanting to start in this industry doing electronic systems sales should come from an engineering background. To make a success of your career in this industry you need to be prepared for the long haul, as success does not come overnight.
You will need to be well disciplined, hardworking and exhibit a passion for what you do, and remain dedicated to the company you work for. You will also need to read a lot to stay ahead of technology in your particular field.
Family interests
As a family we enjoy the outdoor life and touring the country with our caravan. With our sons growing up as keen sailors, we ended up parking our caravan permanently at the Transvaal Catamaran Club at Bronkhorstbaai, and we spend most of our free time sailing there or travelling to various sailing events around South Africa.
For more information contact Bossie Coetzer, Rugged Interconnect Technologies, +27 21 975 8894, bossie@ri-tech.co.za, www.ri-tech.co.za
Credit(s)
Further reading:
User-configurable embedded I/O modules
31 March 2021, Rugged Interconnect Technologies , Computer/Embedded Technology
APZU modules from Acromag provide a programmable Xilinx Zynq UltraScale+ multiprocessor system-on-chip (MPSoC). This MPSoC combines a feature-rich, ARM-based processing system and programmable logic in 
...
Read more...
---
CompactPCI Serial board for Single Pair Ethernet
26 February 2021, Rugged Interconnect Technologies , Computer/Embedded Technology
SPE (Single Pair Ethernet) is a new emerging networking standard for many automotive and industrial applications. With this in mind, EKF has developed the SY7-CYCLONE , a CompactPCI Serial FPGA board 
...
Read more...
---
Quartz RFSoC subsystems ideal for custom integrations
26 February 2021, Rugged Interconnect Technologies , Computer/Embedded Technology
Pentek has introduced new additions to the Quartz RFSoC architecture family: the Model 6350S and Model 6353S (Gen 3 RFSoC), eight-channel A/D and D/A converter subsystems in a rugged, small form factor 
...
Read more...
---
How do fusion splicers work?
26 February 2021, Lambda Test , Editor's Choice
Fibre-optic fusion splicers are highly accurate machines which are able to automatically align and join fibre-optic cores with sub-micron accuracy.
Read more...
---
The current state of GaN use for RF technology
26 February 2021, RF Design , Editor's Choice, Telecoms, Datacoms, Wireless, IoT
Challenges for predicting the growth and penetration of GaN technology in certain markets come from the extent of the research and development being invested in.
Read more...
---
Modern LIDAR systems promise sensing for every industry
26 February 2021, Altron Arrow , Editor's Choice, Opto-Electronics
As is always the case in human endeavours, it is impossible to know exactly what creative and useful ways people will come up with to use technology such as LIDAR.
Read more...
---
What is device management and why should you care?
25 November 2020, Trinity IoT , Editor's Choice, Telecoms, Datacoms, Wireless, IoT
When device management is implemented alongside a centralised interface, companies can update firmware or software, without the need to manually perform each update in the field.
Read more...
---
The A to Z of A2B applications
25 November 2020, Altron Arrow , Editor's Choice, Telecoms, Datacoms, Wireless, IoT
An A
2
B device's support for up to 32 channels of downstream audio and upstream audio on the network facilitate the distribution of multiple channels of different audio content within a single system.
Read more...
---
What makes good connector design?
25 November 2020, IPD Electronics , Editor's Choice, Interconnection
It's important to remember that your connector may have physical design constraints like a minimum wire gauge or number of contacts, so it's vital to consult with your connector supplier early in the process.
Read more...
---
Personality profile: Dereck Styane
25 November 2020, Phoenix Contact , Editor's Choice, News
"We do try and develop people and promote them from within the company, so I savour people's personal growth that I've overseen."
Read more...
---