printer friendly version
The surprising ingredients used to bake a solar-panel cake
31 March 2021
Electronics Technology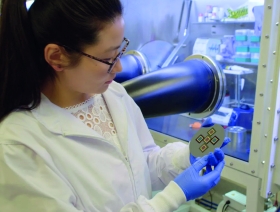 Jon Major, from the BBC's Future Planet team, has written an article that explores "The unexpected ingredients that improve solar cells". Some of these ingredients include the likes of capsaicin, the chemical that gives chilli peppers their spicy sting, and magnesium chloride, which is used as a coagulant for thickening tofu.
What's more, the way in which these ingredients are mixed and baked affects the quality of the final product. From the article: "Think of solar cells like cake. To find out what will happen when you add a novel ingredient, it's far more reliable to bake it and then sample the final concoction than to try to predict what it will look and taste like before you bake it."
To read more go to www.dataweek.co.za/*mar21-bbc
Further reading:
Nanometre-precision piezo actuators
RS South Africa Electronics Technology
TDK Corporation has announced two new piezo actuators that are characterised by a wide dynamic range, a high force-to-volume ratio, but with precision in the nanometre range.
Read more...
---
Webinar: The evolving electrification of the power distribution system
Infineon Technologies Electronics Technology
New connected car functionality, along with the necessity to reduce the cost, weight and complexity associated with wire harnesses, has led to the transformation of the power distribution system in automotive engineering.
Read more...
---
Improved MnZn material for power conversion industry
Sivan Electronic Supplies Electronics Technology
Cosmo Ferrites Ltd, a leading manufacturer of soft ferrites, has launched an improved version of CF295 for the power conversion industry.
Read more...
---
Common mode filter for automotive Ethernet
Avnet Abacus Electronics Technology
TDK Corporation has announced the introduction of its new ACT1210E Series common mode filter for automotive Ethernet 10BASE-T1S.
Read more...
---
Energising the industrial edge
Electronics Technology
As if the drive to decarbonise energy as part of sustainability and climate change efforts was not enough, the recent rise in energy prices has brought into sharp contrast the need to re-examine how we generate, distribute, and consume electricity.
Read more...
---
Samsung begins chip production using 3 nm process technology
EBV Electrolink Electronics Technology
The optimised 3 nm process with GAA architecture achieves 45% lower power usage, 23% improved performance and 16% smaller surface area compared to 5 nm process.
Read more...
---
Panasonic releases its updated touch-sensitive knob
Altron Arrow Electronics Technology
Panasonic, in conjunction with Microchip, has launched an update to its existing Magic Knob, a capacitive knob ready for standard touch sensors for use in controlling automotive information displays.
Read more...
---
Microchip's new IC to replace Hall effect position sensors
Altron Arrow Electronics Technology
The LX34070 IC from Microchip is set to help accelerate the global move away from expensive and less accurate magnet-based solutions for safety-critical EV motor position monitoring.
Read more...
---
A brief history of HBTs
Conical Technologies Electronics Technology
In 1947 the engineers at Bell Labs were tasked with developing a transistor. This development heralded the beginning of the semiconductor industry which changed the world forever. Transistors would have 
...
Read more...
---
Research project achieves major advance toward fusion energy
Electronics Technology
New superconducting magnet designed by MIT breaks magnetic field strength records, paving the way for practical, commercial, carbon-free power.
Read more...
---