printer friendly version
The surprising ingredients used to bake a solar-panel cake
31 March 2021
Electronics Technology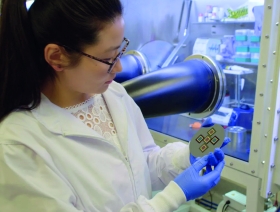 Jon Major, from the BBC's Future Planet team, has written an article that explores "The unexpected ingredients that improve solar cells". Some of these ingredients include the likes of capsaicin, the chemical that gives chilli peppers their spicy sting, and magnesium chloride, which is used as a coagulant for thickening tofu.
What's more, the way in which these ingredients are mixed and baked affects the quality of the final product. From the article: "Think of solar cells like cake. To find out what will happen when you add a novel ingredient, it's far more reliable to bake it and then sample the final concoction than to try to predict what it will look and taste like before you bake it."
To read more go to www.dataweek.co.za/*mar21-bbc
Further reading:
Analog Devices leverages Microsoft's 3D ToF tech
25 November 2020 , Electronics Technology
Analog Devices is working with Microsoft to leverage Microsoft's 3D time-of-flight (ToF) sensor technology, allowing customers to easily create high-performance 3D applications that bring higher degrees 
...
Read more...
---
IoT communication without batteries
28 October 2020 , Electronics Technology
When we talk about IoT, we often gloss over the fact that all these interconnected things need batteries and electronics to carry out the job of collecting and processing data while they're communicating 
...
Read more...
---
Stable perovskite LEDs one step closer
25 March 2020 , Electronics Technology
Researchers at Sweden's Linköping University, working with colleagues in Great Britain, China and the Czech Republic, have developed a perovskite light-emitting diode (LED) with both high efficiency and 
...
Read more...
---
Infineon works with Qualcomm for 3D authentication
25 March 2020 , Electronics Technology
Infineon Technologies has collaborated with Qualcomm Technologies to develop a reference design for 3D authentication based on the Qualcomm Snapdragon 865 mobile platform. Infineon is thus extending its 
...
Read more...
---
Online training: Battery Safety and Protection Overview
23 October 2019 , Electronics Technology, Multimedia, Videos
So many of the portable devices, electronic equipment, and tools we use every day are powered with lithium-ion battery systems. But one challenge for engineers who design these lithium-ion-powered products 
...
Read more...
---
Using Wi-Fi to detect dangerous concealed objects
15 August 2018 , Electronics Technology
American university researchers have come up with a way of using Wi-Fi signals to detect weapons, bombs and explosive chemicals concealed in bags, backpacks or other luggage. The collaborative, peer-reviewed 
...
Read more...
---
Wits researchers make carbon nanotube discovery
13 June 2018 , Editor's Choice, Electronics Technology
Researchers at the University of the Witwatersrand (Wits) have found ways to control the spin transport in networks of the smallest electrical conductor known to man.
Read more...
---
Evolution of home technology from connected to proactive
16 May 2018 , Electronics Technology
The idea of 'home' has evolved greatly over the millennia. Over the last decades, technology has transformed homes into hubs of functionality – centres of entertainment, environmental management, work, 
...
Read more...
---
Products of the Year 2017
15 November 2017 , Electronics Technology
Tiny Bluetooth low energy module
Xilinx all programmable RFSoCs
PSoC 6 microcontrollers for IoT
PolarFire FPGAs from Microsemi
LTE Cat M1/NB1 multi mode module
Low-profile 2,4 GHz antenna
Multi-pixel 
...
Read more...
---
Wits researchers demonstrate quantum teleportation of light
15 November 2017 , News, Electronics Technology
Quantum communication over long distances is seen as the future of information security and has been demonstrated in free space and fibre with two-dimensional states, recently over distances exceeding 
...
Read more...
---