printer friendly version
AI platform for mass-market embedded/edge deployments
31 March 2021
Computer/Embedded Technology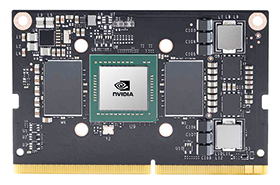 NVIDIA's Jetson TX2 NX delivers the next step in AI performance for entry-level embedded and edge products. It provides up to 2,5 times the performance of Jetson Nano and shares form factor and pin compatibility with Jetson Nano and Jetson Xavier NX.
This small, lower-cost version of the Jetson TX2 is perfect for creating mass-market AI products. Intelligent machine OEMs can scale their product offerings with pin-compatible Jetson modules, while using cloud-native technologies to build, deploy and manage the same software across all of them.
The Jetson TX2 NX system-on-module (SOM) packs hardware accelerators for the entire AI pipeline, including ISP, encoder, decoder, image compositor and more. The NVIDIA JetPack SDK includes libraries and samples for using these accelerators, as well as the latest NVIDIA tools for faster application development and optimisation. All major AI frameworks are supported.
Pre-trained AI models from NVIDIA NGC and the NVIDIA Transfer Learning Toolkit also provide an ideal way to accelerate time-to-market. You can now develop custom AI networks with less effort and containerised deployments make updates flexible and seamless.
Ease of development and speed of deployment – plus a unique combination of form factor, performance and power advantage – make Jetson TX2 NX the ideal mass-market AI product platform to get to market and continuously update over the lifetime of a product.
For more information contact Renaldo Fibiger, Altron Arrow, +27 11 923 9600, rfibiger@arrow.altech.co.za, www.altronarrow.com
Credit(s)
Further reading:
High-frequency 100 nF single layer capacitor
28 April 2021, RF Design , Passive Components
Knowles Precision Devices recently announced the release of a new 100 nF capacitor within its V-Series of single layer capacitors. The part is a high-frequency, wire-bondable single layer capacitor, making 
...
Read more...
---
Compact bias tees with up to 35 GHz bandwidth
31 March 2021, RF Design , Analogue, Mixed Signal, LSI
Designers can save design time and time-to-market by using a proven bias solution from the high-frequency specialist company, Marki Microwave. Its new line of surface mount bias tees, featuring up to 
...
Read more...
---
Machine learning core repository on GitHub
28 April 2021 , Computer/Embedded Technology
Artificial intelligence is notoriously difficult because it relies on data science. Additionally, creating the right algorithm, such as a decision tree, and setting it up, can also be tricky. Unfortunately, 
...
Read more...
---
User-configurable embedded I/O modules
31 March 2021, Rugged Interconnect Technologies , Computer/Embedded Technology
APZU modules from Acromag provide a programmable Xilinx Zynq UltraScale+ multiprocessor system-on-chip (MPSoC). This MPSoC combines a feature-rich, ARM-based processing system and programmable logic in 
...
Read more...
---
Fourth generation PC/104 SBC extends product lifecycles
31 March 2021, Electronic Products Design , Computer/Embedded Technology
Diamond Systems has introduced Athena IV, a wide-temperature, COM-based SBC (single board computer) with integrated data acquisition and PC/104 I/O expansion. This combination of features makes the compact 
...
Read more...
---
SP4T PIN diode switch
28 April 2021, RF Design , Telecoms, Datacoms, Wireless, IoT
The PE71S5006 from Pasternack is an absorptive, SP4T PIN diode switch that operates from DC to 20 GHz. It has an insertion loss of 3,8 dB, a switching speed of 17 ns and provides isolation of more than 
...
Read more...
---
Timing modules and antenna based on L1 and L5 GNSS signals
31 March 2021, RF Design , Telecoms, Datacoms, Wireless, IoT
u-blox has announced its first multi-band, high-accuracy timing solutions to concurrently support the L1 and L5 GNSS (global navigation satellite system) signals. The ZED-F9T-10B and LEA-F9T-10B timing 
...
Read more...
---
New range of double ridge waveguide components
26 February 2021, RF Design , Telecoms, Datacoms, Wireless, IoT
Pasternack has unveiled a new series of double ridge waveguide components that are ideal for satellite communication, radar, wireless communication and test and instrumentation. The new components 
...
Read more...
---
Microwave amplitude control module
26 February 2021, RF Design , Telecoms, Datacoms, Wireless, IoT
The ACM2052 from Kratos General Microwave is an amplitude control module (ACM) that operates from 0,5 to 2 GHz. It provides precise control of signal amplitude and pulse modulation over a high dynamic 
...
Read more...
---
Triple-band helical antenna for GNSS
26 February 2021, RF Design , Telecoms, Datacoms, Wireless, IoT
The HC975 from Tallysman is a triple-band helical antenna that is designed for precision GNSS applications and L-band correction services. It features an industry leading low-current, low-noise amplifier 
...
Read more...
---