printer friendly version
Software development solution for Cortex-M MCUs
31 March 2021
Design Automation
Arm Keil MDK includes a leading Windows-based IDE, debugger, market leading compilers, software pack management and CMSIS. These software tools allow you to accelerate the development of your embedded software projects.

MDK offers support for over 5000 Cortex-M based devices, including Cortex-M23/M33 cores. The Windows-based ìVision IDE includes an Event Recorder and Component Viewer to show the run-time behaviour of software components. Together with the ULINKpro debug and trace adaptor, it offers full instruction trace functionality and complete code coverage information.
Software packs can be added to MDK at any time, making new device support and middleware updates independent from the toolchain. They contain device support, CMSIS libraries, software components, middleware, board support, code templates and example projects. MDK-Middleware provides royalty-free, tightly coupled software components that are specifically designed for communication peripherals in microcontrollers.
The Cortex Microcontroller Software Interface Standard (CMSIS) enables consistent and simple software interfaces to the processor for peripherals, realtime operating systems and middleware. It simplifies software re-use, reducing the learning curve for new microcontroller developers and cutting the time-to-market for devices.
The Arm C/C++ compilers with assembler, linker and highly optimised run-time libraries are tailored for optimum code size and performance. All Arm compilers are certified for functional safety applications and offer long-term maintenance and support. Arm Compiler 6 boasts very small code size, with various optimisation levels including link time optimisation.
A ready-to-use software framework for embedded functional safety applications is available in MDK. The blocks are fully qualified for ISO 26262, IEC 61508, IEC 62304 and EN 50128 and contain Keil RTX RTOS, an optimised C library, CMSIS-Core and the Event Recorder which helps to determine the timing behaviour of the application.
Additionally, MDK accelerates important functions for safety-related application development, such as static code analysis and MISRA checking and code coverage, which can otherwise be time consuming. MDK provides interfaces for integration with third-party unit test frameworks and can be automated easily for use in continuous integration environments.
A choice of debug probes to suit your needs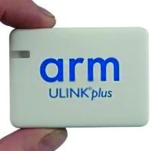 All members of the ULINK family of debug and trace adaptors enable you to download programs to your target, step through your program, insert breakpoints and debug your Arm Cortex-M based devices on-the-fly. The sophisticated ULINKpro debug probe provides high-speed data and instruction tracing that lets you analyse your program behaviour and generate the necessary code coverage information required for safety certifications.
The ULINKplus is ideally suited to optimising battery life in IoT applications. It enables software optimisation for ultra-low power applications, test automation and isolation for high-speed debug and trace of sensitive hardware systems.
For more information contact Renaldo Fibiger, Altron Arrow, +27 11 923 9600, rfibiger@arrow.altech.co.za, www.altronarrow.com
Credit(s)
Further reading:
Discovery kit for IoT nodes using STM32U5 MCU
Altron Arrow DSP, Micros & Memory
The B-U585I-IOT02A Discovery kit provides a complete demonstration and development platform for STMicroelectronics' STM32U585AI microcontroller, featuring an Arm Cortex-M33 core with Arm TrustZone and 
...
Read more...
---
Signal chain implementation for condition monitoring systems
Altron Arrow Editor's Choice Analogue, Mixed Signal, LSI
Like all system designs, there are many choices to be made when it comes to designing a condition monitoring system, each of which comes with various trade-offs and can drastically alter the DAQ signal chain design.
Read more...
---
USB charger solution with high power density
Altron Arrow Power Electronics / Power Management
Diodes Incorporated has launched a three-chip solution for enhancing the performance of ultra-high-power-density USB Type-C power delivery (PD) systems. These products can be used in a wide variety of 
...
Read more...
---
3D simulation IDE boosts factory productivity
Omron Electronics Design Automation
Omron's updated Sysmac Studio 3D Simulation integrated development environment (IDE) integrates and verifies the movements of robots and peripheral devices. It can digitally reproduce an entire facility 
...
Read more...
---
Features added to DesignSpark PCB Pro
RS Components (SA) Design Automation
RS Components added new features to DesignSpark PCB Pro and introduced an RS stock number to make it easier to purchase. The free-of-charge version of DesignSpark PCB, part of the award-winning RS DesignSpark 
...
Read more...
---
Demo of new TouchGFX video widget
Altron Arrow Multimedia, Videos
The latest release (version 4.18) of STMicroelectronics' TouchGFX software for user-interface development with STM32 microcontrollers (MCUs) added support for video playback, enhanced tools for multi-developer 
...
Read more...
---
Configurable dual IO-Link and SIO transceiver
Altron Arrow Telecoms, Datacoms, Wireless, IoT
STMicroelectronics is bringing extra flexibility to IO-Link connections with the L6364 transceiver, which features dual communication channels that allow configurable output doubling for extra drive strength, 
...
Read more...
---
Evaluation kit for formaldehyde sensor
Electrocomp Design Automation
The SEK-SFA30 evaluation kit has been designed for easy evaluation of Sensirion's SFA30 formaldehyde sensor. The SFA30 is designed for easy integration into air purifiers, demand-controlled ventilation 
...
Read more...
---
Updates add video to ST's TouchGFX suite
Altron Arrow Computer/Embedded Technology
STMicroelectronics has released TouchGFX Version 4.18 for user-interface development with STM32 microcontrollers (MCUs), adding video playback, enhanced tools for multi-developer collaboration and support 
...
Read more...
---
Super-junction 800 V MOSFETs
Altron Arrow Power Electronics / Power Management
The new super-junction STPOWER MDmesh K6 series from STMicroelectronics enhances several key parameters to minimise system-power losses. It is especially suited to lighting applications based on flyback 
...
Read more...
---