printer friendly version
Software development solution for Cortex-M MCUs
31 March 2021
Design Automation
Arm Keil MDK includes a leading Windows-based IDE, debugger, market leading compilers, software pack management and CMSIS. These software tools allow you to accelerate the development of your embedded software projects.

MDK offers support for over 5000 Cortex-M based devices, including Cortex-M23/M33 cores. The Windows-based ìVision IDE includes an Event Recorder and Component Viewer to show the run-time behaviour of software components. Together with the ULINKpro debug and trace adaptor, it offers full instruction trace functionality and complete code coverage information.
Software packs can be added to MDK at any time, making new device support and middleware updates independent from the toolchain. They contain device support, CMSIS libraries, software components, middleware, board support, code templates and example projects. MDK-Middleware provides royalty-free, tightly coupled software components that are specifically designed for communication peripherals in microcontrollers.
The Cortex Microcontroller Software Interface Standard (CMSIS) enables consistent and simple software interfaces to the processor for peripherals, realtime operating systems and middleware. It simplifies software re-use, reducing the learning curve for new microcontroller developers and cutting the time-to-market for devices.
The Arm C/C++ compilers with assembler, linker and highly optimised run-time libraries are tailored for optimum code size and performance. All Arm compilers are certified for functional safety applications and offer long-term maintenance and support. Arm Compiler 6 boasts very small code size, with various optimisation levels including link time optimisation.
A ready-to-use software framework for embedded functional safety applications is available in MDK. The blocks are fully qualified for ISO 26262, IEC 61508, IEC 62304 and EN 50128 and contain Keil RTX RTOS, an optimised C library, CMSIS-Core and the Event Recorder which helps to determine the timing behaviour of the application.
Additionally, MDK accelerates important functions for safety-related application development, such as static code analysis and MISRA checking and code coverage, which can otherwise be time consuming. MDK provides interfaces for integration with third-party unit test frameworks and can be automated easily for use in continuous integration environments.
A choice of debug probes to suit your needs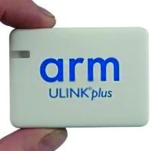 All members of the ULINK family of debug and trace adaptors enable you to download programs to your target, step through your program, insert breakpoints and debug your Arm Cortex-M based devices on-the-fly. The sophisticated ULINKpro debug probe provides high-speed data and instruction tracing that lets you analyse your program behaviour and generate the necessary code coverage information required for safety certifications.
The ULINKplus is ideally suited to optimising battery life in IoT applications. It enables software optimisation for ultra-low power applications, test automation and isolation for high-speed debug and trace of sensitive hardware systems.
For more information contact Renaldo Fibiger, Altron Arrow, +27 11 923 9600, rfibiger@arrow.altech.co.za, www.altronarrow.com
Credit(s)
Further reading:
Ballast evaluation board for UV-C disinfection lamps
28 April 2021, Altron Arrow , Power Electronics / Power Management
The EVAL_ICB2FL03G is a ballast design evaluation board for 54 W UV-C disinfection lamps with voltage-mode preheating. Supplied by Infineon Technologies, it features the smart ballast controller ICB2FL03G 
...
Read more...
---
Feature updates for Proteus design software
31 March 2021, Dizzy Enterprises , Design Automation
Proteus 8.12 expands on its high-speed design feature offering by adding support for pass-through components on length-matched differential pairs. Pass-through components are those which are included 
...
Read more...
---
Challenges for electronic circuits in space applications
28 April 2021, Altron Arrow , Electronics Technology
Outside the protective cover of the Earth's atmosphere, the natural space radiation environment can damage electronic devices and the effects range from a degradation in parametric performance to a complete functional failure.
Read more...
---
Component shortages and how to mitigate them
31 March 2021, RS Components (SA), Projects Concern Manufacturing, Production Logix, Altron Arrow , News
To find out just how severe the problem is right now, and the impact it is having, we consulted two South African CEMs and two component distributors for their insights and advice.
Read more...
---
Bidirectional logic-level voltage translators
31 March 2021, Altron Arrow , Analogue, Mixed Signal, LSI
The 74LVC2T45 and 74LVCH2T45 from Diodes Incorporated provide logic-level voltage translation between devices that operate from different supply rails. The devices have dual power supplies and support 
...
Read more...
---
Multi-constellation GNSS module
31 March 2021, Altron Arrow , Telecoms, Datacoms, Wireless, IoT
Telit's high-precision GNSS SE868SY-D is a new multi-frequency, multi-constellation positioning receiver capable of combining GPS/QZSS and Galileo in the L1/E1 and L5/E5 bands, GLONASS in the L1, BeiDou 
...
Read more...
---
Evaluate 3D magnetic sensors in under ten minutes
31 March 2021, Altron Arrow , Analogue, Mixed Signal, LSI
You probably think that it's not possible to evaluate a 3D magnetic sensor in less than ten minutes? Think again! Anything is possible with Infineon's 2GO kits. Its 3D magnetic sensor 2GO kit is a budget-priced 
...
Read more...
---
UWB personnel tag for real-time location system
31 March 2021, Altron Arrow , Telecoms, Datacoms, Wireless, IoT
The Inpixon Personnel Tag is a compact, lightweight, ultra-wideband (UWB) locator tag for Inpixon's real-time location system (RTLS). It is designed to deliver 30 cm accuracy to locate employees or visitors 
...
Read more...
---
PoE to USB-C power and data adaptor
26 February 2021, Altron Arrow , Power Electronics / Power Management
There are many consumer, enterprise and industrial devices today that have a USB Type-C port as the only input power option. While USB-C technology can offer high power and high data rate, it limits the 
...
Read more...
---
Multi-parameter vital signs monitoring is easier than ever before
31 March 2021, Altron Arrow , Analogue, Mixed Signal, LSI
There is rapid expansion and adoption of digital healthcare fuelled by the continuous advancement in electronics and breakthroughs in cloud computing, AI, and communication technologies.
Read more...
---