printer friendly version
Blockchain SSD secures edge data integrity
28 April 2021
Computer/Embedded Technology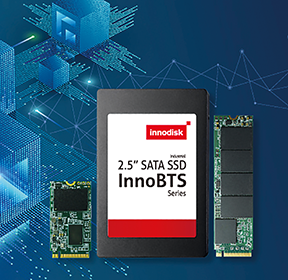 The increasing ubiquity of AI in everyday applications brings with it concerns regarding data integrity and validation. Innodisk's newly patented blockchain technology led to its latest SSD solution, the InnoBTS SSD and alleviates these concerns through a sophisticated use of digital signatures and blockchain that is fully software independent.
This new solution combines blockchain technology to secure the valuable data in modern IoT scenarios, such as POS systems at unmanned stores, smart meters and digital ID cards. The important data written to the SSD will create an encrypted hash string that corresponds to the specific data set and the encrypted hash string is spread across the blockchain network, essentially creating a decentralised ledger that is distributed between numerous unique computers. The process is to make an encrypted hash string to be 'chained' on the blockchain network. If tampering happens, the chained data is checked with the encrypted hash string on the network, clearly showing any discrepancies.
The InnoBTS SSD incorporates a hardware-run digital signature. Through the sophisticated use of private and public keys given to each file that is sent, the receiver can always verify the correct sender. The SSD creates and secures the private key within an internal safety zone, ensuring maximum private key security. Only the public key will be available for anyone to verify the correct sender.
The resulting solution benefits from the combination of blockchain technology and data streaming to create an industry-leading solution for data integrity at the edge. Removing the need for software eases system integration as well as strengthening data integrity by moving the functions to the more inaccessible SSD firmware.
Innodisk's solution allows for easy blockchain setup for edge applications that is not reliant on software and connects numerous devices to the blockchain network. This makes the InnoBTS SSD suitable for cutting-edge AI applications such as smart cities, smart vehicles, smart factories and intelligent surveillance.
Credit(s)
Further reading:
VPX processor board with strong security
Rugged Interconnect Technologies Computer/Embedded Technology
Concurrent Technologies has developed a VPX processor board based on the Intel Xeon E-2200 processor family (previously known as Coffee Lake Refresh) launched by Intel for use in long-lifecycle embedded 
...
Read more...
---
Full AI/machine learning sensing solution
Computer/Embedded Technology
SensiML, a developer of AI tools for building intelligent Internet of Things (IoT) endpoints, has teamed up with onsemi to deliver a complete machine learning solution for autonomous sensor data processing 
...
Read more...
---
Frame grabber for up to four CoaXPress links
Rugged Interconnect Technologies Computer/Embedded Technology
Kaya Instruments' Komodo II CoaXPress 12G PCIe/104 is a high-spec frame grabber supporting the CoaXPress 2.0 standard. It can receive video streams from up to four CoaXPress links in single, dual or 
...
Read more...
---
Benchmarking tools for quantum computing released
Computer/Embedded Technology
Quantum computers are still a long way from being practical in real-world scenarios, but development is already underway on benchmarking tools to measure their performance. The Quantum Economic Development 
...
Read more...
---
Updates add video to ST's TouchGFX suite
Altron Arrow Computer/Embedded Technology
STMicroelectronics has released TouchGFX Version 4.18 for user-interface development with STM32 microcontrollers (MCUs), adding video playback, enhanced tools for multi-developer collaboration and support 
...
Read more...
---
Non-silicone thermal interface material
Vepac Electronics Manufacturing / Production Technology, Hardware & Services
HTC Heat Transfer Compound from Electrolube is a non-silicone thermal interface material recommended where the efficient and reliable thermal coupling of electrical and electronic components is required, 
...
Read more...
---
DC/DC converter for forklift trucks
Vepac Electronics Power Electronics / Power Management
The DC/DC converters of the series PCMDS550-FT from MTM Power are tailor-made to meet the requirements in forklift truck technology. Highest quality and safety are of particular importance when using 
...
Read more...
---
Air-insulated HV power supplies
Vepac Electronics Power Electronics / Power Management
XP Glassman's OQ Series of high-voltage AC/DC power supplies are sophisticated 8 kW or 16 kW open-stack units with extremely low ripple and noise. The air-insulated, fast-response supplies exhibit tight 
...
Read more...
---
SoM maker relies on ST MPU and open-source community
Altron Arrow Computer/Embedded Technology
"Open source is not only code sharing but a willingness to bring a certain know-how to a community and make a business around it."
Read more...
---
True RMS digital multimeter
Vepac Electronics Test & Measurement
The new PeakTech 2025 A offers a multitude of measurement functions for electrical variables for industry, trade, training, hobbyist and laboratory users. Of particular note is the integrated data interface, 
...
Read more...
---