printer friendly version
Isolated gate driver safely controls SiC MOSFETs
28 April 2021
Power Electronics / Power Management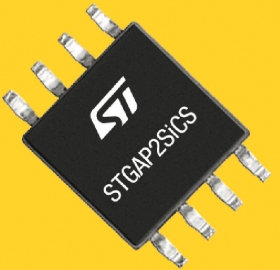 Joining STMicroelectronics' STGAP family of isolated gate drivers, the STGAP2SiCS is optimised for safe control of silicon carbide (SiC) MOSFETs and operates from a high-voltage rail up to 1200  V.
Capable of producing a gate-driving voltage up to 26 V, the STGAP2SiCS has a raised under-voltage lockout (UVLO) threshold of 15,5 V to meet the turn-on requirements of SiC MOSFETs. If the driving voltage is too low, which can be caused by low supply voltage, the UVLO ensures the MOSFET is turned off to prevent excessive dissipation. The driver features dual input pins that let designers determine the gate-drive signal polarity.
With 6 kV of galvanic isolation between the input section and the gate-driving output, the STGAP2SiCS helps ensure safety in consumer and industrial applications. Its 4 A output-sink/source capability is suited to mid- and high-power converters, power supplies and inverters in equipment such as high-end home appliances, industrial drives, fans, induction heaters, welders and UPSs.
Two different output configurations are available. One has separate output pins that allow independent optimisation of turn-on and turn-off times using a dedicated gate resistor. The second is featured for high-frequency hard switching, with a single output pin and active Miller clamp that limits oscillation of the SiC MOSFET gate-source voltage to prevent unwanted turn-on and enhance reliability. The input circuitry is compatible with CMOS/TTL logic down to 3,3 V, which allows easy interfacing with a wide variety of control ICs.
The STGAP2SiCS features a standby mode that helps cut system power consumption, as well as built-in protection including hardware interlocks to prevent cross-conduction and thermal shutdown of both the low-voltage section and the high-voltage driving channel. Matched propagation delays between the low-voltage and high-voltage sections prevent cycle distortion and minimise energy losses. The total delay is less than 75 ns, permitting accurate pulse-width modulation (PWM) control up to high switching frequencies.
For more information contact EBV Electrolink, +27 21 402 1940, capetown@ebv.com, www.ebv.com
Credit(s)
Further reading:
Ballast evaluation board for UV-C disinfection lamps
28 April 2021, Altron Arrow , Power Electronics / Power Management
The EVAL_ICB2FL03G is a ballast design evaluation board for 54 W UV-C disinfection lamps with voltage-mode preheating. Supplied by Infineon Technologies, it features the smart ballast controller ICB2FL03G 
...
Read more...
---
Baseplate cooled 75 W AC-DC power supplies
28 April 2021, Vepac Electronics , Power Electronics / Power Management
The availability of a new range of low profile, half-brick, baseplate cooled AC-DC power supplies, which require no external circuitry for operation or EMC compliance, has been announced by XP Power. 
...
Read more...
---
Quad-output power management IC
31 March 2021, CST Electronics , Power Electronics / Power Management
The MAX77655 single-inductor multiple-output (SIMO) power management IC (PMIC) from Maxim Integrated Products provides the highest-density power solution for extremely compact next-generation devices. 
...
Read more...
---
Ultrafast avalanche SMD rectifier diode
31 March 2021, Hi-Q Electronics , Power Electronics / Power Management
Diotec's new BYG20 Series is an ultrafast avalanche SMD rectifier diode in an SMA package, with repetitive reverse voltage of 200 V to 600 V and average forward current rating of 1,5 A. Having non-repetitive 
...
Read more...
---
Current transducer features no insertion loss
31 March 2021, Vepac Electronics , Power Electronics / Power Management
In a power supply system, high working current occurring under abnormal conditions will affect the power supply and even damage the whole system in serious cases. Therefore, in order to ensure the safe 
...
Read more...
---
Synaptics signs distribution deal with EBV
26 February 2021, EBV Electrolink , News
EBV Elektronik has secured a supply chain agreement with Synaptics. Synaptics was founded with the primary objective of enhancing the way in which technology and the real world interrelate, to enable 
...
Read more...
---
Industrial AC to DC power supplies
26 February 2021, Conical Technologies , Power Electronics / Power Management
Mornsun-Power offers a wide range of industrial AC to DC power supplies including the LM series of switched mode supplies that offer a wide input range of 85-305 V a.c. and 100 to 430 V d.c. The LM series 
...
Read more...
---
BLDC motor control demonstrator and evaluation board
26 February 2021, EBV Electrolink , Power Electronics / Power Management
EBV Elektronik is demonstrating the simplicity of designing with Power Integrations' BridgeSwitch devices with the introduction of the EBV BridgeSwitch MB high-voltage, single-phase brushless DC (BLDC) 
...
Read more...
---
ebm-papst's automation solutions on display
26 February 2021, Ebmpapst South Africa , Power Electronics / Power Management
Automation solutions in the context of Industry 4.0 were presented late last year at the regional trade fair 'all about automation' in Essen and Chemnitz, Germany. ebm-papst presented its latest products 
...
Read more...
---
New Bluetooth LE microcontrollers from STMicro
26 February 2021, EBV Electrolink , Telecoms, Datacoms, Wireless, IoT
STMicroelectronics has extended its STM32WB Bluetooth LE microcontroller (MCU) offering with new devices that combine entry-level features with extra power savings for longer-lasting performance. The 
...
Read more...
---