printer friendly version
IBM shrinks chip geometries to 2 nm
26 May 2021
Electronics Technology
The new 2 nm nanosheet architecture, developed less than four years after IBM announced its milestone 5 nm design, will be able to fit up to 50 billion transistors on a chip the size of a fingernail.
The current state-of-the-art in terms of semiconductor chip geometries has been superseded by a new breakthrough coming out of IBM's world renowned research division. Currently the 'process node' most commonly used commercially is 7 nm, with TSMC (Taiwan Semiconductor Manufacturing Company, the world's largest semiconductor contract fabrication company) pushing chips out at a rate of almost half a billion per year. The nascent 5 nm node is out there and has been commercialised (by the likes of TSMC) but is still too expensive for any but the most demanding applications.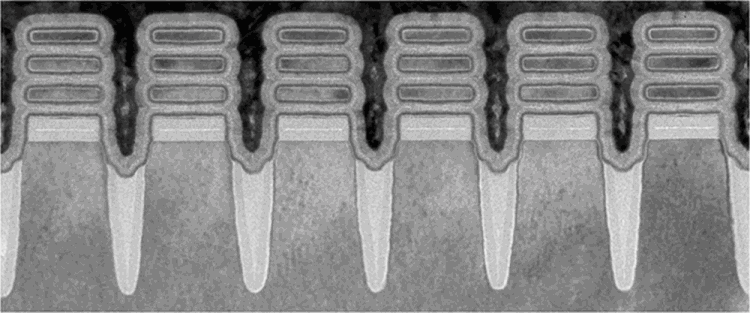 A row of 2 nm nanosheet devices as seen using transmission electron microscopy. 2 nm is smaller than the width of a single strand of human DNA.
Now the boundaries have been pushed yet further, with IBM's development of the world's first chip to employ 2 nm nanosheet technology. Increasing the number of transistors per chip can make them smaller, faster, more reliable and more efficient. IBM's new 2 nm architecture, developed less than four years after it announced its milestone 5 nm design, will allow the 2 nm chip to fit up to 50 billion transistors on a chip the size of a fingernail.
More transistors on a chip also means processor designers have more options to infuse core-level innovations to improve capabilities for leading-edge workloads like AI and cloud computing, as well as new pathways for hardware-enforced security and encryption. IBM is already implementing other innovative core-level enhancements in the latest generations of IBM hardware, like IBM POWER10 and IBM z15.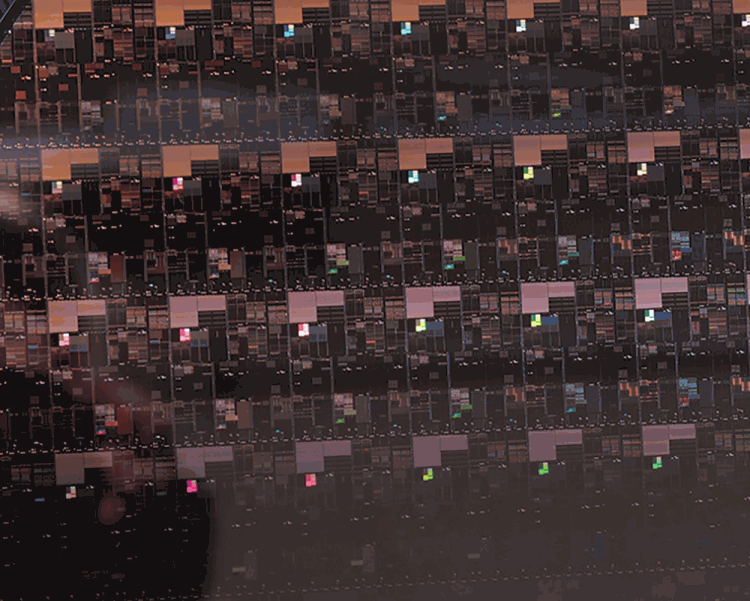 A close-up of a 2 nm wafer fabricated at IBM Research's Albany facility, with individual chips visible to the naked eye.
Demand for increased chip performance and energy efficiency continues to rise, especially in the era of hybrid cloud, AI and the Internet of Things. IBM's new 2 nm chip technology addresses this growing demand and is projected to achieve 45% higher performance, or 75% lower energy use, than today's most advanced 7 nm node chips.
"The IBM innovation reflected in this new 2 nm chip is essential to the entire semiconductor and IT industry," said Darío Gil, senior vice president and director of IBM Research. "It is the product of IBM's approach of taking on hard tech challenges and a demonstration of how breakthroughs can result from sustained investments and a collaborative R&D; ecosystem approach."
By way of example, the potential benefits of these advanced 2 nm chips could include:
• Quadrupling cellphone battery life, only requiring users to charge their devices every four days.
• Slashing the carbon footprint of data centres, which account for 1% of global energy use. Changing all of their servers to 2 nm-based processors could potentially reduce that number significantly.
• Drastically speeding up a laptop's functions, ranging from quicker processing in applications, to assisting in language translation more easily, to faster Internet access.
• Contributing to faster object detection and reaction time in autonomous vehicles like self-driving cars.
This latest breakthrough builds on decades of IBM leadership in semiconductor innovation. The company's semiconductor development efforts are based at its research lab located at the Albany Nanotech Complex in Albany, New York, where IBM scientists work in close collaboration with public and private sector partners to push the boundaries of logic scaling and semiconductor capabilities.
This collaborative approach to innovation makes IBM Research Albany a world-leading ecosystem for semiconductor research and creates a strong innovation pipeline, helping to address manufacturing demands and accelerate the growth of the global chip industry.
IBM's legacy of semiconductor breakthroughs also includes the first implementation of 7 nm and 5 nm process technologies, single cell DRAM, the Dennard Scaling Laws, chemically amplified photoresists, copper interconnect wiring, silicon-on-insulator technology, multicore microprocessors, high-K gate dielectrics, embedded DRAM and 3D chip stacking.
Further reading:
Nanometre-precision piezo actuators
RS South Africa Electronics Technology
TDK Corporation has announced two new piezo actuators that are characterised by a wide dynamic range, a high force-to-volume ratio, but with precision in the nanometre range.
Read more...
---
Webinar: The evolving electrification of the power distribution system
Infineon Technologies Electronics Technology
New connected car functionality, along with the necessity to reduce the cost, weight and complexity associated with wire harnesses, has led to the transformation of the power distribution system in automotive engineering.
Read more...
---
Improved MnZn material for power conversion industry
Sivan Electronic Supplies Electronics Technology
Cosmo Ferrites Ltd, a leading manufacturer of soft ferrites, has launched an improved version of CF295 for the power conversion industry.
Read more...
---
Common mode filter for automotive Ethernet
Avnet Abacus Electronics Technology
TDK Corporation has announced the introduction of its new ACT1210E Series common mode filter for automotive Ethernet 10BASE-T1S.
Read more...
---
Energising the industrial edge
Electronics Technology
As if the drive to decarbonise energy as part of sustainability and climate change efforts was not enough, the recent rise in energy prices has brought into sharp contrast the need to re-examine how we generate, distribute, and consume electricity.
Read more...
---
Samsung begins chip production using 3 nm process technology
EBV Electrolink Electronics Technology
The optimised 3 nm process with GAA architecture achieves 45% lower power usage, 23% improved performance and 16% smaller surface area compared to 5 nm process.
Read more...
---
Panasonic releases its updated touch-sensitive knob
Altron Arrow Electronics Technology
Panasonic, in conjunction with Microchip, has launched an update to its existing Magic Knob, a capacitive knob ready for standard touch sensors for use in controlling automotive information displays.
Read more...
---
Microchip's new IC to replace Hall effect position sensors
Altron Arrow Electronics Technology
The LX34070 IC from Microchip is set to help accelerate the global move away from expensive and less accurate magnet-based solutions for safety-critical EV motor position monitoring.
Read more...
---
A brief history of HBTs
Conical Technologies Electronics Technology
In 1947 the engineers at Bell Labs were tasked with developing a transistor. This development heralded the beginning of the semiconductor industry which changed the world forever. Transistors would have 
...
Read more...
---
Research project achieves major advance toward fusion energy
Electronics Technology
New superconducting magnet designed by MIT breaks magnetic field strength records, paving the way for practical, commercial, carbon-free power.
Read more...
---