printer friendly version
Infrared sensor module for outdoor applications
26 May 2021
Opto-Electronics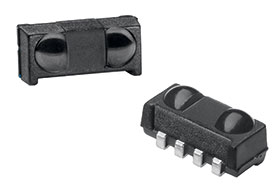 Vishay recently introduced a new extended-temperature 'E' option for its TSSP77038 infrared (IR) sensor module in the Heimdall package.
Designed to meet the special requirements of outdoor applications, the TSSP77038ETR has been enhanced with a storage temperature range of -40°C to +110°C and an operating temperature range of -30°C to +85°C.
Standard packages for IR sensor modules offer limited storage and operating temperature ranges of -25°C to +85°C. With the robust design of its Heimdall package, the TSSP77038ETR is able to handle a wider temperature range, making the device ideal for operation in applications exposed to direct sunlight and large temperature variations, including garage door light barrier systems, door locks and sensors for package and trash bins.
The TSSP77038ETR delivers long-range presence sensing up to 8 m when used with Vishay's TSAL6200 IR emitting diode at a forward current of 50 mA. The device is ideal for sensing the distance to objects for toys, drones and robots and it may also be used as a reflective sensor for hand dryers, towel or soap dispensers, water faucets, toilets, vending machine fall detectors and security and pet gates.
Designed to receive IR pulses from an emitter with a peak wavelength of 940 nm, the sensor module operates at a supply voltage range from 2,5 V to 5,5 V, features a low supply current of 0,7 mA and is sensitive to a carrier frequency of 38 kHz. It is insensitive to supply voltage ripple noise and provides shielding against EMI, while a daylight blocking filter suppresses visible light.
For more information contact Willem Schmidt, Altron Arrow, +27 11 923 9600, wschmidt@arrow.altech.co.za, www.altronarrow.com
Credit(s)
Further reading:
Intel Agilex FPGAs deliver flexibility and agility for the data-centric world
26 May 2021, Altron Arrow , Editor's Choice, Programmable Logic
The Agilex FPGA fabric and innovative chiplet architecture delivers an extensible FPGA platform that scales across a wide range of device densities and brings key features and benefits to the table.
Read more...
---
Automotive dead reckoning module
26 May 2021, Altron Arrow , Telecoms, Datacoms, Wireless, IoT
STMicroelectronics boasts that its latest Teseo-VIC3DA module is an easy-to-use dead reckoning global navigation satellite system (GNSS) standalone module, embedding a TeseoIII single-die standalone positioning 
...
Read more...
---
EMI shielded optical film
26 May 2021 , Opto-Electronics
Optolite EMIShield Micromesh is an optical solution developed by Instrument Plastics primarily to suit the needs of the avionics, military and defence and medical industries. Representing highly advanced 
...
Read more...
---
Isolation for SAR ADCs
26 May 2021, Altron Arrow , Analogue, Mixed Signal, LSI
Question:
How do I add isolation to my ADC without harming its performance?   
Answer:
For isolated high-performance ADCs, keep one eye on isolated clocks and a second on isolated power. SAR ADCs (successive 
...
Read more...
---
System-on-module for rapid IoT deployment
26 May 2021, Altron Arrow , Telecoms, Datacoms, Wireless, IoT
TT Electronics has introduced the new S-2Connect Creo SOM for rapid IoT deployment. The board is designed for engineers, programmers and developers who are charged with reducing R&D risk and fast-tracking 
...
Read more...
---
MEMS absolute pressure sensor
26 May 2021, Altron Arrow , Analogue, Mixed Signal, LSI
The LPS27HHTW from STMicroelectronics is an ultra-compact piezoresistive absolute pressure sensor which functions as a digital output barometer. The device also embeds a temperature sensor to monitor 
...
Read more...
---
Ballast evaluation board for UV-C disinfection lamps
28 April 2021, Altron Arrow , Power Electronics / Power Management
The EVAL_ICB2FL03G is a ballast design evaluation board for 54 W UV-C disinfection lamps with voltage-mode preheating. Supplied by Infineon Technologies, it features the smart ballast controller ICB2FL03G 
...
Read more...
---
Digital dimming LED driver
28 April 2021, Current Automation , Opto-Electronics
As the DALI Association keeps adding new lighting control functions under the IEC 62386 international regulation to DALI 2.0 digital lighting control products, the lighting control systems can achieve 
...
Read more...
---
Arrow Electronics' Tech Snacks put engineers' time first
28 April 2021, Altron Arrow , News
Arrow Electronics is launching a new learning concept, Tech Snacks, that will provide engineers with the technical information and insight they need in a choice of formats that have been designed to match 
...
Read more...
---
650 V half-bridge, high- and low-side gate drivers
28 April 2021, Altron Arrow , Power Electronics / Power Management
Infineon Technologies has broadened its EiceDRIVER portfolio with new 650 V half-bridge and high- and low-side gate drivers. Based on the company's unique silicon-on-insulator (SOI) technology, they provide 
...
Read more...
---