printer friendly version
EMI shielded optical film
26 May 2021
Opto-Electronics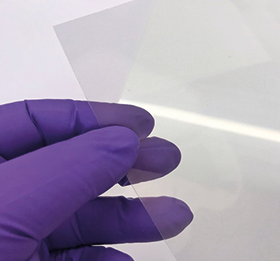 Optolite EMIShield Micromesh is an optical solution developed by Instrument Plastics primarily to suit the needs of the avionics, military and defence and medical industries. Representing highly advanced design innovation, Optolite EMIShield meets the needs of a demanding market by providing optimised light transmission, clarity and noise reduction. The material is put through rigorous development and testing procedures to make it an ideal product for use in the highly competitive optical filter industry.
EMIShield products protect electronic equipment from signal interference. Because we live in an increasingly wireless world, our airwaves are becoming more and more polluted with wireless signals which can negatively affect the performance of any type of wireless device – the type of problem that can be solved by using an EMIShield.
Optolite Micromesh is scratch-resistant and durable. It features a larger open area for enhanced light transmission, which makes it stand out from its competition with quality design, durability and conductivity. Optolite Micromesh is ideal for use with laminated glass and plastic windows and electronic displays, as it offers greater clarity and shielding performance than its ITO (indium tin oxide) coated counterparts.
Standard mesh windows typically have a grey tint and therefore compromise visibility. This is not the case with Optolite EMIShield Micromesh, which allows one to see detail as sharply as when using any other kind of shield. The micromesh design also removes the need for expensive bus bars on stepped windows, making it a highly versatile and easy-to-install product for maximising space whilst minimising cost.
Optolite EMIShield Micromesh has been specifically developed to meet the high-performance requirements of demanding industries such as avionics and the military. Consisting of a straightforward four-tier structure, which comprises a masking film, copper mesh enveloped in a blackened layer, PET film and release liner, its basic properties are designed to enhance durability without compromising flexibility or optical output.
For more information contact Actum Group, +27 11 608 3001, sales@actum.co.za, www.actum.co.za
Further reading:
Infrared sensor module for outdoor applications
26 May 2021, Altron Arrow , Opto-Electronics
Vishay recently introduced a new extended-temperature 'E' option for its TSSP77038 infrared (IR) sensor module in the Heimdall package. Designed to meet the special requirements of outdoor applications, 
...
Read more...
---
Digital dimming LED driver
28 April 2021, Current Automation , Opto-Electronics
As the DALI Association keeps adding new lighting control functions under the IEC 62386 international regulation to DALI 2.0 digital lighting control products, the lighting control systems can achieve 
...
Read more...
---
Low-current SMD LEDs
28 April 2021, TRX Electronics , Opto-Electronics
Kingbright offers a selection of SMD LEDs designed to meet the specifications of many applications. They are most commonly used for portable devices, company consumer electronics, industrial handheld 
...
Read more...
---
IR emitters for industrial mass market 2D/3D sensing
26 February 2021, Future Electronics , Opto-Electronics
ams has introduced a family of infrared VCSEL (Vertical-Cavity Surface-Emitting Laser) flood illuminators which help industrial manufacturers to develop new and innovative applications for robots, cobots, 
...
Read more...
---
High-brightness 7-inch IPS display
26 February 2021, iCorp Technologies , Opto-Electronics
The RFF700A9-AWH-DNN is a 7-inch, IPS TFT-LCD display featuring high brightness and wide temperature ranges. This module's IPS screen allows users to see the display clearly at wider angles, and also 
...
Read more...
---
18 GHz DFB laser diode
25 November 2020, Conical Technologies , Opto-Electronics
The Model-1742, 18 GHz, 1550 nm microwave distributed feedback (DFB) laser provides exceptional performance for linear fibre-optic communications in very wide bandwidth applications. EMCORE's linear 
...
Read more...
---
Two-in-one proximity sensor and IR emitter
25 November 2020, Altron Arrow , Opto-Electronics
The VL6180 is the latest product based on STMicroelectronics' patented FlightSense technology. This is a ground-breaking technology allowing absolute distance to be measured independent of target reflectance. 
...
Read more...
---
Modern LIDAR systems promise sensing for every industry
26 February 2021, Altron Arrow , Editor's Choice, Opto-Electronics
As is always the case in human endeavours, it is impossible to know exactly what creative and useful ways people will come up with to use technology such as LIDAR.
Read more...
---
5" CAN-enabled TFT display
25 November 2020, iCorp Technologies , Opto-Electronics
The RL0F00050000FGAAASA00 from Raystar is a 5", CAN-enabled TFT display which is defined as a slave device, and controlled by a master device via CAN-bus commands to render display content on the display 
...
Read more...
---
Fibre-optic links for satcom systems
25 November 2020, Conical Technologies , Opto-Electronics
The Emcore Optiva OTS-2 Series satcom band fibre-optic links are a family of SNMP managed fibre-optic transmitters and receivers that provide high-performance downlink and uplink transport within the 
...
Read more...
---