printer friendly version
System-on-module for rapid IoT deployment
26 May 2021
Telecoms, Datacoms, Wireless, IoT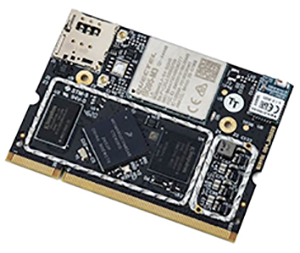 TT Electronics has introduced the new S-2Connect Creo SOM for rapid IoT deployment. The board is designed for engineers, programmers and developers who are charged with reducing R&D; risk and fast-tracking their IoT applications development using a pre-certified system-on-module (SOM) board with cellular connectivity.
The S-2Connect series of IoT solutions is an end-to-end framework that seamlessly delivers hardware, connectivity, infrastructure and user experience solutions. By streamlining the secure connection of products and systems, users achieve tangible results such as improving efficiencies, eliminating unnecessary maintenance, reducing carbon footprint and enabling data-led business decisions.
S-2Connect Creo SOM is a robust, scalable and cost-effective embedded system-on-module platform for building industrial IoT products. Featuring a powerful processor and cellular connectivity for global coverage, it delivers an ideal communication bridge for true real-time sensing and positioning data.
The board features multiple industry standard interfaces suitable for a wide range of applications such as automation, asset tracking, mobile healthcare and broader industrial IoT. Pre-certified for Europe, UK, US and Canada, it provides advanced features to accommodate the most demanding applications, including an ARM Cortex-A7 processor with embedded Linux OS that supports a wide range of interfaces for connecting peripherals such as Bluetooth, GNSS for positioning and serial interfaces. It also features 4 GB Flash memory, 256 MB RAM and a TPM (Trusted Platform Module) integrated security crypto processor for enhanced protection.
S-2Connect Creo SOM features a soldered eSIM and 3FF micro SIM-card holder with optional cellular connectivity subscription. Integrated sensors – accelerometer, gyroscope and magnetometer – provide built-in functionality. An online software development kit (SDK) is also available for developers.
Credit(s)
Further reading:
Secure LTE-M, NB-IoT module with 400 MHz support
28 April 2021, RF Design , Telecoms, Datacoms, Wireless, IoT
u-blox has extended its SARA-R5 LTE-M and NB-IoT communications family with the introduction of a module that supports the 400-450 MHz LTE spectrum bands available in Europe, Asia and Latin America.  
...
Read more...
---
The vulnerabilities and opportunities of IoT security
26 May 2021 , Telecoms, Datacoms, Wireless, IoT
Today, there are 8,6 billion IoT connections. By 2026, that number will nearly triple to 23,6 billion, according to ABI Research market data.This exponential growth will usher in a new era of connectivity 
...
Read more...
---
Intel Agilex FPGAs deliver flexibility and agility for the data-centric world
26 May 2021, Altron Arrow , Editor's Choice, Programmable Logic
The Agilex FPGA fabric and innovative chiplet architecture delivers an extensible FPGA platform that scales across a wide range of device densities and brings key features and benefits to the table.
Read more...
---
IoT evaluation kit and Ubuntu-derived Linux distribution
26 May 2021, RF Design , Telecoms, Datacoms, Wireless, IoT
The newly released WM2000EV is an elegant kit for evaluating the capabilities of the WM2000, Tibbo's programmable Wi-Fi/BLE module. The kit was designed to be completely self-contained and to enable 
...
Read more...
---
Otto Wireless Solutions welcomes new SIMCom family
26 May 2021, Otto Wireless Solutions , Telecoms, Datacoms, Wireless, IoT
SIMCom modules have created a reputation… no, it's more than that… it's a legacy, of releasing compatible modules when new product lines are launched. Nothing has changed, as we welcome the new A7600 
...
Read more...
---
RF signal recorder for beamforming and radar
26 May 2021, Rugged Interconnect Technologies , Telecoms, Datacoms, Wireless, IoT
A new addition has been made to the Talon series of recorders from Pentek, the Talon Model RTR 2628 8-channel, phase coherent, 4U 19-inch rackmount recorder with integrated RF tuners and A/D converters. 
...
Read more...
---
Free tool to optimise antenna placement on a PCB
26 May 2021, iCorp Technologies , Telecoms, Datacoms, Wireless, IoT
Antenova has created a new software tool to help designers place antennas in a wireless design. The tool displays the optimum position for embedded antennas on the PCB, depending upon the dimensions of 
...
Read more...
---
LTE Cat.1 platform for global or regional IoT connectivity
26 May 2021, Gemalto IoT (Cinterion Wireless Modules) , Telecoms, Datacoms, Wireless, IoT
The Thales Cinterion PLS63-W delivers a global approach to cost-optimised IoT connectivity, providing 18-band LTE Cat.1, 7-band 3G HSPA/UMTS and quad-band GSM for seamless roaming coverage across various 
...
Read more...
---
Waveguide amplifiers and their applications
26 May 2021, RF Design , Telecoms, Datacoms, Wireless, IoT
Waveguide amplifiers are amplifiers specifically designed to be housed within a waveguide assembly. This provides some intrinsic advantages and trade-offs compared with coaxial connectorised amplifier 
...
Read more...
---
Automotive dead reckoning module
26 May 2021, Altron Arrow , Telecoms, Datacoms, Wireless, IoT
STMicroelectronics boasts that its latest Teseo-VIC3DA module is an easy-to-use dead reckoning global navigation satellite system (GNSS) standalone module, embedding a TeseoIII single-die standalone positioning 
...
Read more...
---