printer friendly version
Security tool for mission-critical FPGAs
23 June 2021
Programmable Logic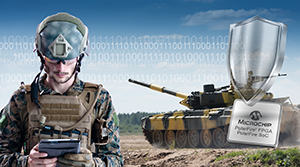 Mission-critical and other high-assurance systems deployed worldwide are under rapidly evolving threats from cybercriminals who attempt to extract Critical Program Information (CPI) via the FPGAs that power them. Microchip Technology has therefore extended its FPGA family's security with the DesignShield development tool that further helps prevent this information from being extracted for malicious purposes.
"As a leader in the security space, Microchip offers a portfolio featuring the latest countermeasures for reducing the risk of cloning, intellectual property theft, reverse engineering, or the insertion of malicious Trojan horses," said Bruce Weyer, vice president of Microchip's FPGA business unit. "Protecting CPI in deployed systems with our DesignShield tool is essential for national security and economic vibrancy. The tool advances the state of bitstream protection mechanisms and provides another defensive layer in ensuring that deployed systems behave as intended and are safe from counterfeiters and their threat to a developer's design investments and brand reputation."
The DesignShield tool was created to protect developers of aerospace, defence and other high-assurance systems from cybercriminals trying to acquire an FPGA's bitstream from the fielded system. It deters reverse-engineering of the bitstream, which can often include CPI, by obscuring its logical equivalent using a combination of logic and routing-based encryption techniques. This improves design security and integrity while reducing system corruption risks and reduces the possibility that custom code, intellectual property, or information critical to national security is used by non-authorised agents.
The tool is available under licence as part of Microchip's early access programme, which enables customers to begin designing with FPGA devices and design tools ahead of broader commercial availability. The DesignShield tool is part of Microchip's Libero development tool suite.
Credit(s)
Further reading:
Power modules enable 15% weight reduction in race cars
Future Electronics Power Electronics / Power Management
Chosen for their small and lightweight characteristics, the Vicor modules efficiently step down the high-voltage accumulator's power from 400 – 600 V to 27 – 38 V.
Read more...
---
Long-range passive infrared motion sensor
Future Electronics Passive Components
Panasonic Industry (PaPIRs) recently introduced he world's most compact long-range passive infrared motion sensor, for installation heights of up to 15 metres.
Read more...
---
Bringing performance and security to BLE applications
Future Electronics Telecoms, Datacoms, Wireless, IoT
STMicroelectronics' STM32WBA 32-bit wireless series brings designers the performance, efficiency, and security required for Bluetooth Low Energy 5.3-enabled applications.
Read more...
---
Double metallised polypropylene capacitors
Future Electronics Passive Components
The Electrocube 985B series offers high-frequency operation, high current and low ESR in a miniature package.
Read more...
---
32-bit MCU with embedded security
Future Electronics DSP, Micros & Memory
The highly configurable PIC32CZ CA microcontrollers are available with a 300 MHz Arm Cortex-M7 processor and an embedded Hardware Security Module.
Read more...
---
NFC controller evaluation kit
Future Electronics DSP, Micros & Memory
Infineon's NGC1081 is an all-in-one controller combining the functions of energy harvesting, NFC, sensing unit, and motor control on a 32-bit Arm Cortex-M0 processor core running at a CPU frequency of 28 MHz.
Read more...
---
Non-isolated flyback switcher IC
Future Electronics Power Electronics / Power Management
Power Integrations has launched a new non-isolated flyback switcher IC with best-in-class efficiency and light-load operation for small power supplies.
Read more...
---
Metallised DC-link film capacitors
Future Electronics Passive Components
Engineered for robustness and endurance, the MKP1848H capacitors exhibit excellent thermal stability and offer a wide operating temperature range.
Read more...
---
Next-gen HVC series
Future Electronics Circuit & System Protection
TDK has announced its new generation of high-voltage contactors that can safely and reliably switch off continuous DC currents up to 500 A, and operating DC voltages up to 1000 V in lithium-ion batteries in 20 ms or less.
Read more...
---
Highly integrated home automation solution
Future Electronics DSP, Micros & Memory
Combined with new communication methods and a cryptographic accelerator, the PSoC 4100S Max can lift existing and new designs to the next level.
Read more...
---