printer friendly version
Lattice releases new version of sensAI
23 June 2021 Programmable Logic Design Automation
New enhancements have been made to Lattice Semiconductor's award-winning sensAI solution stack for accelerating AI/ML (artificial intelligence/machine learning) application development on low-power Lattice FPGAs. Enhancements include support for the Lattice Propel design environment for embedded processor-based development and the TensorFlow Lite deep-learning framework for on-device inferencing.
The new version includes the Lattice sensAI Studio design environment for end-to-end ML model training, validation and compilation. With sensAI 4.0, developers can use a simple drag-and-drop interface to build FPGA designs with a RISC-V processor and a CNN (convolutional neural network) acceleration engine to enable the quick and easy implementation of ML applications on power-constrained edge devices.
There is growing demand in multiple end markets to add support for low-power AI/ML inferencing for applications like object detection and classification. AI/ML models can be trained to support applications for a range of devices that require low-power operation at the edge, including security and surveillance cameras, industrial robots and consumer robotics and toys. The Lattice sensAI solution stack helps developers rapidly create AI/ML applications that run on flexible, low-power Lattice FPGAs.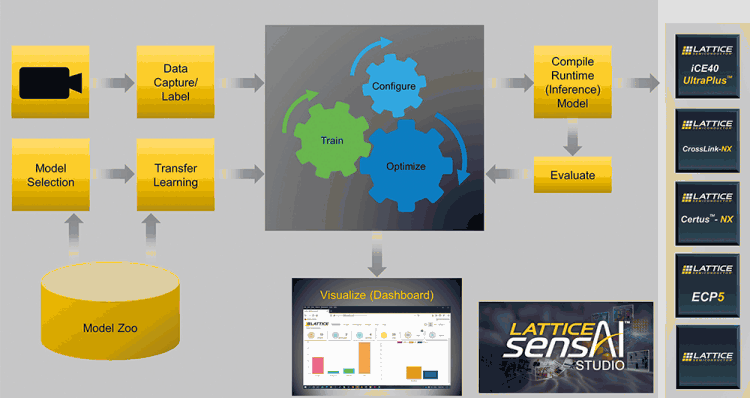 Enhancements to the Lattice sensAI solution stack 4.0 include:
• TensorFlow Lite – support for the framework reduces power consumption and increases data co-processing performance in AI/ML inferencing applications. TensorFlow Lite runs anywhere from two to 10 times faster on a Lattice FPGA than it does on an ARM Cortex-M4-based MCU.
• Lattice Propel – the stack supports the Propel environment's GUI and command-line tools to create, analyse, compile and debug both the hardware and software design of an FPGA-based processor system. Even developers unfamiliar with FPGA design can use the tool's easy-to-use, drag-and-drop interface to create AI/ML applications on low-power Lattice FPGAs with support for RISC-V-based co-processing.
• Lattice sensAI Studio – a GUI-based tool for training, validating and compiling ML models optimised for Lattice FPGAs. The tool makes it easy to take advantage of transfer learning to deploy ML models.
• Improved performance – by leveraging advances in ML model compression and pruning, sensAI 4.0 can support image processing at 60 fps with QVGA resolution or 30 fps with VGA resolution.
Credit(s)
Further reading:
Power modules enable 15% weight reduction in race cars
Future Electronics Power Electronics / Power Management
Chosen for their small and lightweight characteristics, the Vicor modules efficiently step down the high-voltage accumulator's power from 400 – 600 V to 27 – 38 V.
Read more...
---
Long-range passive infrared motion sensor
Future Electronics Passive Components
Panasonic Industry (PaPIRs) recently introduced he world's most compact long-range passive infrared motion sensor, for installation heights of up to 15 metres.
Read more...
---
Bringing performance and security to BLE applications
Future Electronics Telecoms, Datacoms, Wireless, IoT
STMicroelectronics' STM32WBA 32-bit wireless series brings designers the performance, efficiency, and security required for Bluetooth Low Energy 5.3-enabled applications.
Read more...
---
Double metallised polypropylene capacitors
Future Electronics Passive Components
The Electrocube 985B series offers high-frequency operation, high current and low ESR in a miniature package.
Read more...
---
32-bit MCU with embedded security
Future Electronics DSP, Micros & Memory
The highly configurable PIC32CZ CA microcontrollers are available with a 300 MHz Arm Cortex-M7 processor and an embedded Hardware Security Module.
Read more...
---
NFC controller evaluation kit
Future Electronics DSP, Micros & Memory
Infineon's NGC1081 is an all-in-one controller combining the functions of energy harvesting, NFC, sensing unit, and motor control on a 32-bit Arm Cortex-M0 processor core running at a CPU frequency of 28 MHz.
Read more...
---
Non-isolated flyback switcher IC
Future Electronics Power Electronics / Power Management
Power Integrations has launched a new non-isolated flyback switcher IC with best-in-class efficiency and light-load operation for small power supplies.
Read more...
---
Metallised DC-link film capacitors
Future Electronics Passive Components
Engineered for robustness and endurance, the MKP1848H capacitors exhibit excellent thermal stability and offer a wide operating temperature range.
Read more...
---
Next-gen HVC series
Future Electronics Circuit & System Protection
TDK has announced its new generation of high-voltage contactors that can safely and reliably switch off continuous DC currents up to 500 A, and operating DC voltages up to 1000 V in lithium-ion batteries in 20 ms or less.
Read more...
---
Highly integrated home automation solution
Future Electronics DSP, Micros & Memory
Combined with new communication methods and a cryptographic accelerator, the PSoC 4100S Max can lift existing and new designs to the next level.
Read more...
---