printer friendly version
Lattice releases new version of sensAI
23 June 2021 Programmable Logic Design Automation
New enhancements have been made to Lattice Semiconductor's award-winning sensAI solution stack for accelerating AI/ML (artificial intelligence/machine learning) application development on low-power Lattice FPGAs. Enhancements include support for the Lattice Propel design environment for embedded processor-based development and the TensorFlow Lite deep-learning framework for on-device inferencing.
The new version includes the Lattice sensAI Studio design environment for end-to-end ML model training, validation and compilation. With sensAI 4.0, developers can use a simple drag-and-drop interface to build FPGA designs with a RISC-V processor and a CNN (convolutional neural network) acceleration engine to enable the quick and easy implementation of ML applications on power-constrained edge devices.
There is growing demand in multiple end markets to add support for low-power AI/ML inferencing for applications like object detection and classification. AI/ML models can be trained to support applications for a range of devices that require low-power operation at the edge, including security and surveillance cameras, industrial robots and consumer robotics and toys. The Lattice sensAI solution stack helps developers rapidly create AI/ML applications that run on flexible, low-power Lattice FPGAs.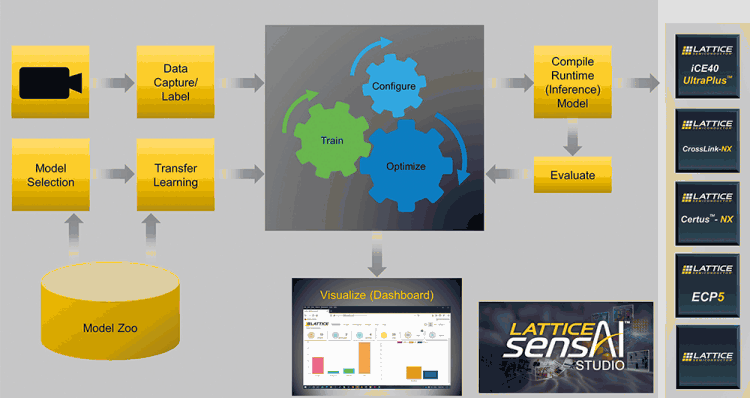 Enhancements to the Lattice sensAI solution stack 4.0 include:
• TensorFlow Lite – support for the framework reduces power consumption and increases data co-processing performance in AI/ML inferencing applications. TensorFlow Lite runs anywhere from two to 10 times faster on a Lattice FPGA than it does on an ARM Cortex-M4-based MCU.
• Lattice Propel – the stack supports the Propel environment's GUI and command-line tools to create, analyse, compile and debug both the hardware and software design of an FPGA-based processor system. Even developers unfamiliar with FPGA design can use the tool's easy-to-use, drag-and-drop interface to create AI/ML applications on low-power Lattice FPGAs with support for RISC-V-based co-processing.
• Lattice sensAI Studio – a GUI-based tool for training, validating and compiling ML models optimised for Lattice FPGAs. The tool makes it easy to take advantage of transfer learning to deploy ML models.
• Improved performance – by leveraging advances in ML model compression and pruning, sensAI 4.0 can support image processing at 60 fps with QVGA resolution or 30 fps with VGA resolution.
For more information contact Future Electronics, +27 21 421 8292, marian.ledgerwood@futureelectronics.com, www.futureelectronics.com
Credit(s)
Further reading:
Ethernet PHYs for industrial networking
25 August 2021, Future Electronics , Telecoms, Datacoms, Wireless, IoT
Smart manufacturing is driving efficiencies in automation as digital networks increasingly connect machines, production line equipment and robotics. Operation technology (OT) and information technology 
...
Read more...
---
LEDs for indoor lighting market
25 August 2021, Future Electronics , Opto-Electronics
Lumileds introduced its new Luxeon 2835 Commercial LEDs engineered and designed to support the growing demand for a high-volume, high-efficacy mid-power LED to serve commercial indoor lighting applications. 
...
Read more...
---
HLS tool suite for PolarFire FPGAs
25 August 2021, EBV Electrolink , Programmable Logic
The need to combine performance with low power consumption in edge compute applications has driven demand for field programmable gate arrays (FPGAs) to be used as power-efficient accelerators while also 
...
Read more...
---
Mid-range FPGAs for edge compute systems
28 July 2021, Avnet Silica , Programmable Logic
Edge compute systems need compact programmable devices with low power consumption and a small enough thermal footprint to eliminate fans and other heat mitigation while providing robust compute horsepower. 
...
Read more...
---
Microchip achieves JEDEC qualification for rad-tolerant FPGA
28 July 2021, Future Electronics , Programmable Logic
Developers of small-satellite constellations and other systems used in 'New Space' missions must deliver both high reliability and radiation protection while meeting stringent cost and scheduling requirements. 
...
Read more...
---
Customisable local voice control at the edge
28 July 2021, Future Electronics , Computer/Embedded Technology
NXP's EdgeReady solution portfolio now includes a turnkey hardware and software solution that enables developers to add versatile local voice control with customisable commands to the industrial and IoT 
...
Read more...
---
Readout ICs for digital X-ray FPDs
28 July 2021, Future Electronics , Analogue, Mixed Signal, LSI
Read more...
---
Intel Agilex FPGAs deliver flexibility and agility for the data-centric world
26 May 2021, Altron Arrow , Editor's Choice, Programmable Logic
The Agilex FPGA fabric and innovative chiplet architecture delivers an extensible FPGA platform that scales across a wide range of device densities and brings key features and benefits to the table.
Read more...
---
Dual-channel digital isolator
26 May 2021, Future Electronics , Analogue, Mixed Signal, LSI
STMicroelectronics has begun volume production of the STISO621 dual-channel digital isolator, launching a new series of high-performance ICs for industrial applications and general optocoupler replacement.  
...
Read more...
---
Automotive magnetic position sensor
26 May 2021, Future Electronics , Analogue, Mixed Signal, LSI
By offering accurate, contactless angle measurements in demanding automotive applications such as high-speed motors, the new AS5116 magnetic rotary position sensor from ams enables automotive manufacturers 
...
Read more...
---