printer friendly version
Lattice releases new version of sensAI
23 June 2021 Programmable Logic Design Automation
New enhancements have been made to Lattice Semiconductor's award-winning sensAI solution stack for accelerating AI/ML (artificial intelligence/machine learning) application development on low-power Lattice FPGAs. Enhancements include support for the Lattice Propel design environment for embedded processor-based development and the TensorFlow Lite deep-learning framework for on-device inferencing.
The new version includes the Lattice sensAI Studio design environment for end-to-end ML model training, validation and compilation. With sensAI 4.0, developers can use a simple drag-and-drop interface to build FPGA designs with a RISC-V processor and a CNN (convolutional neural network) acceleration engine to enable the quick and easy implementation of ML applications on power-constrained edge devices.
There is growing demand in multiple end markets to add support for low-power AI/ML inferencing for applications like object detection and classification. AI/ML models can be trained to support applications for a range of devices that require low-power operation at the edge, including security and surveillance cameras, industrial robots and consumer robotics and toys. The Lattice sensAI solution stack helps developers rapidly create AI/ML applications that run on flexible, low-power Lattice FPGAs.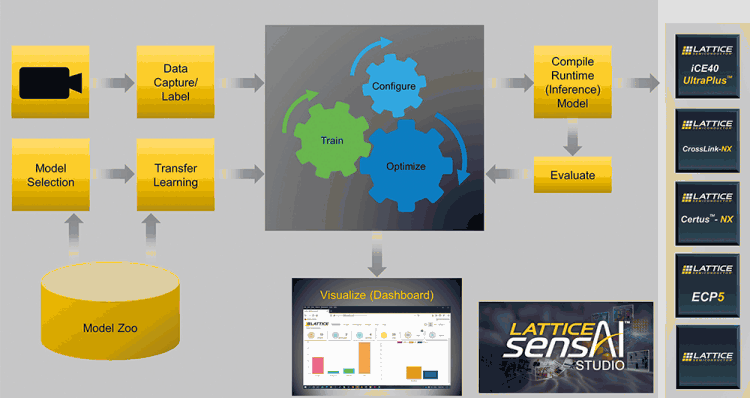 Enhancements to the Lattice sensAI solution stack 4.0 include:
• TensorFlow Lite – support for the framework reduces power consumption and increases data co-processing performance in AI/ML inferencing applications. TensorFlow Lite runs anywhere from two to 10 times faster on a Lattice FPGA than it does on an ARM Cortex-M4-based MCU.
• Lattice Propel – the stack supports the Propel environment's GUI and command-line tools to create, analyse, compile and debug both the hardware and software design of an FPGA-based processor system. Even developers unfamiliar with FPGA design can use the tool's easy-to-use, drag-and-drop interface to create AI/ML applications on low-power Lattice FPGAs with support for RISC-V-based co-processing.
• Lattice sensAI Studio – a GUI-based tool for training, validating and compiling ML models optimised for Lattice FPGAs. The tool makes it easy to take advantage of transfer learning to deploy ML models.
• Improved performance – by leveraging advances in ML model compression and pruning, sensAI 4.0 can support image processing at 60 fps with QVGA resolution or 30 fps with VGA resolution.
Credit(s)
Further reading:
Green laser diode for industrial applications
Future Electronics Opto-Electronics
ams OSRAM has introduced a green laser diode which is a brighter, more reliable and cost-competitive replacement for red lasers in applications such as levelling, scanning, biosciences and dot projection. 
...
Read more...
---
Small wire-to-board connector with automotive quality
Future Electronics Interconnection
Hirose Electric has developed the GT50 Series, a 1 mm pitch, small and robust wire-to-board connector. This product can be used safely for automotive applications due to its high heat resistance up to 
...
Read more...
---
MCU boasts innovative sensing, enhanced security
Future Electronics DSP, Micros & Memory
Enabled with Bluetooth Low Energy wireless connectivity, onsemi's new low-power RSL15 microcontroller (MCU) addresses the growing demand of connected industrial applications for security without sacrificing 
...
Read more...
---
Embedded vision development tool for RISC-V FPGA
EBV Electrolink Programmable Logic
Microchip Technology announced the second development tool offering in its Smart Embedded Vision initiative for designers using its PolarFire RISC-V system-on-chip (SoC) FPGA. The industry's lowest-power 
...
Read more...
---
Power stack reference design leverages Microchip SiC devices
Future Electronics Power Electronics / Power Management
E-mobility and renewable energy systems require power management solutions that drive performance and cost efficiencies in addition to speeding up development time. To keep pace with these requirements, 
...
Read more...
---
Port protection IC for MCUs tailored to USB-C dual-role power
Future Electronics Circuit & System Protection
The STMicroelectronics TCPP03-M20 USB Type-C port protection IC is tailored for Dual-Role Power (DRP) applications, simplifying the design of products that can act as a power source for connected devices 
...
Read more...
---
GaN power components for slim, energy-efficient power supplies
Future Electronics Power Electronics / Power Management
STMicroelectronics has revealed a new family of GaN power semiconductors in the STPOWER portfolio that can significantly reduce energy use and enable slimmer designs in a broad variety of electronic products. 
...
Read more...
---
Latest updates to Libero SoC v2021.3 Design Suite
Altron Arrow Programmable Logic
Microchip Technology recently introduced new MPFS025T/095T/160T/250T PolarFire SoC devices with Tgrade2 operating conditions in standard and -1 speed grades and MPFS095TS/250TS/460TS devices with MIL 
...
Read more...
---
Front-end modules for 5G MIMO infrastructure
Future Electronics Telecoms, Datacoms, Wireless, IoT
NXP Semiconductors has announced the new BTS6302U/6201U pre-drivers and BTS7203/5 dual-channel receive (RX) front-end modules (FEM) for 5G massive multi-input multi-output (MIMO) infrastructure. These 
...
Read more...
---
Power delivery solution for AI processors wins WEAA award
Future Electronics Power Electronics / Power Management
The 2021 World Electronics Achievement Award (WEAA) for innovative product of the year, in the power management/voltage converter category, was awarded to Vicor for its FPA (Factorised Power Architecture) 
...
Read more...
---