printer friendly version
Microphone for noise cancelling applications
26 May 2021
Analogue, Mixed Signal, LSI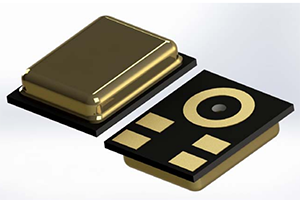 The MP23ABS1 from STMicroelectronics is a compact, low-power microphone built with a capacitive sensing element and an IC interface. The sensing element, capable of detecting acoustic waves, is manufactured using a specialised silicon micromachining process to produce audio sensors.
The MP23ABS1 has an acoustic overload point of 130 dBSPL with a typical 64 dB signal-to-noise ratio, and sensitivity of -38 dBV ±1 dB @ 94 dBSPL, 1 kHz.
The MP23ABS1 is available in a package compliant with reflow soldering and is guaranteed to operate over an extended temperature range from -40°C to +85°C.
Characteristics exhibited by the microphone include single supply voltage operation (1,52-3,6 V), omnidirectional sensitivity, enhanced RF immunity, ultra-flat frequency response, low latency and ultra-low current consumption of 150 μA maximum.
For more information contact Renaldo Fibiger, Altron Arrow, +27 11 923 9600, rfibiger@arrow.altech.co.za, www.altronarrow.com
Credit(s)
Further reading:
SoM maker relies on ST MPU and open-source community
27 October 2021, Altron Arrow , Computer/Embedded Technology
"Open source is not only code sharing but a willingness to bring a certain know-how to a community and make a business around it."
Read more...
---
Capacitive touchscreen controllers
27 October 2021, EBV Electrolink , Analogue, Mixed Signal, LSI
Microchip Technology is adding two new members to its family of IEC/UL 60730 Class B certified touchscreen controllers. The new MXT448UD-HA and MXT640UD-HA extend the Class B portfolio of devices beyond 
...
Read more...
---
Isolated SiC gate driver
27 October 2021, Altron Arrow , Power Electronics / Power Management
STMicroelectronics' STGAP2SiCSN single-channel gate driver, optimised to control silicon carbide (SiC) MOSFETs, comes in a space-saving narrowbody SO-8 package and delivers robust performance with accurate 
...
Read more...
---
High-precision voltage reference IC
27 October 2021, Future Electronics , Analogue, Mixed Signal, LSI
Extended temperature-range voltage reference ICs for automotive and industrial applications require low drift, high reliability and high performance. A new high-precision voltage reference (Vref) IC from 
...
Read more...
---
Analog microphone array board for advanced audio sensing
27 October 2021, Altron Arrow , Computer/Embedded Technology
The STEVAL-STWINMAV1 microphone array expansion board adds advanced audio sensing capabilities to STMicroelectronics' STEVAL-STWINKT1B (and STEVAL-STWINKT1) SensorTile Wireless Industrial Node (STWIN) 
...
Read more...
---
SDR transceiver delivers big advances in frequency hopping
27 October 2021, Altron Arrow , Telecoms, Datacoms, Wireless, IoT
The ADRV9002 empowers users with the frequency hopping capabilities to handle applications such as Link 16 and fast real-time carrier frequency loading in both single- and dual-channel operation modes.
Read more...
---
A UI to build better UIs
25 August 2021, Altron Arrow , Design Automation
TouchGFX Designer 4.17 has become available for download, the latest version of STMicroelectronics' user interface (UI) design software featuring a user interface overhaul to make the application more 
...
Read more...
---
Fast-acting chip fuse for automotive applications
29 September 2021, Altron Arrow , Circuit & System Protection
Vishay introduced a new, very fast-acting thin film chip fuse. For automotive applications, the Vishay Beyschlag MFU 0603 AT is AEC-Q200 qualified and features current ratings from 0,5 A to 5,0 A.  
...
Read more...
---
MCUs for secure and connected automotive gateways
25 August 2021, Altron Arrow , DSP, Micros & Memory
The SPC58 Chorus H Line is part of STMicroelectronics' portfolio of general-purpose automotive power architecture microcontrollers (MCUs). It is designed for high-end body, networking and security applications 
...
Read more...
---
High-voltage resistors can replace standard resistor chains
25 August 2021, Altron Arrow , Passive Components
A new series of AEC-Q200 qualified thick-film chip resistors, with operating voltages up to 3 kV and in the 2010 and 2512 case sizes, has been introduced by Vishay. With their high operating voltages, 
...
Read more...
---