printer friendly version
SnapEDA component library incorporated into DesignSpark
23 June 2021
Design Automation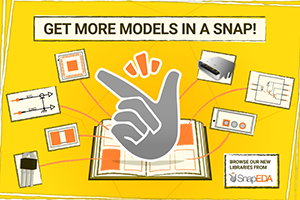 RS Components has integrated the SnapEDA electronic component library and search engine into its award-winning DesignSpark PCB CAD platform. The new search capability gives engineers easy access to free CAD models of millions of electronic components, significantly reducing design times.
SnapEDA provides free access to the essential building blocks for electronic design, including schematic symbols, PCB footprints and 3D models created using proprietary creation, verification and translation technology. As the industry's only vendor-agnostic search engine, it helps over 750 000 professional engineers each year to discover and design-in devices selected from a comprehensive component library.
RS' award winning DesignSpark platform is a suite of free-to-use rapid PCB prototyping tools offering schematics unlimited in number and size, unlimited layers, nodes, pads and connections, integration with RS parts libraries, a library editor to create custom libraries and integration with free DesignSpark mechanical and electrical CAD systems.
The SnapEDA online component library on DesignSpark is searchable by entering either a known part number or one or more keywords. CAD models are downloaded for free and can be imported directly into DesignSpark or virtually any other major PCB CAD tool. Datasheets, full specifications, price checks and component sales are available through RS.
Besides DesignSpark, supported CAD formats include Altium, KiCad, Fusion360, Cadence Allegro, OrCAD, Eagle, Pulsonix, DipTrace, Proteus, ExpressPCB Plus, CircuitStudio, PADS, PCB123, Target 3001! and P-CAD.
SnapEDA can be accessed via the DesignSpark website at www.rs-online.com/designspark/snapeda-parts-finder#/
Credit(s)
Further reading:
RS to showcase IoT and Food Safe products at NAMPO Harvest Day
RS Components (SA) News
Following a two-year hiatus, this year's event will take place over five days as opposed to four, to accommodate Covid-19 restrictions.
Read more...
---
Software development kit for motor control
Altron Arrow Design Automation
STMicroelectronics' STM32 microcontrollers offer the performance of industry-standard Arm Cortex-M cores running either vector control or field-oriented control (FOC) modes, which are widely used in high-performance 
...
Read more...
---
Newest version of PCB design software released
Dizzy Enterprises Design Automation
Proteus version 8.14 has been released. This latest version of the PCB design and circuit simulation software adds dedicated support for test points, improvements to differential pair routing, resin-filled 
...
Read more...
---
Proteus 8.6 released, now simulates turtles
Dizzy Enterprises Design Automation
Version 8.6 of the Proteus simulation and PCB design software adds new features such as STM32F103xx microcontroller simulation and serpentine track-length matching, but without doubt the most novel new 
...
Read more...
---
What can sport teach us about MRO procurement?
RS Components (SA) News
Just like triathlon transitions, if you don't respect the details and aren't supportive about making manufacturing flexible, as a supplier you aren't contributing to your customers' success.
Read more...
---
Online simulator speeds thyristor, AC switch selection
Design Automation
To quickly find the thyristor or AC switch that best fits their design, engineers can use STMicroelectronics' AC Switch Simulator online tool by simply entering the main I/O and gate parameters.    To 
...
Read more...
---
DesignSpark to host new activist engineering programme
RS Components (SA) News
RS Components has launched its DesignSpark #ActivistEngineering programme, further strengthening the company's commitment to engage and inspire design engineers across the globe to 'make amazing happen 
...
Read more...
---
RS Components SA partners with Engineers Without Borders
RS Components (SA) News
The annual Engineering for People Design Challenge as well as the Inspiring and Building Community Leaders programmes kicked off earlier this year. The competition, now in its 10th year, is a year-long 
...
Read more...
---
Circular industrial Ethernet connectors
RS Components (SA) Interconnection
RS Components has announced availability of a complete series of circular connectors manufactured by Conec Elektronische Bauelemente, part of the Amphenol Group.    Featuring 0,8&nbps;mm diameter contact pins, 
...
Read more...
---
3D simulation IDE boosts factory productivity
Omron Electronics Design Automation
Omron's updated Sysmac Studio 3D Simulation integrated development environment (IDE) integrates and verifies the movements of robots and peripheral devices. It can digitally reproduce an entire facility 
...
Read more...
---