printer friendly version
New silicon diodes challenge SiC for automotive applications
23 June 2021
Power Electronics / Power Management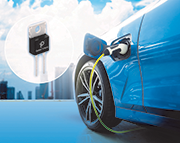 Power Integrations (PI) unveiled a new 600 V, 12 A Qspeed diode delivering what it claims is the industry's lowest reverse recovery charge (Qrr) for a silicon diode. With a Qrr of just 14 nC at 25°C, it improves efficiency of the PFC (power factor correction) stage of on-board chargers and significantly reduces the thermal output of the PFC MOSFETs. The AEC-Q101-qualified QH12TZ600Q offers the same low-switching loss performance of a silicon carbide (SiC) device without the disadvantages of moving to more expensive technology, PI says.
The QH12TZ600Q uses merged PIN and Schottky diode technology to achieve its high performance. Its smooth reverse recovery current transition characteristics not only increase efficiency, but also reduce EMI and peak reverse voltage stress, eliminating the need for snubbers when used as output rectifiers in on-board chargers. Devices are available in a compact 2,5 kV, isolated TO-220 package which enables direct mounting to metal heatsinking, facilitating excellent thermal performance.
For more information contact EBV Electrolink, +27 21 402 1940, capetown@ebv.com, www.ebv.com
Credit(s)
Further reading:
Wide-input DC/DC converters in 1/32nd bricks
Brabek Power Electronics / Power Management
RECOM now offers through-hole, 1/32nd brick-footprint, non-isolated DC/DC converters – the RPMA-4.5 and RPMA-8.0 – with 4,5 A and 8 A output ratings respectively. Each part has a wide 9-53 V input and 
...
Read more...
---
Auto-ranging benchtop and rackmount power supplies
Vepac Electronics Power Electronics / Power Management
The programmable DC power supply family from Elektro-Automatik (EA) ranges in power from 80 W benchtop devices up to 30 kW in a single chassis. High power density units can be easily paralleled for up 
...
Read more...
---
maXTouch touchscreen controller for various aspect ratios
EBV Electrolink Analogue, Mixed Signal, LSI
As the automotive market continues to demand larger touchscreens with more flexibility in size and shape, Microchip Technology is announcing a new maXTouch touchscreen controller that allows automotive 
...
Read more...
---
Embedded vision development tool for RISC-V FPGA
EBV Electrolink Programmable Logic
Microchip Technology announced the second development tool offering in its Smart Embedded Vision initiative for designers using its PolarFire RISC-V system-on-chip (SoC) FPGA. The industry's lowest-power 
...
Read more...
---
Step-down converter with nano quiescent current
Altron Arrow Power Electronics / Power Management
The ST1PS03 is a nano-quiescent miniaturised synchronous step-down converter which is able to provide up to 400 mA output current with an input voltage ranging from 1,8 V to 5,5 V. This STMicroelectronics 
...
Read more...
---
Convection cooled 150 W and 300 W power supplies
Vepac Electronics Power Electronics / Power Management
Cosel announced the addition of 150 W and 300 W free air convection cooled power supplies, the LHP150F and the LHP300F. Designed for industrial applications requiring high levels of safety, they are certified 
...
Read more...
---
Power supplies for embedded applications from 15 to 320 W
Vepac Electronics Power Electronics / Power Management
XP Power's LCW series of regulated-output, encased AC-DC power supplies is ideal for embedded industrial electronics, technology and equipment requiring household approvals. The nine new series (LCW15, 
...
Read more...
---
Microchip further expands GaN RF power offering
EBV Electrolink Power Electronics / Power Management
A significant expansion has been made to Microchip Technology's gallium nitride (GaN) RF power device portfolio with new MMICs and discrete transistors that cover frequencies up to 20 GHz. The devices 
...
Read more...
---
Buck/boost converter with ultra-low IQ and supercapacitor charging
Power Electronics / Power Management
A new bidirectional buck/boost converter with an ultra-low quiescent current (I
Q
) of 60 nA has been introduced by Texas Instruments. The TPS61094 integrates a buck mode for supercapacitor charging and 
...
Read more...
---
Motor/PFC controller with gate driver and voltage regulator
EBV Electrolink Power Electronics / Power Management
Infineon Technologies' iMOTION IMD110-6 is a series of highly integrated ICs for the control of three-phase motors. The devices integrate the motor controller with a high-voltage, three-phase gate driver 
...
Read more...
---