printer friendly version
Evaluation kit for ON Semi's USB-PD power solutions
23 June 2021
Power Electronics / Power Management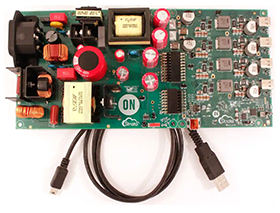 The 4-port USB-PD Source evaluation kit showcases ON Semiconductor's broad portfolio of USB-PD power solutions, including the FUSB307 PD port controller, the FUSB252 HV protection switch and the NCP81231 buck controller.
The universal 200 W AC/DC supply (STR-USBC-4PORT-200W-EVK) uses the NCP1399 LLC controller, NCP1615 PFC controller and NCP4305 secondary SR controller to provide a highly efficient front-end solution. All ports are 100 W capable, with a total maximum system power limited to 200 W using ON Semi's 'First Come First Served' power management algorithm.
Strata software support provides powerful controls to test power profile configurations such as optional 'assured' port 1 power, experiment with various fault and foldback features and monitor system telemetry while charging various load devices. Design collateral such as schematics, PCB layout, test reports, etc. are supplied in the same Strata interface to ease evaluation. See the Strata webpage at www.onsemi.com/strata for more details.
This kit is applicable for evaluating consumer electronics, computing, point-of-sale and USB Type-PD system designs.
For more information contact EBV Electrolink, +27 21 402 1940, capetown@ebv.com, www.ebv.com
Credit(s)
Further reading:
Wide-input DC/DC converters in 1/32nd bricks
Brabek Power Electronics / Power Management
RECOM now offers through-hole, 1/32nd brick-footprint, non-isolated DC/DC converters – the RPMA-4.5 and RPMA-8.0 – with 4,5 A and 8 A output ratings respectively. Each part has a wide 9-53 V input and 
...
Read more...
---
Auto-ranging benchtop and rackmount power supplies
Vepac Electronics Power Electronics / Power Management
The programmable DC power supply family from Elektro-Automatik (EA) ranges in power from 80 W benchtop devices up to 30 kW in a single chassis. High power density units can be easily paralleled for up 
...
Read more...
---
maXTouch touchscreen controller for various aspect ratios
EBV Electrolink Analogue, Mixed Signal, LSI
As the automotive market continues to demand larger touchscreens with more flexibility in size and shape, Microchip Technology is announcing a new maXTouch touchscreen controller that allows automotive 
...
Read more...
---
Embedded vision development tool for RISC-V FPGA
EBV Electrolink Programmable Logic
Microchip Technology announced the second development tool offering in its Smart Embedded Vision initiative for designers using its PolarFire RISC-V system-on-chip (SoC) FPGA. The industry's lowest-power 
...
Read more...
---
Step-down converter with nano quiescent current
Altron Arrow Power Electronics / Power Management
The ST1PS03 is a nano-quiescent miniaturised synchronous step-down converter which is able to provide up to 400 mA output current with an input voltage ranging from 1,8 V to 5,5 V. This STMicroelectronics 
...
Read more...
---
Convection cooled 150 W and 300 W power supplies
Vepac Electronics Power Electronics / Power Management
Cosel announced the addition of 150 W and 300 W free air convection cooled power supplies, the LHP150F and the LHP300F. Designed for industrial applications requiring high levels of safety, they are certified 
...
Read more...
---
Wireless asset tag supporting Quuppa RTLS
EBV Electrolink Telecoms, Datacoms, Wireless, IoT
onsemi unveiled a new system solution that overcomes the main challenges associated with developing asset tracking tags. Battery life has been a major obstacle to asset tag adoption, particularly within 
...
Read more...
---
USB charger solution with high power density
Altron Arrow Power Electronics / Power Management
Diodes Incorporated has launched a three-chip solution for enhancing the performance of ultra-high-power-density USB Type-C power delivery (PD) systems. These products can be used in a wide variety of 
...
Read more...
---
Crossover MCU with 3D camera
EBV Electrolink DSP, Micros & Memory
NXP Semiconductors has announced the expansion of its NXP EdgeReady solution portfolio, adding a solution for secure face recognition that leverages a high-performance 3D structured light module (SLM) 
...
Read more...
---
Totem pole PFC controller
EBV Electrolink Power Electronics / Power Management
A new addition was made to ON Semiconductor's solution set for ultra-high density offline power supplies in the form of the NCP1680, a dedicated critical conduction mode totem pole PFC controller. It 
...
Read more...
---