printer friendly version
LED drivers supporting visible-light communication
28 July 2021 Opto-Electronics Power Electronics / Power Management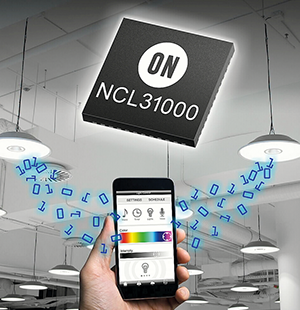 ON Semiconductor has announced two new devices designed to enhance the performance of connected lighting systems. The NCL31000 and NCL31001 LED drivers allow manufacturers to develop LED luminaires with light-based positioning technology and visible-light communication. By adding data intelligence and accurate positioning (up to 30 cm) these solutions enable smart lighting in a variety of spaces including supermarkets, warehouses, hospitals and airports.
At the heart of the NCL31000 is a highly energy-efficient buck LED driver that supports both high-bandwidth analog dimming and PWM dimming down to zero current. The driver includes an integrated 3,3 V fixed DC-DC converter and a further adjustable DC-DC converter (2,5-24 V) which can be used to power system components such as sensing devices and the microcontroller. Integrating these power solutions in the driver simplifies system design while boosting efficiency.
The accurate linear dimming enables visible-light communication (VLC), allowing for the development of indoor light-based positioning systems that can be safely implemented in many locations where RF-based solutions cannot be used (e.g. hazardous spaces such as mines or RF sensitive areas such as in hospitals or onboard aircrafts). The ability to dim to true dark with an accuracy of 0,1% ensures that there is no ghost light at the lowest dimming settings.
Highly accurate diagnostics further reduce system complexity by integrating a 10-bit analog-to-digital converter (ADC). The ADC measures system voltages, currents and temperature to monitor LED and overall system efficiency and detect any anomalies. A serial (I2C/SPI) interface makes all diagnostic data available to an external MCU that can monitor and control the intelligent lighting system. The architecture of the NCL31000 ensures excellent EMI performance – in tests it has been shown to be >14 dB below the requirements of CISPR15/EN55015.
The addition of the NCL31001 companion driver creates a solution that supports multi-string lighting applications, including those with colour control. The NCL31001 offers the same features as the NCL31000 except for the DC-DC converters to avoid unnecessary duplication.
For more information contact EBV Electrolink, +27 21 402 1940, capetown@ebv.com, www.ebv.com
Credit(s)
Further reading:
Choosing the right approach for power supply selection and design
23 June 2021 , Editor's Choice, Power Electronics / Power Management
Close analysis of the requirements will reveal which point along the curve, from fully off-the-shelf to fully custom, best meets the needs of the application.
Read more...
---
Electronics light the road ahead for the agriculture sector
23 June 2021, Technews Publishing , Editor's Choice, Opto-Electronics
Many horticultural installations are now moving away from traditional sources to LEDs, not only due to their high efficacy but because one can dynamically change the spectrum of the same luminaire without swapping the lamp source.
Read more...
---
New silicon diodes challenge SiC for automotive applications
23 June 2021, EBV Electrolink , Power Electronics / Power Management
Power Integrations (PI) unveiled a new 600 V, 12 A Qspeed diode delivering what it claims is the industry's lowest reverse recovery charge (Qrr) for a silicon diode. With a Qrr of just 14 nC at 25°C, 
...
Read more...
---
Cloud tools ecosystem for PIC and AVR microcontrollers
23 June 2021, EBV Electrolink , DSP, Micros & Memory
Microcontroller (MCU) design is being simplified with the new MPLAB cloud tools ecosystem available for PIC and AVR devices from Microchip Technology. The free, all-in-one cloud platform combines easy, 
...
Read more...
---
Flexible LED driver for automotive lighting
23 June 2021, Altron Arrow , Opto-Electronics
STMicroelectronics' ALED6000 single-chip automotive LED driver with integrated DC/DC converter is a low-BOM (bill of materials) solution that allows design flexibility and keeps the lighting intensity 
...
Read more...
---
Evaluation kit for ON Semi's USB-PD power solutions
23 June 2021, EBV Electrolink , Power Electronics / Power Management
The 4-port USB-PD Source evaluation kit showcases ON Semiconductor's broad portfolio of USB-PD power solutions, including the FUSB307 PD port controller, the FUSB252 HV protection switch and the NCP81231 
...
Read more...
---
ESD protection devices for high-speed automotive interfaces
28 April 2021, EBV Electrolink , Circuit & System Protection
Nexperia has announced a new range of ESD protection devices aimed specifically at protecting the ever-increasing number of high-speed interfaces found in automotive applications, especially the in-vehicle 
...
Read more...
---
Reliable grounding methods for high-voltage power supplies
26 May 2021, Vepac Electronics , Editor's Choice, Power Electronics / Power Management
Proper ground connections between a power supply, AC mains input and the application's load are essential for stable, reliable operation, but for HV (high voltage) supplies this is even more crucial. 
...
Read more...
---
Infrared sensor module for outdoor applications
26 May 2021, Altron Arrow , Opto-Electronics
Vishay recently introduced a new extended-temperature 'E' option for its TSSP77038 infrared (IR) sensor module in the Heimdall package. Designed to meet the special requirements of outdoor applications, 
...
Read more...
---
EMI shielded optical film
26 May 2021 , Opto-Electronics
Optolite EMIShield Micromesh is an optical solution developed by Instrument Plastics primarily to suit the needs of the avionics, military and defence and medical industries. Representing highly advanced 
...
Read more...
---