printer friendly version
LED drivers supporting visible-light communication
28 July 2021 Opto-Electronics Power Electronics / Power Management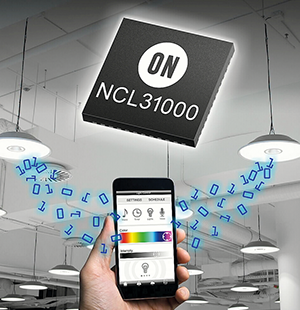 ON Semiconductor has announced two new devices designed to enhance the performance of connected lighting systems. The NCL31000 and NCL31001 LED drivers allow manufacturers to develop LED luminaires with light-based positioning technology and visible-light communication. By adding data intelligence and accurate positioning (up to 30 cm) these solutions enable smart lighting in a variety of spaces including supermarkets, warehouses, hospitals and airports.
At the heart of the NCL31000 is a highly energy-efficient buck LED driver that supports both high-bandwidth analog dimming and PWM dimming down to zero current. The driver includes an integrated 3,3 V fixed DC-DC converter and a further adjustable DC-DC converter (2,5-24 V) which can be used to power system components such as sensing devices and the microcontroller. Integrating these power solutions in the driver simplifies system design while boosting efficiency.
The accurate linear dimming enables visible-light communication (VLC), allowing for the development of indoor light-based positioning systems that can be safely implemented in many locations where RF-based solutions cannot be used (e.g. hazardous spaces such as mines or RF sensitive areas such as in hospitals or onboard aircrafts). The ability to dim to true dark with an accuracy of 0,1% ensures that there is no ghost light at the lowest dimming settings.
Highly accurate diagnostics further reduce system complexity by integrating a 10-bit analog-to-digital converter (ADC). The ADC measures system voltages, currents and temperature to monitor LED and overall system efficiency and detect any anomalies. A serial (I2C/SPI) interface makes all diagnostic data available to an external MCU that can monitor and control the intelligent lighting system. The architecture of the NCL31000 ensures excellent EMI performance – in tests it has been shown to be >14 dB below the requirements of CISPR15/EN55015.
The addition of the NCL31001 companion driver creates a solution that supports multi-string lighting applications, including those with colour control. The NCL31001 offers the same features as the NCL31000 except for the DC-DC converters to avoid unnecessary duplication.
For more information contact EBV Electrolink, +27 21 402 1940, [email protected], www.ebv.com
Credit(s)
Further reading:
Rapid prototyping with new Xilinx FPGA evaluation kit
EBV Electrolink Programmable Logic
Equipped with the Xilinx Spartan-7 FPGA, the kit is built for rapid prototyping of industrial networking, embedded vision and automotive designs.
Read more...
---
Curiosity Nano development platform
EBV Electrolink DSP, Micros & Memory
Microchip Curiosity Nano (MC Nano) is a development platform which may be used to develop applications equipped with some of the 32-bit products from the PIC32 and SAM families.
Read more...
---
Infineon releases new high-efficiency buck regulator module
EBV Electrolink Power Electronics / Power Management
This new buck regulator module has a 3 A single output with integrated inductor and offers high-efficiency load regulation in a compact package.
Read more...
---
ST's new ToF sensor has double the range of existing modules
EBV Electrolink Opto-Electronics
The new sensor combines revolutionary metasurface lens technology with a more powerful and efficient laser and improved on-chip signal processing.
Read more...
---
New transient voltage suppressors for automotive applications
EBV Electrolink Circuit & System Protection
The devices offer high surge capability of 3000 W and a high temperature operation up to 175°C for signal line protection.
Read more...
---
Three compact solutions for high step-down voltage ratios
Altron Arrow Editor's Choice Power Electronics / Power Management
System designers can be faced with the challenge of down-converting high DC input voltages to very low output voltages at high output current.
Read more...
---
Compact planar scanner with air bearing
Horne Technologies Opto-Electronics
PIglide positioning systems are ideally suited for high-precision applications such as inspection systems, laser marking, microscopy or scanning.
Read more...
---
Digital power controller for LED lighting
EBV Electrolink Power Electronics / Power Management
STMicroelectronics' new single-chip digital power controller simplifies design and increases flexibility in LED lighting applications.
Read more...
---
EBV signs up AI chipmaker Hailo
EBV Electrolink Computer/Embedded Technology
Hailo offers a wide range of AI accelerators, including the innovative Hailo-8 AI processor and high-performance AI acceleration modules in M.2 and Mini PCIe formats.
Read more...
---
Green laser diode for industrial applications
Future Electronics Opto-Electronics
ams OSRAM has introduced a green laser diode which is a brighter, more reliable and cost-competitive replacement for red lasers in applications such as levelling, scanning, biosciences and dot projection. 
...
Read more...
---