printer friendly version
EBV and Infineon collaborate on SiC technology
23 June 2021
Power Electronics / Power Management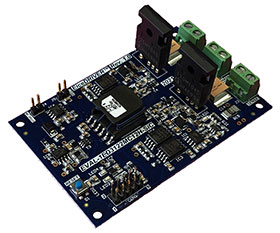 EBV Elektronik is working closely with Infineon Technologies on the manufacturer's leading-edge silicon carbide (SiC)-based CoolSiC technology, which delivers key benefits for engineers designing advanced power systems across a wide selection of market sectors and applications. Infineon and EBV will cooperate over the next year and beyond to accelerate the deployment of energy-efficient power devices with CoolSiC technologies.
There is strong global demand for improved, smaller and more cost-effective power conversion systems, especially for the fast-growing market for electric vehicles. Silicon carbide delivers many important advantages over the traditional use of silicon, including higher-voltage operation, wider operating temperature ranges and higher switching frequencies.
Infineon's CoolSiC technology builds upon these inherent advantages of the semiconductor material to deliver efficiency and reliability across a variety of applications such as battery charging, photovoltaic inverters, motor drives, energy storage and power supplies. The CoolSiC portfolio ranges from SiC-based diodes and discrete MOSFETs to hybrid and full SiC modules.
As part of the cooperation between the two companies, available exclusively from Avnet and EBV is an entry-level evaluation board (EVAL-1ED3122MC12H-SiC) from Infineon that is designed to provide engineers and developers with a simple way to quickly try out the possibilities of the advanced CoolSiC technology. The board is ready for use to evaluate the performance of the 650 V or 1200 V CoolSiC MOSFETs, which will require soldering to the board depending on the user application. Extensive training programmes for engineers designing power systems are available within the framework of this cooperation.
Key features of the new Infineon board include the CoolSiC MOSFETs organised in a half-bridge configuration, along with onboard, optimised members of the 1ED-X3 family of single-channel, galvanically isolated 10 A gate drivers and isolated power supply circuitry to provide the required voltages.
For more information contact EBV Electrolink, +27 21 402 1940, capetown@ebv.com, www.ebv.com
Credit(s)
Further reading:
Non-isolated step-down converters
25 August 2021, Accutronics , Power Electronics / Power Management
Capable of operating from an input voltage of 18 V to 32 V, the non-isolated step-down converters of TDK-Lambda's i7A series deliver an output voltage that can be adjusted from 3,3 to 18 V with an output 
...
Read more...
---
70 W brushless DC motor drivers
25 August 2021 , Power Electronics / Power Management
Texas Instruments (TI) has introduced the industry's first 70 W brushless DC (BLDC) motor drivers to provide code-free, sensorless trapezoidal and field-oriented control (FOC). The devices enable engineers 
...
Read more...
---
Automotive/industrial isolated buck converters
25 August 2021, Altron Arrow , Power Electronics / Power Management
Optimised for isolated buck regulator designs, the STMicroelectronics A6986I and L6986I DC/DC converter ICs have a wide input voltage range and low quiescent current to ensure robust and energy-efficient 
...
Read more...
---
Rugged silicon carbide power devices
25 August 2021, EBV Electrolink , Power Electronics / Power Management
Today's energy-efficient electric charging systems powering commercial vehicle propulsion, as well as auxiliary power systems, solar inverters, solid-state transformers and other transportation and industrial 
...
Read more...
---
Amber taps Infineon for digital control of electricity
28 July 2021 , Power Electronics / Power Management
Infineon Technologies and Amber Solutions recently announced an alliance on a range of silicon opportunities anchored around Amber's digital control of electricity with embedded intelligence. The collaboration 
...
Read more...
---
High-voltage DC-DC converter for electric vehicles
28 July 2021, Vepac Electronics , Power Electronics / Power Management
By understanding the needs of its performance-driven customers in the market of electrification of air, land and sea vehicles and systems, Crane Aerospace & Electronics engineers have designed and developed 
...
Read more...
---
Single/dual-output DC/DC power module
25 August 2021, NuVision Electronics , Power Electronics / Power Management
The MPM3690-20 from Monolithic Power Systems (MPS) is a dual 13 A output or single 26 A output power module that offers a complete power solution, with excellent load and line regulation. It supports 
...
Read more...
---
EBV helps bring long-life tracker to market
25 August 2021, EBV Electrolink , Telecoms, Datacoms, Wireless, IoT
General Mechatronics, a Budapest-based company, enlisted the support of EBV Elektronik to devise an award-winning smart sensor device designed for use in asset tracking systems and applications.  
...
Read more...
---
Fully differential amplifier
25 August 2021, TRX Electronics , Power Electronics / Power Management
Now stocked by Mouser Electronics, the THS4567 from Texas Instruments is a novel fully differential amplifier (FDA) that includes both independent input common-mode (VICM) and output common-mode (VOCM) 
...
Read more...
---
Totem pole PFC controller
25 August 2021, EBV Electrolink , Power Electronics / Power Management
A new addition has been made to ON Semiconductor's solution set for ultra-high density offline power supplies in the form of the NCP1680, a dedicated critical conduction mode totem pole PFC controller. 
...
Read more...
---