printer friendly version
Report forecasts impact of electrically conductive adhesives
25 August 2021
Electronics Technology
IDTechEx recently published a market research report, 'Electrically conductive adhesives 2022-2032: Technologies, markets and forecasts', covering this emerging form of joining technology. Electrically conductive adhesives (ECAs) are a growing competitor to lead-free solders and silver sintering technologies and currently see use in several electronics applications such as automotive electronics, consumer electronics and displays.
ECAs are formed from a conductive filler material and a structural resin material. The conductive filler, typically a metal powder, creates a conductive bridge across a joint. Meanwhile, the structural polymer resin holds the joint together and the filler particles in place. This new report identifies common filler material choices including silver, nickel and gold and discusses the merits of each for use in ECAs. Additionally, common polymer resin materials including epoxy, silicone and acrylics are highlighted in this report.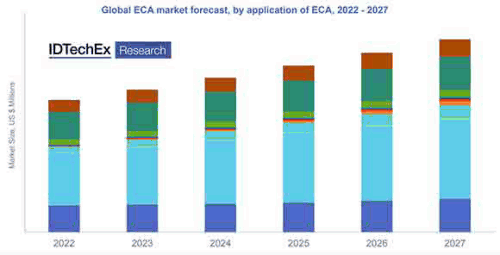 In addition to these traditional ECAs, IDTechEx has identified several critical developments in ECA production, new products and technologies which may grow to transform the market.
An example of one of the key benefits of ECAs is the low processing temperature; much lower than alternative choices such as solders. This allows ECAs to be used with a wider range of substrate materials, including temperate-sensitive polymer substrates. This makes ECAs a good choice of conductive joining technology for flexible electronics applications.
However, ECAs are not without their drawbacks. A key disadvantage is the high cost of raw materials required. This has impeded their widespread adoption in several applications – when other joining techniques can be used with the same effect, ECAs' benefits may not outweigh the cost.
Key application areas for ECAs are divided into current technologies, which provide very large markets for this technology and emerging technologies, which have smaller markets but a lot more potential for growth. Examples of existing application sectors are in automotive and consumer electronics, as well as RFID and display applications. Examples of emerging technologies which present opportunities for ECAs are flexible, printed and wearable electronics. Currently, ECAs may find use in products anywhere in our daily lives, from computer screens to phone circuit boards and in the future, this may grow to encompass solar cells and even our clothes through wearable technologies.
The report also breaks down the implementation process for ECAs into its key stages and discusses the main considerations for each stage, such as different application techniques and the importance of thermally curing an adhesive.
Containing key insights and commercial outlooks for ECAs, the IDTechEx report is built upon primary interviews and product analysis. It considers both isotropically conductive adhesives (ICAs) and anisotropically conductive adhesives (ACAs), analysing them from both a technical and commercial point of view. The potential application areas for each type of adhesive are considered independently, as well as the difference in growth potentials and future projections for these technologies.
With the potential to impact a wide range of emerging industries, ECAs could become a critical technology in the future and preparation for their more widespread adoption may be key.
For more information visit www.idtechex.com/eca
Further reading:
A brief history of HBTs
Conical Technologies Electronics Technology
In 1947 the engineers at Bell Labs were tasked with developing a transistor. This development heralded the beginning of the semiconductor industry which changed the world forever. Transistors would have 
...
Read more...
---
Research project achieves major advance toward fusion energy
Electronics Technology
New superconducting magnet designed by MIT breaks magnetic field strength records, paving the way for practical, commercial, carbon-free power.
Read more...
---
NXP exhibits the art of semiconductors
Electronics Technology
An exhibit of semiconductor history reinterpreted as art recently finished its run at ArtEZ University of the Arts in the Dutch city of Arnhem, close to Nijmegen and it was based on NXP Semiconductor's 
...
Read more...
---
IBM shrinks chip geometries to 2 nm
Electronics Technology
The current state-of-the-art in terms of semiconductor chip geometries has been superseded by a new breakthrough coming out of IBM's world renowned research division. Currently the 'process node' most 
...
Read more...
---
Challenges for electronic circuits in space applications
Altron Arrow Electronics Technology
Outside the protective cover of the Earth's atmosphere, the natural space radiation environment can damage electronic devices and the effects range from a degradation in parametric performance to a complete functional failure.
Read more...
---
The surprising ingredients used to bake a solar-panel cake
Electronics Technology
Jon Major, from the BBC's Future Planet team, has written an article that explores "The unexpected ingredients that improve solar cells". Some of these ingredients include the likes of capsaicin, the 
...
Read more...
---
Analog Devices leverages Microsoft's 3D ToF tech
Electronics Technology
Analog Devices is working with Microsoft to leverage Microsoft's 3D time-of-flight (ToF) sensor technology, allowing customers to easily create high-performance 3D applications that bring higher degrees 
...
Read more...
---
IoT communication without batteries
Electronics Technology
When we talk about IoT, we often gloss over the fact that all these interconnected things need batteries and electronics to carry out the job of collecting and processing data while they're communicating 
...
Read more...
---
Stable perovskite LEDs one step closer
Electronics Technology
Researchers at Sweden's Linköping University, working with colleagues in Great Britain, China and the Czech Republic, have developed a perovskite light-emitting diode (LED) with both high efficiency and 
...
Read more...
---
Infineon works with Qualcomm for 3D authentication
Electronics Technology
Infineon Technologies has collaborated with Qualcomm Technologies to develop a reference design for 3D authentication based on the Qualcomm Snapdragon 865 mobile platform. Infineon is thus extending its 
...
Read more...
---