printer friendly version
Report forecasts impact of electrically conductive adhesives
25 August 2021
Electronics Technology
IDTechEx recently published a market research report, 'Electrically conductive adhesives 2022-2032: Technologies, markets and forecasts', covering this emerging form of joining technology. Electrically conductive adhesives (ECAs) are a growing competitor to lead-free solders and silver sintering technologies and currently see use in several electronics applications such as automotive electronics, consumer electronics and displays.
ECAs are formed from a conductive filler material and a structural resin material. The conductive filler, typically a metal powder, creates a conductive bridge across a joint. Meanwhile, the structural polymer resin holds the joint together and the filler particles in place. This new report identifies common filler material choices including silver, nickel and gold and discusses the merits of each for use in ECAs. Additionally, common polymer resin materials including epoxy, silicone and acrylics are highlighted in this report.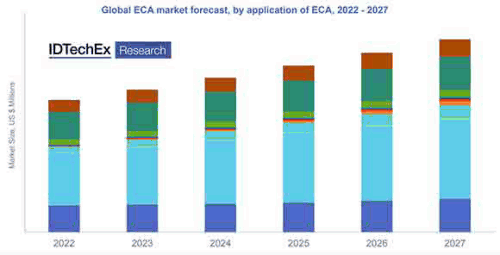 In addition to these traditional ECAs, IDTechEx has identified several critical developments in ECA production, new products and technologies which may grow to transform the market.
An example of one of the key benefits of ECAs is the low processing temperature; much lower than alternative choices such as solders. This allows ECAs to be used with a wider range of substrate materials, including temperate-sensitive polymer substrates. This makes ECAs a good choice of conductive joining technology for flexible electronics applications.
However, ECAs are not without their drawbacks. A key disadvantage is the high cost of raw materials required. This has impeded their widespread adoption in several applications – when other joining techniques can be used with the same effect, ECAs' benefits may not outweigh the cost.
Key application areas for ECAs are divided into current technologies, which provide very large markets for this technology and emerging technologies, which have smaller markets but a lot more potential for growth. Examples of existing application sectors are in automotive and consumer electronics, as well as RFID and display applications. Examples of emerging technologies which present opportunities for ECAs are flexible, printed and wearable electronics. Currently, ECAs may find use in products anywhere in our daily lives, from computer screens to phone circuit boards and in the future, this may grow to encompass solar cells and even our clothes through wearable technologies.
The report also breaks down the implementation process for ECAs into its key stages and discusses the main considerations for each stage, such as different application techniques and the importance of thermally curing an adhesive.
Containing key insights and commercial outlooks for ECAs, the IDTechEx report is built upon primary interviews and product analysis. It considers both isotropically conductive adhesives (ICAs) and anisotropically conductive adhesives (ACAs), analysing them from both a technical and commercial point of view. The potential application areas for each type of adhesive are considered independently, as well as the difference in growth potentials and future projections for these technologies.
With the potential to impact a wide range of emerging industries, ECAs could become a critical technology in the future and preparation for their more widespread adoption may be key.
Further reading:
Nanometre-precision piezo actuators
RS South Africa Electronics Technology
TDK Corporation has announced two new piezo actuators that are characterised by a wide dynamic range, a high force-to-volume ratio, but with precision in the nanometre range.
Read more...
---
Webinar: The evolving electrification of the power distribution system
Infineon Technologies Electronics Technology
New connected car functionality, along with the necessity to reduce the cost, weight and complexity associated with wire harnesses, has led to the transformation of the power distribution system in automotive engineering.
Read more...
---
Improved MnZn material for power conversion industry
Sivan Electronic Supplies Electronics Technology
Cosmo Ferrites Ltd, a leading manufacturer of soft ferrites, has launched an improved version of CF295 for the power conversion industry.
Read more...
---
Common mode filter for automotive Ethernet
Avnet Abacus Electronics Technology
TDK Corporation has announced the introduction of its new ACT1210E Series common mode filter for automotive Ethernet 10BASE-T1S.
Read more...
---
Energising the industrial edge
Electronics Technology
As if the drive to decarbonise energy as part of sustainability and climate change efforts was not enough, the recent rise in energy prices has brought into sharp contrast the need to re-examine how we generate, distribute, and consume electricity.
Read more...
---
Samsung begins chip production using 3 nm process technology
EBV Electrolink Electronics Technology
The optimised 3 nm process with GAA architecture achieves 45% lower power usage, 23% improved performance and 16% smaller surface area compared to 5 nm process.
Read more...
---
Panasonic releases its updated touch-sensitive knob
Altron Arrow Electronics Technology
Panasonic, in conjunction with Microchip, has launched an update to its existing Magic Knob, a capacitive knob ready for standard touch sensors for use in controlling automotive information displays.
Read more...
---
Microchip's new IC to replace Hall effect position sensors
Altron Arrow Electronics Technology
The LX34070 IC from Microchip is set to help accelerate the global move away from expensive and less accurate magnet-based solutions for safety-critical EV motor position monitoring.
Read more...
---
A brief history of HBTs
Conical Technologies Electronics Technology
In 1947 the engineers at Bell Labs were tasked with developing a transistor. This development heralded the beginning of the semiconductor industry which changed the world forever. Transistors would have 
...
Read more...
---
Research project achieves major advance toward fusion energy
Electronics Technology
New superconducting magnet designed by MIT breaks magnetic field strength records, paving the way for practical, commercial, carbon-free power.
Read more...
---