printer friendly version
Personality profile: Daniel Haywood
25 August 2021
Editor's Choice
I find pockets of inspiration from the engineers and entrepreneurs that keep their businesses going and work hard to grow their companies.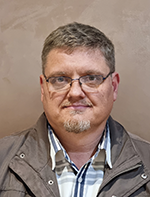 Daniel Haywood
I was born in Pretoria but grew up in Krugersdorp. I matriculated from the Nic Diederichs Technical High School in 1988, where my technical subject was electronics – in fact our group was the first to take electronics as a subject at the school. During my matric year I was introduced to the engineers at Building 44, CSIR, the division that was then known as Aerotech but today is DPSS (Defence, Peace, Safety And Security). I remember being very interested in the technology and projects they worked on.
From an early age I started to design and build things. To keep me occupied, my mother enrolled me in many short courses to keep me busy. Some of these courses included a course in making lead glass windows and another was a course in basic building techniques.
After matric I joined the SANDF (South African National Defence Force) for my two-year national service, where I applied at the Engineer Formation and was accepted. After completing my national service, I enrolled at TUT (Tshwane University of Technology), studying electrical engineering (light current) and specialising in communication systems.
After completing my studies, I was given the opportunity to work at the CSIR's Aerotech division as an intern. There I worked with real old-school engineers in the EW (electronic warfare) section, learning from people with many years of engineering experience who were at the top of their game. After completing the internship, I joined Sentech at Radiokop as an intern at its satellite station. I often worked with the interference research team on calls when customers would call in and notify Sentech of interference with their TV or radio reception.
After completing my diploma in electrical engineering, I started a company in Krugersdorp doing TV aerial installations. It was around that time that satellite TV started in South Africa, so once DSTV started my company installed around eight satellite systems every day of the week. At the end of 1999 I sold the company.
In April 2000 I joined Delphius Technologies, which at that time was designing industrial microwave oven solutions. We did contract work for a couple of divisions at the CSIR, which included food technologies where we designed and built microwave oven solutions, and DPSS where we assisted in the design and manufacturing of RF and microwave systems and solutions. Delphius then started to design in-building GSM solutions for Vodacom and MTN. I worked at Delphius for five years, during which time I enrolled for a diploma in project management.
I was later recruited by a personnel agency to join Molapo Technologies to start up a new RF and microwave repair division. Up to that time Molapo repaired all the electronic equipment for Telkom, which was looking for a company to do local repairs of its microwave link equipment. When I started at Molapo I had seven RF technicians and we had to sit and reverse-engineer every piece of microwave equipment to understand how it worked before we could start the repair process. It was very challenging, but we had success and it became very fulfilling work.
In September 2009 I left Molapo and had a brief stint at a local RF and microwave component distribution company. I quickly realised that I loved to work with customers, and the freedom to work on my own and not be office bound. Unfortunately, the relationship with the employer was not all that great and on 3 September 2010 I left and started Conical Technologies.
In the beginning it was difficult because I had no agencies that would supply me with components. I worked 18-hour days, seeing customers during the day and meeting with suppliers from the US and China at night. It was not easy but with determination and will I have pushed through. In November 2010 I came across SynQor, which became the first company to sign Conical up as an official distributor.
They were interesting times. Business was never easy but hard work and determination pulled us through. Our customer base started growing and so did our supplier base. In 2014, during a visit to the Microwave expo in Seattle, I managed to negotiate a distribution agreement with Mini-Circuits, which was a great triumph for me and for Conical Technologies. Now that we had a well-known agency signed up, we started to get more requests from other manufacturers to distribute their products. The power of being associated with a global brand like Mini-Circuits quickly became clear and added much value for us. During 2017 I completed a diploma in sales management at the University of the Western Cape.
Being in business in South Africa has never been easy. In the RF and microwave supply industry there were several 'old boys' supplying components and generally customers would want to stick to these as their suppliers. As the company grew, we employed more people. We had a couple of attempts at getting a BEE partner onboard but all these attempts failed – it was very frustrating and costly. In 2018 we finally managed to get a BEE relationship that worked for all parties and we have been very successful in achieving a Level 2 BEE rating.
Since I started Conical Technologies I have seen many changes in the world, as well as the electronics industry in South Africa. I think the single biggest challenge to industry in South Africa is the 'brain drain'. The fact that many highly qualified engineers in all disciplines of engineering and with many years of experience are leaving the country is a very big challenge. Our universities educate more new engineers, but these young engineers need practical experience. Without engineers to train and pass on practical knowledge to the young ones, it is difficult for these young engineers to start to add value to the economy of the country. And this has a chain reaction to many other sectors in the South African economy.
Every day while connecting with customers and doing customer visits I find pockets of inspiration from the engineers and entrepreneurs that keep their businesses going and work hard to grow their companies. It is people like these, who are focused on the future and the success of their enterprises, that show the real spirit of being a South African.
Further reading:
The $180 billion market for location-based media and entertainment
Editor's Choice
For companies operating within these markets, it is important to view the opportunities as a series of milestones that will be reached over time.
Read more...
---
Is it getting hot in here?
Spectrum Concepts Editor's Choice
When considering thermal performance, Samtec factors in power density, device thermal resistance, total power entering the system, system airflow and system impedance.
Read more...
---
Personality profile: Hitesh Pema
Hiconnex Editor's Choice News
"I entered the military and aerospace field in 1996 when I was offered a position as a sales engineer at the specialist interconnect supplier, Hiconnex."
Read more...
---
The $180 billion market for location-based media and entertainment
Editor's Choice
For companies operating within these markets, it is important to view the opportunities as a series of milestones that will be reached over time.
Read more...
---
A2B is revving up over-the-air software management
Altron Arrow Editor's Choice Telecoms, Datacoms, Wireless, IoT
The ability to update modules, support customers and monetise additional features makes mastering software over the air an attractive proposition.
Read more...
---
Optical liquid analysis prototyping platform for ubiquitous sensing
Altron Arrow Editor's Choice Analogue, Mixed Signal, LSI
Prototyping complex optical liquid analysis measurements is a challenge that requires careful consideration of how chemistry, optics and electronics interact to produce a precise result.
Read more...
---
Effects of water and water vapour on conformal coating protection
Techmet Editor's Choice Manufacturing / Production Technology, Hardware & Services
Coating materials differ in terms of water absorption and water vapour permeability, which may affect mechanical properties, adhesion, glass transition temperature, light and weathering resistance, corrosion protection and electrical insulation.
Read more...
---
Sophisticated threats raise stakes in electronic warfare conflicts
Concilium Technologies Editor's Choice
While the technologies will continue to evolve and new threats emerge, one constant remains: the military force that achieves and maintains spectrum dominance will control the EW domain.
Read more...
---
Charting China's meteoric chip sales trajectory
Editor's Choice News
The SIA attributes this growth mainly to increasing US-China tensions and a whole-of-nation effort to advance China's chip sector, including government subsidies, procurement preferences and other preferential policies.
Read more...
---
From the editor's desk: Hurrying up, waiting or clinging on for dear life?
Technews Publishing Editor's Choice News
It seems like forever since companies in the local industry have got together and formed an association that's all about changing things for the betterment of its members and the industry at large, rather than labouring on individually to maintain 'business as usual'.
Read more...
---