printer friendly version
ESD diode for interface protection
28 July 2021
Circuit & System Protection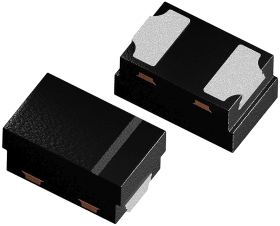 Vishay released a new bidirectional asymmetrical (BiAs) single-line ESD protection diode in the compact new DFN1006-2A package with side-wettable terminals. Saving space over solutions in SOT packages, the VCUT0714BHD1 offers low capacitance and leakage current for the protection of high-speed data lines against transient voltage signals.
With its working voltage range of -7 V to +14 V or -14 V to +7 V and low load capacitance down to 8 pF typical, the part is a standard ESD diode that is also good for interface protection in commercial applications. For automotive applications, it is also available in an AEC-Q101 qualified version. Due to the short leads and small size of the DFN1006-2A package, the device's line inductance is very low, allowing fast transients such as an ESD strike to be clamped with minimal over- or under-shoots.
The protection diode features a low maximum leakage current of < 0,1 μA at the working voltage of 7 V or 14 V; a breakdown voltage of 7,3 V or 14,5 V typical at 1 mA; and a maximum clamping voltage of 15 V at 3,6 A or 30 V at 2 A. The VCUT0714BHD1 provides transient protection for one data line as per IEC 61000-4-2 at ±25 kV (contact) and ±30 kV (air) discharge rating. The device offers a moisture sensitivity level (MSL) of 1 in accordance with J-STD-020 and a UL 94 V-0 flammability rating.
Credit(s)
Further reading:
Expected adoption of Wi-Fi 6 routers for the smart home
Altron Arrow Telecoms, Datacoms, Wireless, IoT
We've all been there, working from home or on a Zoom call and then suddenly the computer freezes and everything stops working. In today's new normal of hybrid work, having a stable and reliable Wi-Fi connection is table stakes.
Read more...
---
Partnership announcement between Altron Arrow and Fibocom
Altron Arrow News
Altron Arrow recently signed a new distribution agreement with Fibocom, advancing its commitment to providing best-practice solutions for the IoT industry.
Read more...
---
ST and Volkswagen to co-develop an SoC
Altron Arrow News
STMicroelectronics and Volkswagen's CARIAD will be co-developing an automotive system-on-a-chip to be used for future software-defined vehicles.
Read more...
---
The top choice for micro inverter designs
Altron Arrow Power Electronics / Power Management
Power devices based on silicon carbide and gallium nitride technologies from Infineon are the smart choice for micro inverter designs.
Read more...
---
TI releases top five power design tools
Altron Arrow Design Automation
Texas Instruments has released an online resource combining the top five power design tools available to aid in the next electronic project design.
Read more...
---
Angle sensor for safety-critical applications
Altron Arrow Passive Components
TDK's TAS4240 TMR-based angle-sensor enables precise angle measurements in applications where high performance is needed and space is limited.
Read more...
---
Compact varistors offer surge capability of 6000 A
Electrocomp Circuit & System Protection
TDK has released the new EPCOS B72314S2* series of leaded disk varistors which cover a wide operating voltage range of 175 V
RMS
to 625 V
RMS
.
Read more...
---
1,5 A LDO linear regulator from TI
Altron Arrow Power Electronics / Power Management
The TPS7A74 from Texas Instruments is a 1,5 A low-dropout linear regulator with programmable soft-start for a wide variety of applications.
Read more...
---
Clearing the Static: ESD wrist straps
Actum Electronics Circuit & System Protection
The human body is the primary source of electrostatic charge generation. In order to control and reduce static charge build-up and prevent electrostatic discharges (ESD) at an electronic equipment facility, we use grounding systems to ensure that all components are at the same electrical potential.
Read more...
---
Automotive motion sensor with embedded ML core
Altron Arrow DSP, Micros & Memory
The ASM330LHHX, a six-axis inertial module with embedded machine learning core and dual operating modes, ensures the lowest power consumption and in-sensor event detection.
Read more...
---