printer friendly version
ESD diode for interface protection
28 July 2021
Circuit & System Protection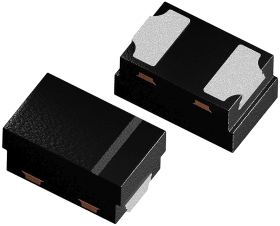 Vishay released a new bidirectional asymmetrical (BiAs) single-line ESD protection diode in the compact new DFN1006-2A package with side-wettable terminals. Saving space over solutions in SOT packages, the VCUT0714BHD1 offers low capacitance and leakage current for the protection of high-speed data lines against transient voltage signals.
With its working voltage range of -7 V to +14 V or -14 V to +7 V and low load capacitance down to 8 pF typical, the part is a standard ESD diode that is also good for interface protection in commercial applications. For automotive applications, it is also available in an AEC-Q101 qualified version. Due to the short leads and small size of the DFN1006-2A package, the device's line inductance is very low, allowing fast transients such as an ESD strike to be clamped with minimal over- or under-shoots.
The protection diode features a low maximum leakage current of < 0,1 μA at the working voltage of 7 V or 14 V; a breakdown voltage of 7,3 V or 14,5 V typical at 1 mA; and a maximum clamping voltage of 15 V at 3,6 A or 30 V at 2 A. The VCUT0714BHD1 provides transient protection for one data line as per IEC 61000-4-2 at ±25 kV (contact) and ±30 kV (air) discharge rating. The device offers a moisture sensitivity level (MSL) of 1 in accordance with J-STD-020 and a UL 94 V-0 flammability rating.
For more information contact Willem Schmidt, Altron Arrow, +27 11 923 9600, wschmidt@arrow.altech.co.za, www.altronarrow.com
Credit(s)
Further reading:
A UI to build better UIs
25 August 2021, Altron Arrow , Design Automation
TouchGFX Designer 4.17 has become available for download, the latest version of STMicroelectronics' user interface (UI) design software featuring a user interface overhaul to make the application more 
...
Read more...
---
Compact X2 capacitors for noise suppression
25 August 2021, Electrocomp , Circuit & System Protection
A new series of very compact EPCOS X2 capacitors for noise suppression, rated for 275 V a.c. and covering a capacitance range from 33 nF to 1 µF, has been released by TDK. Depending on the capacitance 
...
Read more...
---
Network synchronisation chip for 5G radio access equipment
25 August 2021, Altron Arrow , Telecoms, Datacoms, Wireless, IoT
5G technology requires time sources to be synchronised throughout a packet-switched network 10 times more accurately than 4G requirements. Microchip Technology now makes it possible to achieve 5G performance 
...
Read more...
---
Automotive/industrial isolated buck converters
25 August 2021, Altron Arrow , Power Electronics / Power Management
Optimised for isolated buck regulator designs, the STMicroelectronics A6986I and L6986I DC/DC converter ICs have a wide input voltage range and low quiescent current to ensure robust and energy-efficient 
...
Read more...
---
Dual-channel capacitive isolators
25 August 2021, Conical Technologies , Circuit & System Protection
The SCM3721ASA and SCM3723ASA belong to a family of digital isolators based on unique capacitive pulse isolation technology. Capacitive pulse isolation is a new-generation digital isolator technology 
...
Read more...
---
Nvidia releases version 4.6 of its AI SDK
28 July 2021, Altron Arrow , Computer/Embedded Technology
Nvidia has rolled out version 4.6 of its JetPack SDK, a production release supporting the Jetson AGX Xavier series, Jetson Xavier NX, Jetson TX2, Jetson TX1 and Jetson Nano. JetPack 4.6 includes support 
...
Read more...
---
Sensor selection guide
25 August 2021, Altron Arrow , Technical Literature
Infineon Technologies' 'XENSIV – sensing the world' selection guide lets readers explore the company's portfolio of sensing technologies, complemented by application solutions, smallest 2GO kits, simulation 
...
Read more...
---
Clearing the Static: ESD clothing and footwear
25 August 2021, Altico Static Control Solutions , Circuit & System Protection
While working in an electrostatic protected area (EPA), ESD clothing is necessary to make sure that people do not charge the products they are working with. ESD footwear and clothing prevent static charge 
...
Read more...
---
The LPWAN state of play in SA
25 August 2021, RF Design, Technews Publishing, Altron Arrow, Otto Wireless Solutions , Editor's Choice, Telecoms, Datacoms, Wireless, IoT
To help give our readers the low-down on what to be aware of and what to expect for the future, we consulted a few leading minds on the subject to get some of their insights and opinions.
Read more...
---
Optical design for ToF depth sensing cameras
25 August 2021, Altron Arrow , Editor's Choice
Optics play a key role in time-of-flight (ToF) depth sensing cameras and the optical design dictates the complexity and feasibility of the final system and its performance.
Read more...
---