printer friendly version
12 x 12 handover test system
28 July 2021
Test & Measurement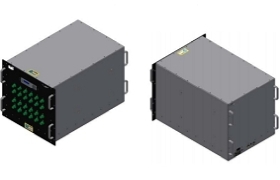 The Model 10282 from API Weinschel is a 12 x 12 handover test system that operates from 0,8 to 3 GHz. It is constructed as a full fan-out network, meaning there is a non-blocked RF path between each input and output RF port. Each of the 144 paths includes its own individually controllable programmable attenuator, allowing the path's signal to be adjusted in amplitude as desired. This provides for the ability to implement various fading or handoff scenarios to simulate signal handover between multiple BTS and user equipment.
Handover test systems are used to assess the performance of interconnected wireless devices under real-world operating conditions in a lab environment. Device manufacturers and network engineers can use handover test systems and their various signal attenuation mechanisms to simulate the complex effects of variables like distance and interference. This helps to improve the robustness of their network and optimise the performance of their RF equipment.
The Model 10282 uses solid-state attenuators which provide extremely fast attenuation state changes with no loss of signal, excellent repeatability and essentially unlimited switching life. The handover system can handle an input power of 37 dBm and has an insertion loss of less than 35 dB. It provides an attenuation from 0 to 127 dB and has a switching speed of less than 1 μs.
The device can be controlled via Ethernet, RS-232 and USB interfaces. The USB port provides a USB Communications Device Class (CDC) device interface that allows programming via a virtual COM port using the same text-based commands as the serial port. The system is available in an enclosure with N-type (female) connectors and is suitable for 3G/4G LTE testing, handover testing, link simulation, MIMO simulation and mobility test scenarios, implementation of static or dynamic test simulation and engineering support for wireless test lab environments.
For more information contact Andrew Hutton, RF Design, +27 21 555 8400, andrew@rfdesign.co.za, www.rfdesign.co.za
Credit(s)
Further reading:
Approval for industry-first 3GPP Release 16 protocol conformance test
Coral-i Solutions Test & Measurement
The Conformance Agreement Group (CAG) operated by the Global Certification Forum (GCF) approved the industry's first Release 16 Protocol Conformance tests for 5G New Radio (NR) at the CAG#68 meetings 
...
Read more...
---
ExpressLink modules for secure connectivity to AWS Cloud
RF Design Telecoms, Datacoms, Wireless, IoT
u-blox has announced two new modules designed to enable Amazon Web Services (AWS) cloud services for device and fleet management out of the box: the NORA-W2 AWS IoT ExpressLink Wi-Fi module and the SARA-R5 
...
Read more...
---
Passive MMIC diplexer
RF Design Telecoms, Datacoms, Wireless, IoT
The MDPX-0710 from Marki Microwave is a passive MMIC diplexer with passbands from DC to 7 GHz (low band) and 10 to 26,5 GHz (high band). It has an insertion loss of less than 0,9 dB within its passbands 
...
Read more...
---
Embedded GNSS antenna with integrated LNA
RF Design Telecoms, Datacoms, Wireless, IoT
The HC990EXF from Tallysman is an extended-filter embedded GNSS helical antenna. This RHCP (right-hand circular polarised) antenna provides a peak gain of 3 dBi at full bandwidth and has an axial ratio 
...
Read more...
---
Tiny Bluetooth module fit for industrial applications
RF Design Telecoms, Datacoms, Wireless, IoT
The newly released ANNA-B4 is u-blox' smallest Bluetooth module to date, packed with features tailored to the needs of industrial applications. This comes at a time when smart factories have matured from 
...
Read more...
---
Modular, portable 5G RF spectrum analyser
Test & Measurement
EXFO recently introduced the 5GPro spectrum analyser, representing what it claims is the only modular, field-focused RF testing solution providing accurate visibility into 4G/LTE and 5G NR environments 
...
Read more...
---
Multiprotocol, dual-processor wireless SoC
RF Design Telecoms, Datacoms, Wireless, IoT
Nordic Semiconductor's nRF5340 high-end multiprotocol system-on-chip (SoC) became the first member of its next generation of nRF5 Series SoCs. The nRF5340 builds on Nordic's proven and globally adopted 
...
Read more...
---
Warehouse staging area capacity solution
RF Design Telecoms, Datacoms, Wireless, IoT
Taoglas, better known for its antennas, has furthered its drive to be an enabler of digital transformation through IoT with its new Taoglas EDGE Vision technology, which aims to streamline processes for 
...
Read more...
---
RF receiver for spectrum regulators
Measuretest Test & Measurement
CRFS announced the launch of a new high-performance RF receiver, the RFeye Node 40-8, specifically designed to meet the needs of communications regulators. With a 40 MHz instantaneous bandwidth and 9 kHz 
...
Read more...
---
Accessible machine learning for cellular IoT solutions
RF Design Telecoms, Datacoms, Wireless, IoT
Together with design partner Edge Impulse, Nordic Semiconductor has introduced TinyML support for both the nRF9160 DK (development kit) and the Nordic Thingy:91 multi-sensor cellular IoT prototyping platform. 
...
Read more...
---