printer friendly version
AI edge computing platforms powered by Nvidia Jetson Nano
25 August 2021
Computer/Embedded Technology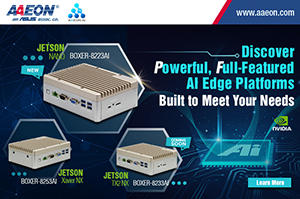 The Boxer-8223AI is the latest platform in AAEON's lineup of AI edge systems, powered by the Nvidia Jetson Nano. Featuring two PoE PSE ports, the system can deliver power to PoE cameras, helping to reduce the complexity of installations. It also features HDMI input, allowing users to easily stream video to the system for AI analysis and processing.
Additional flexibility is provided thanks to a broad I/O layout, allowing the system to connect with a wide range of sensors, cameras and controllers. The Boxer-8223AI joins the Boxer-8253AI and the Boxer-8233AI (coming soon) to deliver a platform designed to power AI edge applications, from intelligent surveillance and machine control to smart factory and smart retail.
The Boxer-8223AI is powered by the Nvidia Jetson Nano, providing AI edge computing performance to power a wide range of applications including defect inspection and intelligent security. The Boxer-8223/8233/8253AI feature two PoE PSE (power supply equipment) 802.3at ports, supplying a total of 45 W to power connected PoE devices including cameras or edge systems with PoE PD (powered device) ports.
Each system features an HDMI input to quickly add vision-based analysis to a range of applications, from airport security X-ray scanners to medical devices for AI-aided diagnosis. They are designed with a flexible I/O loadout – including four USB3.2 Gen 2 ports, COM and DIO ports – to connect with a wide range and number of sensors, control devices and more.
The Boxer-8233/8253AI offer greater storage and expansion options with their 2,5" SATA drive bay as well as mPCIe slot, enabling users to store more data locally, including video and images. The Boxer-8223/8233/8253AI are built to the same tough and rugged standards as all AAEON edge solutions, with a compact size that delivers reliable computing performance no matter where it's needed.
For more information contact Renaldo Fibiger, Altron Arrow, +27 11 923 9600, rfibiger@arrow.altech.co.za, www.altronarrow.com
Credit(s)
Further reading:
NFC/RFID demonstration kit
Altron Arrow Telecoms, Datacoms, Wireless, IoT
The boards are powered through their USB connectors and are supported by downloadable schematics, BOM, Gerber files, drivers and firmware sources.
Read more...
---
Absolute pressure sensor
Altron Arrow Analogue, Mixed Signal, LSI
The sensing element, which detects absolute pressure, consists of a suspended membrane manufactured using a special process developed by STMicroelectronics.
Read more...
---
2- and 4-output fanout clock buffers
Altron Arrow Analogue, Mixed Signal, LSI
Both devices support 2,5/3,3 V power supplies with separate input and output supply voltages for level shifting.
Read more...
---
Evaluation board for MEMS devices
Altron Arrow Test & Measurement
The STEVAL-MKI220V1 is an adaptor board designed to facilitate the evaluation of MEMS devices in the LPS27HHTW product family.
Read more...
---
Arrow Electronics unveils new CEO
Altron Arrow News
Sean Kerins has been picked to succeed Michael Long as president and chief executive officer effective 1 June 2022.
Read more...
---
Vienna rectifier reference design for PFC
Altron Arrow Power Electronics / Power Management
The STDES-VRECTFD reference design is a complete solution for high-power, three-phase AC/DC rectifier applications based on the Vienna topology. It features full digital control through STMicroelectronics' 
...
Read more...
---
Qi 1.3 wireless charging with authentication
Altron Arrow Power Electronics / Power Management
In order to ensure high-quality wireless charging power transmitters, the Wireless Power Consortium (WPC) has released the Qi 1.3 specification with the extended power profile. This new specification 
...
Read more...
---
UPS keeps IoT networks running during power-grid disturbances
Altron Arrow Power Electronics / Power Management
Growing cities bring more technology to one place, especially in developing countries and in many cases the expansion of electricity grids simply cannot keep up with the demand. The power plants that 
...
Read more...
---
AMOLED power management IC
Altron Arrow Power Electronics / Power Management
STMicroelectronics' new fully integrated power management IC (PMIC) for AMOLED displays combines a low quiescent current and enhanced flexibility to extend the battery runtime of portable devices. With 
...
Read more...
---
Video demonstrates features of Digi Remote Manager
Altron Arrow Multimedia, Videos
When you need to manage a deployed network of disparate serial devices, there are traditional, time-tested ways to do so. However, they tend to be cumbersome and time-consuming – a problem Digi International 
...
Read more...
---