printer friendly version
Thermoelectric coolers for optoelectronic systems
29 September 2021
Circuit & System Protection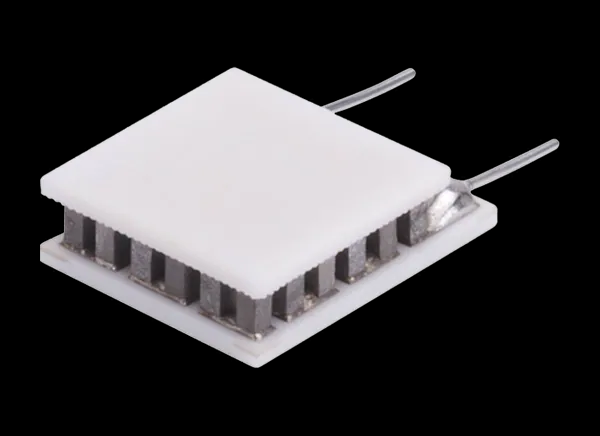 Featuring next-generation thermoelectric materials, the OptoTEC OTX/HTX Series of thermoelectric coolers from Laird Thermal Systems offers a 10% boost in cooling capacity, greater temperature differential and higher efficiency than standard thermoelectric coolers.
Available from Mouser, these miniature thermoelectric coolers offer high heat-pumping capacity and improved temperature stability for space-constrained optoelectronic applications. Featuring precise temperature controls with up to 10 Watts of cooling power, the OptoTEC OTX/HTX Series maintains a temperature differential of up to 82°C at QC = 0, with a hot-side temperature at 50°C. The OTX is designed for operating temperatures up to 120°C, while the HTX uses a higher-temperature construction to operate in temperatures up to 150°C.
The coolers surpass Telcordia GR-468 CORE qualifications to withstand harsh mechanical and environmental test standards and manufacturing process controls, ensuring high repeatability and long-life operation. The tiny devices, available in footprints as small as 3,3 x 4,9 mm, are specifically designed to control the temperature of heat-sensitive optoelectronic components used in optical transceivers, lidar, CMOS and infrared (IR) range sensor applications.
Credit(s)
Further reading:
Self-learning AI sensor for fitness tracking
TRX Electronics Analogue, Mixed Signal, LSI
The Bosch BHI260AP is ideal for always-on sensor applications like wrist wearables, hearables, smartphones, AR/VR headsets and controller device.
Read more...
---
Sensor nodes for reliable air quality data
TRX Electronics Analogue, Mixed Signal, LSI
The advanced sensors offer easy integration, fully calibrated outputs with a digital interface, and optimal measurement of vital air quality parameters.
Read more...
---
High-resolution magnetic position sensor
TRX Electronics Analogue, Mixed Signal, LSI
Featuring a 14-bit sensor array and analog front-end, the sensor uses a differential measurement method to compensate for external stray magnetic fields.
Read more...
---
Clearing the Static: Three steps to a dry ESD packaging system
Actum Group Circuit & System Protection
To protect PCBs from both ESD and moisture, they should be stored in a vacuum-sealed moisture barrier bag. To complete a dry-packaging system, desiccant packs and humidity indicator cards should be 
...
Read more...
---
High-performance PCIe XMC modules
TRX Electronics Computer/Embedded Technology
Mouser Electronics has signed a new distribution agreement with Interconnect Systems International (ISI), a Molex company and supplier of signal processing and data acquisition solutions. ISI's hardware, 
...
Read more...
---
Multizone time-of-flight sensors
TRX Electronics Opto-Electronics
Mouser Electronics is now offering the TMF8820, TMF8821 and TMF8828 multizone time-of-flight sensors from ams Osram. The high-performance direct time-of-flight (dToF) sensors achieve a 5 m detection range, 
...
Read more...
---
Components and design resources for harsh environments
TRX Electronics Interconnection Analogue, Mixed Signal, LSI Passive Components
Providing engineers with the latest information and resources to build their designs for harsh environments, a targeted content stream from Mouser Electronics offers articles, products, blogs and diagrams 
...
Read more...
---
Clearing the Static: Complete ESD solutions for EPAs
Actum Group Circuit & System Protection
An electrostatic protected area (EPA) is a designated area where static is controlled under strict regulations. At Actum Group, we advise that EPAs should be viewed and completed as a whole project and 
...
Read more...
---
Variety of EMI shielding products
TRX Electronics Circuit & System Protection
Laird Performance Materials offers customised, robust protection from harmful performance-draining EMI (electromagnetic interference). Its broad range of shielding products can be tailored to any application, 
...
Read more...
---
Fujitsu FRAM and ReRAM now available from Mouser
TRX Electronics DSP, Micros & Memory
Fujitsu Semiconductor Memory Solution's ferroelectric random access memory (FRAM) and large-density resistive random access memory (ReRAM) products are now being distributed by Mouser Electronics. Fujitsu 
...
Read more...
---