printer friendly version
New laser sensor technology detects difficult targets
25 August 2021
Opto-Electronics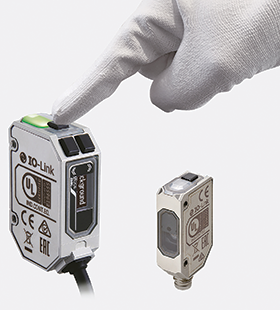 Omron has launched a new E3AS-HL CMOS Laser Sensor with sensing technology that significantly improves detection capability using an industry-first Laser Class 1 CMOS laser sensor equipped with an FPGA. Reliable detection of difficult-to-detect targets helps eliminate the need for time-consuming installation design and adjustment at equipment commissioning.
Detection using conventional reflective photoelectric sensors is affected by the target colour, material or surface and human experience and skills are required to design and adjust the sensor installation for each target. This issue often arises in the automotive and food industries where various targets with complex shapes and glossy surfaces are detected.
The new laser sensor can reliably detect targets that cannot be detected with reflective photoelectric sensors. Its sensing algorithm reaches high-speed sampling at 10 000 times per second and Omron's unique accumulation processing increases sensitivity by amplifying the slightest amount of light bounced off the target. The manufacturing technology adjusts the receiver lens position in the sensor to the micrometre level, enabling reliable detection of any target colour, material and shape.
These technologies allow the E3AS-HL to reliably detect curved and irregularly shaped glossy automotive parts and multi-coloured and glossy food and packages. It can be used in place of reflective photoelectric sensors and helps significantly reduce the time required to adjust the sensor installation position and angle and the threshold values.
An antifouling coating on the sensing surface ensures stable operation even in harsh environments and an OLED display together with teaching function enables easy, quick and optimal setup.
Credit(s)
Further reading:
Time-of-flight multi-zone ranging sensor
25 August 2021, EBV Electrolink , Opto-Electronics
STMicroelectronics has announced the first multi-zone FlightSense time-of-flight sensor to be offered for general-purpose applications, bringing sophisticated distance sensing to the full spectrum of 
...
Read more...
---
Colour registration mark sensor
28 July 2021, Vepac Electronics , Opto-Electronics
SmartEye Colormark ll registration mark sensors from Tri-Tronics combine unique colour perception ability with very high-speed response. Many important features have been incorporated into the design 
...
Read more...
---
LEDs for indoor lighting market
25 August 2021, Future Electronics , Opto-Electronics
Lumileds introduced its new Luxeon 2835 Commercial LEDs engineered and designed to support the growing demand for a high-volume, high-efficacy mid-power LED to serve commercial indoor lighting applications. 
...
Read more...
---
Lidar sensors for numerous use cases
25 August 2021, TRX Electronics , Opto-Electronics
Mouser Electronics has signed a global distribution agreement with LightWare LiDAR, a manufacturer of light detection and ranging (lidar) technology. According to the agreement, Mouser will offer customers 
...
Read more...
---
Touchscreen display for tough environments
25 August 2021, Vepac Electronics , Opto-Electronics
Topcon Positioning Group announced a pre-series release of its new OPUS B-Series display available for the developer, systems integrator and manufacturer market for user-interface design and implementation 
...
Read more...
---
LCD modules with per-pixel memory
25 August 2021, iCorp Technologies , Opto-Electronics
Multi-Inno's range of 'memory' LCD modules feature a 1-bit embedded memory in each pixel, which results in minimal power usage from the display's single supply, even while updating images. A lightweight 
...
Read more...
---
Waterproof photoelectric sensors
28 July 2021, Vepac Electronics , Opto-Electronics
Low in cost and high in value, Mini-Eye is a full line of economical, miniature photoelectric sensors for general sensing tasks. These rugged sensors are waterproof and enclosed in high-impact plastic 
...
Read more...
---
LED drivers supporting visible-light communication
28 July 2021, EBV Electrolink , Opto-Electronics, Power Electronics / Power Management
ON Semiconductor has announced two new devices designed to enhance the performance of connected lighting systems. The NCL31000 and NCL31001 LED drivers allow manufacturers to develop LED luminaires with 
...
Read more...
---
Electronics light the road ahead for the agriculture sector
23 June 2021, Technews Publishing , Editor's Choice, Opto-Electronics
Many horticultural installations are now moving away from traditional sources to LEDs, not only due to their high efficacy but because one can dynamically change the spectrum of the same luminaire without swapping the lamp source.
Read more...
---
Flexible LED driver for automotive lighting
23 June 2021, Altron Arrow , Opto-Electronics
STMicroelectronics' ALED6000 single-chip automotive LED driver with integrated DC/DC converter is a low-BOM (bill of materials) solution that allows design flexibility and keeps the lighting intensity 
...
Read more...
---