printer friendly version
Baseless power modules qualified for aerospace use
25 August 2021
Power Electronics / Power Management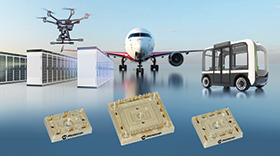 In the race to reduce aircraft emissions, developers are increasingly moving toward more efficient designs, including electrical systems that replace today's pneumatics and hydraulics powering everything from on-board alternators to actuators and auxiliary power units (APUs). To enable next-generation aircraft electrical systems, new power conversion technology is required.
Microchip Technology accordingly announced its development with Clean Sky, a joint European Commission (EC) and industry consortium, of the first aerospace-qualified baseless power modules enabling higher-efficiency, lighter and more compact power conversion and motor drive systems.
Partnering with Clean Sky to support aerospace industry goals set by the EC for stricter emission standards to achieve climate neutral aviation by 2050, Microchip's BL1, BL2 and BL3 family of baseless power modules provides greater efficiency in AC-to-DC and DC-to-AC power conversion and generation through the integration of its silicon carbide (SiC) power semiconductor technology. 40% lighter than others due to the modified substrate, the innovative design also produces an approximate 10% cost saving over standard power modules that incorporate metal baseplates.
BL1, BL2 and BL3 devices meet all mechanical and environmental compliance guidelines set forth in RTCA DO-160G, 'Environmental Conditions and Test Procedures for Airborne Equipment,' Version G (August 2010). RTCA is the industry consortium that develops consensus on critical aviation modernisation issues.
The modules are available in low-profile, low-inductance packaging with power and signal connectors that designers can solder directly on printed circuit boards, helping to speed development and increase reliability. The same height across the modules in the family enables them to be paralleled or connected in a three-phase bridge and other topologies to achieve higher-performing power converters and inverters.
The family incorporates silicon carbide MOSFETs and Schottky barrier diodes (SBDs) to maximise system efficiency. In packages delivering 100 W to more than 10 kW of power, the BL1/2/3 family is available in numerous topology options including phase leg, full bridge, asymmetric bridge, boost, buck and dual common source. These high-reliability power modules are available in voltage ranges from 600 V to 1200 V in silicon carbide MOSFETs and IGBTs to 1600 V for rectifier diodes.
The power modules are available as 75 A and 145 A silicon carbide MOSFET, 50 A as IGBT and 90 A as rectifier diode outputs.
For more information contact EBV Electrolink, +27 21 402 1940, capetown@ebv.com, www.ebv.com
Credit(s)
Further reading:
Time-of-flight multi-zone ranging sensor
25 August 2021, EBV Electrolink , Opto-Electronics
STMicroelectronics has announced the first multi-zone FlightSense time-of-flight sensor to be offered for general-purpose applications, bringing sophisticated distance sensing to the full spectrum of 
...
Read more...
---
600 W convection cooled power supplies
25 August 2021, Vepac Electronics , Power Electronics / Power Management
Cosel announced the introduction of 600 W free-air convection cooling power supplies in the form of the AEA600F series. With demanding applications in mind, the AEA600F is able to deliver 300% peak power 
...
Read more...
---
Non-isolated step-down converters
25 August 2021, Accutronics , Power Electronics / Power Management
Capable of operating from an input voltage of 18 V to 32 V, the non-isolated step-down converters of TDK-Lambda's i7A series deliver an output voltage that can be adjusted from 3,3 to 18 V with an output 
...
Read more...
---
70 W brushless DC motor drivers
25 August 2021 , Power Electronics / Power Management
Texas Instruments (TI) has introduced the industry's first 70 W brushless DC (BLDC) motor drivers to provide code-free, sensorless trapezoidal and field-oriented control (FOC). The devices enable engineers 
...
Read more...
---
Automotive/industrial isolated buck converters
25 August 2021, Altron Arrow , Power Electronics / Power Management
Optimised for isolated buck regulator designs, the STMicroelectronics A6986I and L6986I DC/DC converter ICs have a wide input voltage range and low quiescent current to ensure robust and energy-efficient 
...
Read more...
---
Rugged silicon carbide power devices
25 August 2021, EBV Electrolink , Power Electronics / Power Management
Today's energy-efficient electric charging systems powering commercial vehicle propulsion, as well as auxiliary power systems, solar inverters, solid-state transformers and other transportation and industrial 
...
Read more...
---
Amber taps Infineon for digital control of electricity
28 July 2021 , Power Electronics / Power Management
Infineon Technologies and Amber Solutions recently announced an alliance on a range of silicon opportunities anchored around Amber's digital control of electricity with embedded intelligence. The collaboration 
...
Read more...
---
High-voltage DC-DC converter for electric vehicles
28 July 2021, Vepac Electronics , Power Electronics / Power Management
By understanding the needs of its performance-driven customers in the market of electrification of air, land and sea vehicles and systems, Crane Aerospace & Electronics engineers have designed and developed 
...
Read more...
---
Single/dual-output DC/DC power module
25 August 2021, NuVision Electronics , Power Electronics / Power Management
The MPM3690-20 from Monolithic Power Systems (MPS) is a dual 13 A output or single 26 A output power module that offers a complete power solution, with excellent load and line regulation. It supports 
...
Read more...
---
EBV helps bring long-life tracker to market
25 August 2021, EBV Electrolink , Telecoms, Datacoms, Wireless, IoT
General Mechatronics, a Budapest-based company, enlisted the support of EBV Elektronik to devise an award-winning smart sensor device designed for use in asset tracking systems and applications.  
...
Read more...
---