printer friendly version
A UI to build better UIs
25 August 2021
Design Automation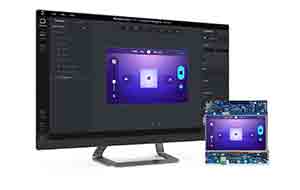 TouchGFX Designer 4.17 has become available for download, the latest version of STMicroelectronics' user interface (UI) design software featuring a user interface overhaul to make the application more intuitive. For instance, the new lobby provides a better overview of the boards and templates, which helps start projects faster.
There are also numerous quality-of-life improvements to streamline various processes. One example is the new tree view that makes locking items a lot more obvious. Another example is the presence of a new dark theme and new keyboard shortcuts for better workflows. Ultimately, ST says it's vastly more than a simple coat of paint but a significant improvement to the creative process.
TouchGFX Designer 4.17 is unique because it represents a significant chapter since ST acquired TouchGFX in 2018 and since TouchGFX 4.13 became a member of the X-CUBE family in 2020. The new version now uses a colour palette similar to that of other ST utilities and also represents a new direction that better optimises processes. For instance, new icons at the top of the screen help access various categories quicker. Hence, with the latest version, inserting an image is as straightforward as clicking on an icon and selecting files. Similarly, all properties are now present in a panel on the right side of the screen for easier access. Developers can thus expect a more organic system with far less friction.
The new version is also a pivotal release for ST because it embodies its desire to work more closely with its community. The company says customers are expressing a desire to understand what the platform can do rather than what applications they can write. Hence, instead of traditional demos that showcase real-world software like a thermostat, ST has released showcases that feature what developers can do when they combine TouchGFX and an STM32 microcontroller.
One example is a dice that demonstrates how to efficiently use texture mapping. The demo shows how to optimise a system when switching from 2D to 3D or zooming in and out. A second example is a new screen transition demonstration featuring a list of animations.
Lastly, TouchGFX 4.17 also contains a ninja robot game showing interesting effects that only require simple bitmap graphics. TouchGFX documentation is already up to date with new guides and screenshots of TouchGFX Designer 4.17. Developers thus can thus rapidly become familiar with the new interface.
For more information contact Renaldo Fibiger, Altron Arrow, +27 11 923 9600, rfibiger@arrow.altech.co.za, www.altronarrow.com
Credit(s)
Further reading:
Discovery kit for IoT nodes using STM32U5 MCU
Altron Arrow DSP, Micros & Memory
The B-U585I-IOT02A Discovery kit provides a complete demonstration and development platform for STMicroelectronics' STM32U585AI microcontroller, featuring an Arm Cortex-M33 core with Arm TrustZone and 
...
Read more...
---
Signal chain implementation for condition monitoring systems
Altron Arrow Editor's Choice Analogue, Mixed Signal, LSI
Like all system designs, there are many choices to be made when it comes to designing a condition monitoring system, each of which comes with various trade-offs and can drastically alter the DAQ signal chain design.
Read more...
---
USB charger solution with high power density
Altron Arrow Power Electronics / Power Management
Diodes Incorporated has launched a three-chip solution for enhancing the performance of ultra-high-power-density USB Type-C power delivery (PD) systems. These products can be used in a wide variety of 
...
Read more...
---
3D simulation IDE boosts factory productivity
Omron Electronics Design Automation
Omron's updated Sysmac Studio 3D Simulation integrated development environment (IDE) integrates and verifies the movements of robots and peripheral devices. It can digitally reproduce an entire facility 
...
Read more...
---
Features added to DesignSpark PCB Pro
RS Components (SA) Design Automation
RS Components added new features to DesignSpark PCB Pro and introduced an RS stock number to make it easier to purchase. The free-of-charge version of DesignSpark PCB, part of the award-winning RS DesignSpark 
...
Read more...
---
Demo of new TouchGFX video widget
Altron Arrow Multimedia, Videos
The latest release (version 4.18) of STMicroelectronics' TouchGFX software for user-interface development with STM32 microcontrollers (MCUs) added support for video playback, enhanced tools for multi-developer 
...
Read more...
---
Configurable dual IO-Link and SIO transceiver
Altron Arrow Telecoms, Datacoms, Wireless, IoT
STMicroelectronics is bringing extra flexibility to IO-Link connections with the L6364 transceiver, which features dual communication channels that allow configurable output doubling for extra drive strength, 
...
Read more...
---
Evaluation kit for formaldehyde sensor
Electrocomp Design Automation
The SEK-SFA30 evaluation kit has been designed for easy evaluation of Sensirion's SFA30 formaldehyde sensor. The SFA30 is designed for easy integration into air purifiers, demand-controlled ventilation 
...
Read more...
---
Updates add video to ST's TouchGFX suite
Altron Arrow Computer/Embedded Technology
STMicroelectronics has released TouchGFX Version 4.18 for user-interface development with STM32 microcontrollers (MCUs), adding video playback, enhanced tools for multi-developer collaboration and support 
...
Read more...
---
Super-junction 800 V MOSFETs
Altron Arrow Power Electronics / Power Management
The new super-junction STPOWER MDmesh K6 series from STMicroelectronics enhances several key parameters to minimise system-power losses. It is especially suited to lighting applications based on flyback 
...
Read more...
---