printer friendly version
A UI to build better UIs
25 August 2021
Design Automation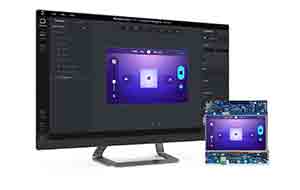 TouchGFX Designer 4.17 has become available for download, the latest version of STMicroelectronics' user interface (UI) design software featuring a user interface overhaul to make the application more intuitive. For instance, the new lobby provides a better overview of the boards and templates, which helps start projects faster.
There are also numerous quality-of-life improvements to streamline various processes. One example is the new tree view that makes locking items a lot more obvious. Another example is the presence of a new dark theme and new keyboard shortcuts for better workflows. Ultimately, ST says it's vastly more than a simple coat of paint but a significant improvement to the creative process.
TouchGFX Designer 4.17 is unique because it represents a significant chapter since ST acquired TouchGFX in 2018 and since TouchGFX 4.13 became a member of the X-CUBE family in 2020. The new version now uses a colour palette similar to that of other ST utilities and also represents a new direction that better optimises processes. For instance, new icons at the top of the screen help access various categories quicker. Hence, with the latest version, inserting an image is as straightforward as clicking on an icon and selecting files. Similarly, all properties are now present in a panel on the right side of the screen for easier access. Developers can thus expect a more organic system with far less friction.
The new version is also a pivotal release for ST because it embodies its desire to work more closely with its community. The company says customers are expressing a desire to understand what the platform can do rather than what applications they can write. Hence, instead of traditional demos that showcase real-world software like a thermostat, ST has released showcases that feature what developers can do when they combine TouchGFX and an STM32 microcontroller.
One example is a dice that demonstrates how to efficiently use texture mapping. The demo shows how to optimise a system when switching from 2D to 3D or zooming in and out. A second example is a new screen transition demonstration featuring a list of animations.
Lastly, TouchGFX 4.17 also contains a ninja robot game showing interesting effects that only require simple bitmap graphics. TouchGFX documentation is already up to date with new guides and screenshots of TouchGFX Designer 4.17. Developers thus can thus rapidly become familiar with the new interface.
For more information contact Renaldo Fibiger, Altron Arrow, +27 11 923 9600, rfibiger@arrow.altech.co.za, www.altronarrow.com
Credit(s)
Further reading:
SoM maker relies on ST MPU and open-source community
27 October 2021, Altron Arrow , Computer/Embedded Technology
"Open source is not only code sharing but a willingness to bring a certain know-how to a community and make a business around it."
Read more...
---
Altium Designer component creation webinar
27 October 2021 , Design Automation
Component creation is a necessary evil when it comes to design and it's something we all need to do. But instead of spending hours creating your components and having them turn into a complete roadblock, 
...
Read more...
---
Deep learning APIs for Espressif SoCs
27 October 2021, iCorp Technologies , Design Automation
ESP-DL, recently introduced by Espressif Systems, provides APIs for neural network (NN) inference, image processing, maths operations and deep learning (DL) models. With ESP-DL, developers can use Espressif's 
...
Read more...
---
Isolated SiC gate driver
27 October 2021, Altron Arrow , Power Electronics / Power Management
STMicroelectronics' STGAP2SiCSN single-channel gate driver, optimised to control silicon carbide (SiC) MOSFETs, comes in a space-saving narrowbody SO-8 package and delivers robust performance with accurate 
...
Read more...
---
TI software tool for power stage design
27 October 2021 , Design Automation
The Power Stage Designer software tool from Texas Instruments (TI) helps you accelerate your power supply designs by calculating voltages and currents of 20 topologies according to your own inputs. All 
...
Read more...
---
EMI power choke impedance finder
27 October 2021 , Design Automation
Coilcraft's EMI Power Choke Impedance Finder is a powerful search and analysis tool for finding the optimal off-the-shelf inductors/chokes for different types of EMI filters (e.g. LC low-pass filters, 
...
Read more...
---
Browser-based design viewer for Altium 365
27 October 2021, EDA Technologies , Design Automation
Complementing its professional-level Altium 365 cloud platform, Altium offers a simple and convenient way to view and share electronic designs through your browser. Schematics, PCB layout and 3D visualisation 
...
Read more...
---
Analog microphone array board for advanced audio sensing
27 October 2021, Altron Arrow , Computer/Embedded Technology
The STEVAL-STWINMAV1 microphone array expansion board adds advanced audio sensing capabilities to STMicroelectronics' STEVAL-STWINKT1B (and STEVAL-STWINKT1) SensorTile Wireless Industrial Node (STWIN) 
...
Read more...
---
SDR transceiver delivers big advances in frequency hopping
27 October 2021, Altron Arrow , Telecoms, Datacoms, Wireless, IoT
The ADRV9002 empowers users with the frequency hopping capabilities to handle applications such as Link 16 and fast real-time carrier frequency loading in both single- and dual-channel operation modes.
Read more...
---
Fast-acting chip fuse for automotive applications
29 September 2021, Altron Arrow , Circuit & System Protection
Vishay introduced a new, very fast-acting thin film chip fuse. For automotive applications, the Vishay Beyschlag MFU 0603 AT is AEC-Q200 qualified and features current ratings from 0,5 A to 5,0 A.  
...
Read more...
---