printer friendly version
Time-of-flight multi-zone ranging sensor
29 September 2021
Opto-Electronics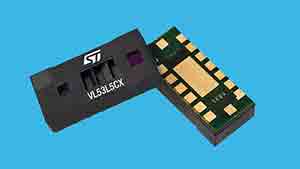 STMicroelectronics has announced the first multi-zone FlightSense time-of-flight sensor to be offered for general-purpose applications, bringing sophisticated distance sensing to the full spectrum of consumer and industrial products.
The VL53L5CX sensor provides up to 64 sensing zones with multi-target detection, distance measurement up to 4 metres in each zone and a wide square-edged field of view with 63° diagonal. The sensor is suited to gesture recognition, complex scene analysis including 3D room mapping for robotics, storage-tank level monitoring to assist in inventory management, liquid-level control and waste-bin level monitoring to enable smart refuse collection for enhanced efficiency.
By supporting gesture recognition and automatic human presence detection, the VL53L5CX enables safe, touch-free operation with significant power saving when used for waking up publicly accessible equipment such as self-service payment terminals, as well as consumer products and domestic appliances. Featuring ST's proven histogram processing, which greatly reduces the impact of cover-glass crosstalk, the sensor can be easily integrated and hidden behind various types of front panels. The new and innovative motion-indicator feature allows the sensor to detect if the target has moved or not.
The number of sensing arrays is programmable and the sensor can provide up to 60 frames per second in 16-zone (4x4) mode for fast ranging. With simple software configuration to reach a high resolution of 8x8 zones, the VL53L5CX can also assist keystone correction for video projectors and provide an accurate mini depth-map for augmented reality and virtual reality (AR/VR) applications.
The VL53L5CX contains a low-power microcontroller and is capable of autonomous operation for power-saving applications. It comes in a fully integrated 6,4 x 3,0 x 1,5 mm module that contains an infrared VCSEL (vertical cavity surface emission laser) emitter and a receiver with embedded SPADs (single-photon avalanche diode) and histogram-based ToF processing engine.
The module is supported by an extensive toolchain that allows ultra-fast prototyping via an easy-to-use evaluation and calibration tool. Development boards designed to integrate easily into larger prototype systems are also available. In addition, the P-NUCLEO-53L5A1 evaluation kit and X-CUBE-TOF1 software expansion pack leverage the STM32 development ecosystem for building time-of-flight applications.
For more information contact EBV Electrolink, +27 21 402 1940, capetown@ebv.com, www.ebv.com
Credit(s)
Further reading:
UV-A light detection for wearable and mobile devices
27 October 2021, Future Electronics , Opto-Electronics
Monitoring vital signs such as pulse or oxygen saturation in the blood via smartphones and smartwatches has been available for several years. The corresponding UV channel of the TSL2585 from ams Osram 
...
Read more...
---
Capacitive touchscreen controllers
27 October 2021, EBV Electrolink , Analogue, Mixed Signal, LSI
Microchip Technology is adding two new members to its family of IEC/UL 60730 Class B certified touchscreen controllers. The new MXT448UD-HA and MXT640UD-HA extend the Class B portfolio of devices beyond 
...
Read more...
---
LPWAN markets and applications
27 October 2021, Avnet Silica, EBV Electrolink, Technews Publishing , Telecoms, Datacoms, Wireless, IoT
In South Africa, the large installed base of IoT devices using legacy telecommunication protocols is a hindrance to the advancement of LPWAN and the continued kerfuffle over radio frequency spectrum is hampering this market.
Read more...
---
Ambient light and proximity sensor
29 September 2021, TRX Electronics , Opto-Electronics
Mouser Electronics is now stocking the TMD2712 ambient light and proximity sensor from ams. The sensor incorporates an infrared (IR) VCSEL (vertical cavity surface emitting laser) and factory-calibrated 
...
Read more...
---
New laser sensor technology detects difficult targets
29 September 2021, Omron Electronics , Opto-Electronics
Omron has launched a new E3AS-HL CMOS Laser Sensor with sensing technology that significantly improves detection capability using an industry-first Laser Class 1 CMOS laser sensor equipped with an FPGA. 
...
Read more...
---
Baseless power modules qualified for aerospace use
29 September 2021, EBV Electrolink , Power Electronics / Power Management
In the race to reduce aircraft emissions, developers are increasingly moving toward more efficient designs, including electrical systems that replace today's pneumatics and hydraulics powering everything 
...
Read more...
---
Rugged silicon carbide power devices
25 August 2021, EBV Electrolink , Power Electronics / Power Management
Today's energy-efficient electric charging systems powering commercial vehicle propulsion, as well as auxiliary power systems, solar inverters, solid-state transformers and other transportation and industrial 
...
Read more...
---
Colour registration mark sensor
28 July 2021, Vepac Electronics , Opto-Electronics
SmartEye Colormark ll registration mark sensors from Tri-Tronics combine unique colour perception ability with very high-speed response. Many important features have been incorporated into the design 
...
Read more...
---
EBV helps bring long-life tracker to market
25 August 2021, EBV Electrolink , Telecoms, Datacoms, Wireless, IoT
General Mechatronics, a Budapest-based company, enlisted the support of EBV Elektronik to devise an award-winning smart sensor device designed for use in asset tracking systems and applications.  
...
Read more...
---
Totem pole PFC controller
25 August 2021, EBV Electrolink , Power Electronics / Power Management
A new addition has been made to ON Semiconductor's solution set for ultra-high density offline power supplies in the form of the NCP1680, a dedicated critical conduction mode totem pole PFC controller. 
...
Read more...
---