printer friendly version
Xilinx design tool with machine-learning optimisation
25 August 2021
Design Automation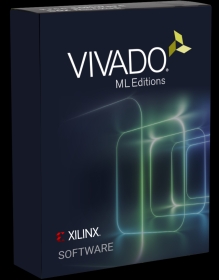 Xilinx recently introduced Vivado ML Editions, the industry's first FPGA EDA tool suite based on machine learning (ML) optimisation algorithms, as well as advanced team-based design flows for design time and cost savings. Vivado ML Editions delivers 5x faster compile time and quality of results (QoR) improvements on average 10% for complex designs, compared to the current Vivado HLx Editions.
Vivado ML Editions enables ML-based algorithms that accelerate design closure. The technology features ML-based logic optimisation, delay estimation and intelligent design runs, which automates strategies to reduce timing closure iterations.
Xilinx is also introducing the concept of an Abstract Shell, which allows users to define multiple modules within the system to be compiled incrementally and in parallel. This enables an average compile time reduction of 5x, and up to 17x, compared to traditional full system compilation. Abstract Shell also helps protect a customer's IP by hiding the design details outside of the modules, critical for applications like FPGA-as-a-Service and value-added system integrators.
In addition, Vivado ML Editions improves collaborative design with Vivado IP Integrator, which enables modular design using the new 'block design container' feature. This capability promotes a team-based design methodology and allows for a divide-and-conquer strategy to handle large designs with multisite cooperation.
Unique adaptability features like Dynamic Function eXchange (DFX) enable more efficient use of silicon resources by loading custom hardware accelerators, dynamically at runtime over-the-air. With the ability of DFX to load design modules in a few milliseconds, it opens up new use cases such as a car swapping different vision algorithms during processing of a frame, or a genomic analysis swapping different algorithms in real-time as it sequences DNA.
Credit(s)
Further reading:
TI releases top five power design tools
Altron Arrow Design Automation
Texas Instruments has released an online resource combining the top five power design tools available to aid in the next electronic project design.
Read more...
---
Avnet Silica announces distribution deal with SiTime
Avnet Silica News
The distributor extends Avnet agreement in the US and Asia to make the extensive portfolio of MEMS-based timing products available to design engineers and purchasers in the EMEA region.
Read more...
---
Find tools and help more easily on Mouser's website
Design Automation
The Services and Tools page and Help Centre give customers the ability to view and track orders, request technical support and data sheets, and place orders.
Read more...
---
Upgraded AI/ML SDK for PolarFire FPGAs
Altron Arrow Design Automation
Network sizes have been reduced by 50% by optimising containers for weights and the built-in bit accuracy simulator's speed has been tripled.
Read more...
---
Mouser's resource pages make it easier to find what you need
TRX Electronics Design Automation
Mouser Electronics offers a wealth of customer-focused online tools to simplify and optimise the selection and purchasing process. Helping customers to easily browse, select and purchase products, the 
...
Read more...
---
Software development kit for motor control
Altron Arrow Design Automation
STMicroelectronics' STM32 microcontrollers offer the performance of industry-standard Arm Cortex-M cores running either vector control or field-oriented control (FOC) modes, which are widely used in high-performance 
...
Read more...
---
Newest version of PCB design software released
Dizzy Enterprises Design Automation
Proteus version 8.14 has been released. This latest version of the PCB design and circuit simulation software adds dedicated support for test points, improvements to differential pair routing, resin-filled 
...
Read more...
---
Proteus 8.6 released, now simulates turtles
Dizzy Enterprises Design Automation
Version 8.6 of the Proteus simulation and PCB design software adds new features such as STM32F103xx microcontroller simulation and serpentine track-length matching, but without doubt the most novel new 
...
Read more...
---
Avnet Silica gains access to Octavo's advanced SiP technology
Avnet Silica Analogue, Mixed Signal, LSI
Avnet Silica has added advanced SiP (system-in-package) technology to its portfolio via a distribution agreement with Octavo Systems, a leading provider of innovative high-quality SiP solutions. The 
...
Read more...
---
Online simulator speeds thyristor, AC switch selection
Design Automation
To quickly find the thyristor or AC switch that best fits their design, engineers can use STMicroelectronics' AC Switch Simulator online tool by simply entering the main I/O and gate parameters.    To 
...
Read more...
---