printer friendly version
Xilinx design tool with machine-learning optimisation
25 August 2021
Design Automation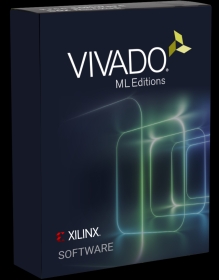 Xilinx recently introduced Vivado ML Editions, the industry's first FPGA EDA tool suite based on machine learning (ML) optimisation algorithms, as well as advanced team-based design flows for design time and cost savings. Vivado ML Editions delivers 5x faster compile time and quality of results (QoR) improvements on average 10% for complex designs, compared to the current Vivado HLx Editions.
Vivado ML Editions enables ML-based algorithms that accelerate design closure. The technology features ML-based logic optimisation, delay estimation and intelligent design runs, which automates strategies to reduce timing closure iterations.
Xilinx is also introducing the concept of an Abstract Shell, which allows users to define multiple modules within the system to be compiled incrementally and in parallel. This enables an average compile time reduction of 5x, and up to 17x, compared to traditional full system compilation. Abstract Shell also helps protect a customer's IP by hiding the design details outside of the modules, critical for applications like FPGA-as-a-Service and value-added system integrators.
In addition, Vivado ML Editions improves collaborative design with Vivado IP Integrator, which enables modular design using the new 'block design container' feature. This capability promotes a team-based design methodology and allows for a divide-and-conquer strategy to handle large designs with multisite cooperation.
Unique adaptability features like Dynamic Function eXchange (DFX) enable more efficient use of silicon resources by loading custom hardware accelerators, dynamically at runtime over-the-air. With the ability of DFX to load design modules in a few milliseconds, it opens up new use cases such as a car swapping different vision algorithms during processing of a frame, or a genomic analysis swapping different algorithms in real-time as it sequences DNA.
Credit(s)
Further reading:
3D simulation IDE boosts factory productivity
Omron Electronics Design Automation
Omron's updated Sysmac Studio 3D Simulation integrated development environment (IDE) integrates and verifies the movements of robots and peripheral devices. It can digitally reproduce an entire facility 
...
Read more...
---
Cloud platform securely manages and connects edge devices
Avnet Silica Telecoms, Datacoms, Wireless, IoT
NXP Semiconductors' EdgeLock 2GO IoT service platform enables easy, secure deployment and management of IoT devices and services. The platform is integrated with NXP's Common Criteria (CC) EAL 6+ certified 
...
Read more...
---
Features added to DesignSpark PCB Pro
RS Components (SA) Design Automation
RS Components added new features to DesignSpark PCB Pro and introduced an RS stock number to make it easier to purchase. The free-of-charge version of DesignSpark PCB, part of the award-winning RS DesignSpark 
...
Read more...
---
Evaluation kit for formaldehyde sensor
Electrocomp Design Automation
The SEK-SFA30 evaluation kit has been designed for easy evaluation of Sensirion's SFA30 formaldehyde sensor. The SFA30 is designed for easy integration into air purifiers, demand-controlled ventilation 
...
Read more...
---
mikroSDK adds support for Kinetis MCUs
Dizzy Enterprises Design Automation
MikroElektronika's multi-architectural software development kit, mikroSDK 2.0, now supports 147 microcontrollers (MCUs) from NXP Semiconductors. mikroSDK is a collection of open-source software libraries 
...
Read more...
---
Altium Designer component creation webinar
Design Automation
Component creation is a necessary evil when it comes to design and it's something we all need to do. But instead of spending hours creating your components and having them turn into a complete roadblock, 
...
Read more...
---
Deep learning APIs for Espressif SoCs
iCorp Technologies Design Automation
ESP-DL, recently introduced by Espressif Systems, provides APIs for neural network (NN) inference, image processing, maths operations and deep learning (DL) models. With ESP-DL, developers can use Espressif's 
...
Read more...
---
TI software tool for power stage design
Design Automation
The Power Stage Designer software tool from Texas Instruments (TI) helps you accelerate your power supply designs by calculating voltages and currents of 20 topologies according to your own inputs. All 
...
Read more...
---
EMI power choke impedance finder
Design Automation
Coilcraft's EMI Power Choke Impedance Finder is a powerful search and analysis tool for finding the optimal off-the-shelf inductors/chokes for different types of EMI filters (e.g. LC low-pass filters, 
...
Read more...
---
LPWAN markets and applications
Avnet Silica EBV Electrolink Technews Publishing Telecoms, Datacoms, Wireless, IoT
In South Africa, the large installed base of IoT devices using legacy telecommunication protocols is a hindrance to the advancement of LPWAN and the continued kerfuffle over radio frequency spectrum is hampering this market.
Read more...
---